Getting there
By Car: (approx 125 miles from HW)
Join M4 westbound. Exit at junction 11 and take A33 (signposted Basingstoke). After 12 miles join A339 (s/p M3). After one more mile join M3 westbound. Exit after 6 miles to join A303 and continue until you reach the Cartgate roundabout on the west side of Yeovil then turn left onto the A3088 (s/p Yeovil). At the first roundabout take the first exit along Bunford Lane (airfield opposite) go straight over the next three roundabouts into Western Avenue then turn left into Copse Road and you will see the Stadium and car park on the left where there is parking for 800 cars. Check www.rac.co.uk for specific or more detailed directions.
Train: Yeovil Junction station is more than 2 miles from Huish Park. Pen Mill Junction is slighty closer but has less frequent services and poorer connections to the Town Centre and ground. From Yeovil Junction there are hopper buses to the Town Centre. There is a bus that goes from the Town Centre to Husih Park, leaving at around 2.10pm for weekend home games.
Check www.nationalrail.co.uk for specific times and connections of trains.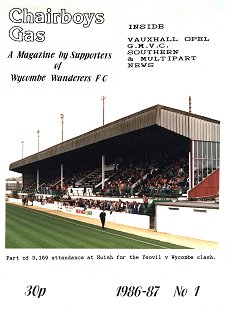 Cover of the first ever edition of Chairboys Gas fanzine showing the main stand at Yeovil's previous ground at Huish.




Chairboy Connections
Players who have played for both Clubs.



Indicates player profile available

Kevin Betsy - Former Fulham and Barnsley midfielder who spent a year and a half at Wycombe between July 2005 and January 2007 before moving to Bristol City for a £150,000 fee. Failed to make an impact at Ashton Gate and made six loan appearances for Yeovil during the first half of the 2007/2008 season before a permanent move to Southend United in August 2008. Also played on loan at Walsall while at Bristol. Returned on loan to Wycombe in September 2009.

Dean Bowditch - A former trainee with Ipswich Town who made 11 League apperances for the Wanderers during the 2005/06 season under John Gorman. Also played on loan for Brighton, Northampton Town and Brentford before a permament move to Yeovil in the summer of 2009. A regular for The Glovers in a two year spell - making 71 League apperances and scoring 25 times. Moved to MK 'Franchise' in the summer of 2011 after rejecting a new contract offer from Yeovil.



Adrian Caceres - Argentinian born midfielder who made 21 League appearances for The Govers during the 2004/2005 season. Spent a short time as a non-contract player with Aldershot Town before John Gorman brought him Wycombe in March 2005. Made just three apppearances before being released at the end of the same season. Originally came to England as an 18 year old with Southampton but failed to make the First Team.

Simon Church - Welsh international striker who has played on loan for both Wycombe and Yeovil while at Reading. Made 6 League appearances for The Glovers during the second half of the 2007/08 season without scoring before a loan move to Wycombe at the start of the following campaign also failed to score in 9 appearances for Wycombe. The High Wycombe born player was originally with the Wanderers Centre of Excellence before switching to Reading to complete his apprenticeship . Has also played on loan at Leyton Orient and Crewe Alexandra.

Glyn Creaser - Popular Club Captain and central defender with Wycombe who made 260 appearances and scored 12 times between 1988 and 1993 following a move from Barnet. Another player to have spent a loan spell at Yeovil during the 1993/4 season. Went on to play for Dagenham & Redbridge.

Scott Davies - Midfielder who had played on loan at Wycombe and Yeovil while at Reading. Became Gary Waddock's first signing for Wycombe after taking the job at Adams Park in October 2009 - staying at Adams Park for a three month loan spell and making 15 League apperances. Made 4 loan appearances for Yeovil later that same season before returning for a second loan spell with Wycombe in September 2010. Also played on loan for Bristol Rovers towards the end of the 2010/11 campaign before leaving Reading and joining Football League newcomers Crawley Town.

Miquel DeSouza - Striker who played for Yeovil during the 1992/93 season before he moved into the Football League with Birmingham City via Dagenham & Redbridge. Joined Wycombe from Birmingham City in January 1995 for £80,000 and scored 35 goals in three seasons with the Wanderers before moving to Peterborough United in February 1997 for £50,000. Has since played for Rushden and Diamonds and spent a short time at Boston United during the 2000/2001 season before moving to St. Albans City.



Tommy Doherty - Former trainee with Bristol City who spent close to nine years at Ashton Gate before switching to QPR in the summer of 2005. Limited to 15 First Team appearances while at Loftus Road and was loaned to Yeovil towards the end of the 2005/2006 season but made just one appearance before returning to West London. Originally loaned to Wycombe in September 2006 and went through two further loan spells at Adams Park before making the deal permanent in January 2008.



Charlie Griffin Bath born striker who moved into League football with Swindon Town in February 1999. Made three appearances for Yeovil during the first half of the 1999/2000 season while still at The County Ground and eventually moved permanently back into non-League football with Woking, Havant & Waterlooville, Chippenham Town and Forest Green Rovers before John Gorman bought him to Adams Park in May 2005.



Matt Harrold Striker who spent just over a year with The Glovers after moving West in the summer of 2005 from Brentford. Scored 9 League goals in 47 apperances for Yeovil before switching to Southend United on deadline day September 2006. Scored just three League goals for Southend before a £10,000 move to Adams Park in September 2008. A former trainee with Southend but made his League debut while at Brentford. Also played on loan for Dagenham & Redbridge and Grimsby Town while with The Bees.

Keiran Murtagh - Midfielder who made 7 League appearances for the Wanderers during the 2010/11 season following a transfer from Yeovil in the summer of 2010. A former Charlton Athletic and Leyton Orient youth teamer before making his senior debut playing for Fisher Athletic in the Conference during the 2007/08 season. Joined Yeovil in the summer of 2008, going on to make 53 League appearances before his move to Adams Park. Struggled to hold down a First Team spot at Wycombe and was loaned to Woking in February 2011 before being released by Gary Waddock and eventually moving to Cambridge United in June 2011.

Ron Keirnan - Defender who has played on for both Wanderers and Yeovil while on the books of Watford. His spell at Yeovil came at the start of the 2010/11 season - making three appearances. Later that season he made two League appearances for the wanderers. He joined Premier League side Wigan Athletic in the summer of 2011. The Republic of Ireland U19 and U21 international has also played on loan at Bradford City.



Luke Oliver A former Youth teamer with the Wanderers who made his League debut as a substitute in April 2003 under Lawrie Sanchez. Made a further three sub appearances before moving to the Conference with Woking in February 2004. A fairly successful spell at Woking brought him to the attention of Football League scouts and he moved to Yeovil in the summer of 2005 but he struggled to make First Team football (just three sub apps) and was loaned back to Woking before signing for Stevenage Borough in January 2006. Peter Taylor brought him back to Wycombe in January 2009 where he went on to break into the First Team.



Scott Rendell Striker who was on the books of Aldershot Town and Reading as a youngster. Made a handful of loan appearances for Yeovil during the 2008/09 season while he was at Peterborough United. Joined Wanderers in the summer of 2010 from Posh and scored 21 goals in his first season at Adams Park.

Terry Skiverton - Defender and former Chelsea trainee who originally joined Wycombe on loan in February 1995 under the reign of Martin O'Neill. Returned in March 1996 for another short spell under Alan Smith. Made a total of 14 appearances and scored once while at Wycombe. Went on to play Welling United before joining Yeovil in the summer of 1996. Went on to clock up over 380 appearances with the Glovers before taking on a Player/Manager role in February 2009 and then retiring from the playing side at the end of the 2009/10 season to concentrate on the Managerial duties with Yeovil.

Steve Thompson - Influential midfielder who joined Wycombe from Slough Town in 1991. Made 136 appearances and scored 15 times before being released by Alan Smith during the 1995/96 season. Went on to join Woking before a move to Yeovil in 1998 where continued playing as well as becoming Assistant Manager. Originally played League for Bristol City, making 12 appearances before moving into non-League via Torquay United.

Andy Turner - Played for Wycombe at the start of the 1994/95 season on loan from Tottenham Hotspur where he was an apprentice. His long list of clubs includes Doncaster Rovers, Huddersfield Town, Southend United, Portsmouth (signing from Spurs for £250,000 in September 1996), Crystal Palace and Rotherham, the latter club also seeing a short loan spell at Boston United. Joined Yeovil Town following his release from Rotherham, making 21 Conference appearances during 2001/2 season. Has since played for Tamworth, Northampton Town and Northwich Victoria.

Ben Roberts - Goalkeeper who made 15 appearances for Wycombe during the 1995/96 season on loan from Middlesbrough. After further loan spells with Bradford City, Millwall and Luton, switched to Charlton Athletic in the summer of 2000 but was restricted to just one substitute appearance before moving to Brighton in the summer of 2003. Originally retired in 2005 aged 29 due to a back injury but returned as goalkeeper coach and chief scout for Yeovil in the summer of 2009 and played one game during the following season aged 34. Left Yeovil in December 2009 to return to Charlton Athletic.



Mark West - A goalscoring legend at Wycombe during a nine year spell - scoring 171 times in 381 appearances. Spent a short loan spell at Yeovil during the 1993/4 season having fallen out of favour with Martin O'Neill. Has spent time with Kidderminster Harriers before a permanent move to Slough Town. Has since gone on to play for and manager Thame United.

Guy Whittingham - Striker who began his football with Yeovil Town while still in the Army. Went on to join Portsmouth where he had two spells, making more 200 appearances. Other clubs include Aston Villa and Sheffield Wednesday. Spent a short spell on loan at Oxford United while at Pompey during the early part of the 2000/2001 season. Joined Wycombe on transfer deadline day the same season during Wanderers famous FA Cup run. Scored a crucial goal at Bristol City in April 2001 to ease any relegation fears.

Do you know any more connections? Please e-mail us at clubguide@chairboys.co.uk
Chairboys all-time record against The Glovers
| | | | | | |
| --- | --- | --- | --- | --- | --- |
| DATE | COMP | V | R | SCORE | ATT |
| Sat, Sep 27, 1986 | IL | A | L | 1-2 | 3,169 |
| Tue, Nov 11, 1986 | GMAC | H | L | 1-4 | 1,255 |
| Tue, Dec 16, 1986 | ACDC | H | L | 1-2 | 1,087 |
| Sat, Feb 14, 1987 | IL | H | L | 0-1 | 2,473 |
| Sat, Aug 20, 1988 | GMVC | A | D | 1-1 | 3,106 |
| Sat, Mar 4, 1989 | GMVC | H | D | 1-1 | 3,103 |
| Tue, Nov 7, 1989 | GMVC | H | L | 1-2 | 1,659 |
| Sat, Nov 25, 1989 | GMVC | A | L | 2-4 | 2,212 |
| Wed, Apr 4, 1990 | BLT | A | L | 1-2 | 1,403 |
| Tue, Apr 10, 1990 | BLT | H | W | 3-2 | 1,556 |
| Sat, Nov 10, 1990 | GMVC | H | W | 2-0 | 3,485 |
| Sat, Dec 29, 1990 | GMVC | A | D | 2-2 | 2,661 |
| Mon, Aug 26, 1991 | GMVC | H | W | 1-0 | 3,360 |
| Sat, Mar 7, 1992 | GMVC | A | L | 0-1 | 2,901 |
| Tue, Feb 11, 1992 | BLT | A | D | 0-0 | 1,816 |
| Tue, Feb 18, 1992 | BLT | H | W | 2-0 | 1,883 |
| Sat, Sep 15, 1992 | GMVC | H | W | 5-1 | 3,769 |
| Tue, Feb 9, 1993 | BLT | A | W | 1-0 | 2,330 |
| Tue, Mar 16, 1993 | GMVC | A | L | 0-3 | 2,667 |
| Sat, Nov 6, 2004 | FL3 | H | L | 0-1 | 5,453 |
| Sat, April 23, 2005 | FL3 | A | D | 1-1 | 7,421 |
| Sat, Dec 26, 2009 | FL2 | A | L | 0-4 | 5,055 |
| Sat, Feb 6, 2010 | FL2 | H | L | 1-4 | 4,793 |
| Tue, Sep 13, 2011 | FL2 | A | L | 0-1 | 3,134 |
| Sat, Feb 14, 2012 | FL2 | H | L | 2-3 | 3,529 |
Key:
IL = Isthmian League
GMAC = GMAC Cup
ACDC = AC Delco (Isthmian) League Cup
GMVC = Vauxhall Conference
BLT = Bob Lord Trophy
FL3 = Football League Division Three/'League Two'
FL2 = Football League Division Two/'League One'
Click date for match report where available