Getting there
By Car: (approx 186 miles from HW)
Join the M1 northbound and continue to junction 38 (signposted Huddersfield A637). After 6 miles take the first exit at the Grange Moor roundabout (s/p Huddersfield A642). Continue on this road through several sets of traffic lights turn right (s/p Leeds A62) into St Andrews Road. After 0.5 miles turn right at crossroads for the stadium.
There is very little unreserved parking at the ground, so it's street parking or some of the smaller car parks that are available on matchdays. Check www.rac.co.uk for specific or more detailed directions.
Train: Nearest station Huddersfield about 15 minutes walk to the ground. Served from Manchester Piccadily and also direct services from Sheffield. Please note there are no connections back to London for evening kick-offs. Check www.nationrail.co.uk for specific times and connections of trains.
KNOW YOUR HISTORY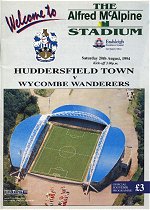 Wycombe's first ever meeting with The Terriers back in 1994 was significant for the fact that it was the first ever game at The McAlpine Stadium.
The all-ticket gate of over 13,000 saw the local side frustrated by a well organised Wycombe side. Simon Garner should have given Wycombe the lead in the 29th minute when clean through on goal but the ex-Blackburn hero made no mistake from the edge of the box four minutes before the break.
That strike proved to be the winning goal with Andy Booth going closest for the home side with a free header in the 69th minute. A bad day for Town and their fiery Manager Neil Warnock was completed in the dying moments when defender Pat Scully was sent off for a second bookable offence.
Wycombe: Hyde, Cousins, Creaser, Evans, Brown, Carroll, Stapleton, Ryan, Thompson, Regis, Garner (sub 86 Hemmings)
Huddersfield Francis, Billy, Mitchell, Scully, Cowan, Baldry (sub 62 Dunn), Bullock, Reid, Starbuck, Booth, Jepson

Just to prove that the result was no fluke, Wycombe beat Huddersfield 2-1 at Adams Park four months later in one of the most memorable League games ever at Adams Park. Huddersfield were leading 1-0 through a Ronnie Jepson goal before Gary Patterson was sent-off on his Wycombe debut for a second bookable offence. The dismissal lifted Wycombe and a goal from Terry Evans following a Dave Carroll cross from the right and then a strike from Garner while everybody was ball watching, capped an excellent double over a side that eventually clinched promotion via the play-offs.
Chairboy Connections
A selection of players who have played for both Clubs.

Bob Dewhurst - Made 7 loan appearances for Huddersfield during the early part of the 1992/93 season while at Blackburn Rovers. Later that season he made a handful of vital loan appearances and scored a crucial league goal for Wycombe during the Conference/Trophy "double season" of 1992-93. Has since played for Hull City, Exeter City and Scunthorpe United.

Delroy Facey - Striker who made six Football League appearances for the Wanderers during the 2007/8 season while on loan from Gillingham. Switched to Notts County in the summer of 2008 after his contract was terminated by The Gills. Originally a trainee with Huddersfield Town before being signed by Sam Allardyce at Bolton in July 2002. Played in ten Premiership games before loan spells with Bradford City and Burnley. Moved to West Brom in January 2004 and then to Hull City in the summer of 2004 where he played under Wanderers Manager to be Peter Taylor. Went on to have short spells with Oldham Athletic, Tranmere Rovers and Rotherham United before his move to Gillingham in July 2007.

Folo Onibuje - Striker who made five League appearances for the Wanderers during the 2006/2007 season while on loan from Swindon Town. Had previously made 14 League appearances for The Robins during the early part of the 2006/7 season following a move from Cambridge United. The former trainee with Preston North End has also played for Huddersfield Town, Barnsley, Peterborough United and following his time with Wycombe spent time with Shrewsbury Town, Macclesfield Town and Accrington Stanley before a move into non-League football with Weymouth.

Iffy Onoura - Striker who made over 500 appearances and scored in excess of 100 goals in his professional career having started out with The Terriers before spells with Mansfield Town, Gillingham, Swindon Town, Gillingham (again) and then Sheffield United. Spent a short spell on loan at Wycombe at the start of the 2003/4 season while on the books at Brammel Lane - making 6 appearances. Joined Grimsby Town on a short term deal shortly after his return to The Blades and made 19 League appearances - scoring 3 times before moving to Tranmere Rovers in February 2004. Moved back to Huddersfield in March 2004 but retired from playing at the end of the 2003/4 campaign aged 36.

Frank Sinclair - Former Chelsea trainee who spent the 2007/8 season with The Terriers having initially joined on loan from Burnley - making 42 League appearances in the Huddersfield defence. Switched to Lincoln City in the summer of 2008 and made 9 loan appearances at Wycombe during the latter part of the following campaign. Made over 200 First Team apps for Chelsea in an eight year spell before a £2m move to Leicester City where he went to make 164 League apps in a six year period. Spent three years with Burnley (92 League apps) before his move to the Terriers.

Other player connections include:
Lionel Ainsworth, Scott Bevan, Simon Church, Mark Cooper, Paul Hayes, Richard Keogh, Leon Knight, David Stockdale, Andy Turner and Steve Walford.
Chairboys all-time record against The Terriers
DATE
Comp
V
Res
SCORE
Att
Mon, Aug 20, 1994
FL2
A
W
1-0
13,334
Sat, Dec 10, 1994
FL2
H
W
2-1
6,790
Sun, Sep 2, 2001
FL2
A
L
1-2
9,750
Tue, Mar 12, 2002
FL2
H
L
2-4
5,446
Sat, Nov 9, 2002
FL2
A
D
0-0
8,695
Sat, Feb 8, 2003
FL2
H
D
0-0
5,886
Sat, Nov 14, 2009
FL2
A
L
0-6
14,669
Sat, Apr 3, 2010
FL2
H
L
1-2
5,288
Sat, Aug 27, 2011
FL2
A
L
0-3
11,953
Fri, Jan 6, 2012
FL2
H
L
0-6
4,465
Tue, Nov 24, 2020
Ch
H
D
0-0
BCD
Sat, Feb 13, 2021
Ch
A
W
3-2
BCD
Key:
FL2 = Football League Division Two/'League One'
Ch = Football League Championship