The current season (2006/2007) represents the twentieth anniversary of Wanderers memorable 1986/87 campaign and Chairboys on the Net is dragging out the archives again for another nostalgia trip that will run throughout the current season. We'll be briging you extracts from press reports, match programmes, the first ever issues of the Chairboys Gas fanzine, as well as unearthing some unpublished photographs from the record breaking campaign.

The 1986/87 season was approached with trepidation by many Wycombe followers following the unfortunate and heartbreaking relegation from the Gola League [soon to become the Conference] in May 1986. Wanderers had spent just 12 months in the national league but it was obvious to the majority of those connected with the Club that this was the league to be in if real progress was to be made. The Club had fallen into a bit of a rut since the heady days of the early to mid 1970's under the Managership of Brian Lee. Home crowds had risen during the solitary Gola League season but still were well below 1,000. Lee was now Chairman and with the new ground at Hillbottom Road in its early stages of planning it was a major transitional stage for the Club as it completed its conversion from to Company Limited by Guarantee. But it was on the field matters that attracted the main interest as the start of the 1986/87 campaign approached.

We pick up the memories of the 1986/87 season with an extract from the 'Story of the Season' as penned by Simon Burrage in the Wanderers 1987/88 handbook. He recalls that the 1986/87 would be one to 'cherish and remember for some time to come' but adds, "It would be fair to say that such success had not been widely anticipated before the start of the season began. Expectations did rise considerably, though, when it was announced that two established Non-League International players [Keith Barrett and Noel Ashford] had been signed from Enfield at a combined cost of £8,000. Keith Barrett, though a very different style of defender, was natural replacement for Anton Vircavs, who had earlier been transfered to Cheltenham Town - ironically, largelly due to Anton's wish to remain on the Gola/Conference circuit, with or without Wycombe Wanderers. As for Noel Ashford, he quickly became something of a folk-hero with the Loakes Park fans, being that relatively rare type of forward able to combine irresitable natural skill with 100% committment to his team's cause. The signing of these two players - in itself a major shock to the Non-League football world - indicated a degree of ambition within the Club that instantly revived may peoples' enthusiasm for the coming season. With the 'sleeping giant' of Yeovil Town again poised to challenge for the [Isthmiam League] title it was evident that nothing less than an exceptional season would be sufficient to take top spot."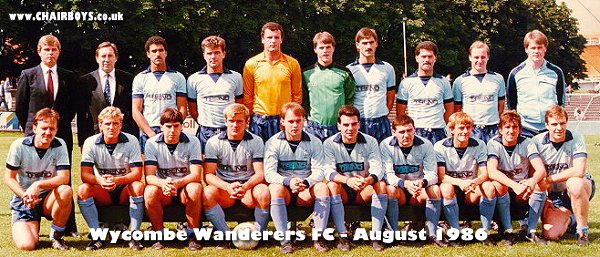 Part 1 - August 1986 - Expectations high as League campaign gets underway
Part 2 - September 1986 - Good start continues before rivalry with Yeovil Town is born
Part 3 - October 1986 - Mixed fortunes on the playing front, while Chairboys Gas is launched
Part 4 - November 1986 - Back to form in League but Yeovil at it again in the Cup
Part 5 - December 1986 - Winning run continues but more cup exits
Part 6 - January 1987 - The one where Wycombe scored 11 in one match
Part 7 - February 1987 - Tough month for Wycombe as Yeovil and Slough come to town
Part 8 - March 1987 - Title starts to come within sight for Wanderers
Part 9 - April 1987 - Wanderers clinch the title in dramatic fashion
Part 10 - April/May 1987 - Trophies galore as season draws to a close