With the Isthmian League Championship in sight, April 1987 was a case of where and when Wycombe would win the League, rather than if. Yeovil Town had all but given up their attempts to catch Wanderers in the table, although a run of five consecutive victories meant that Alan Gane's side still needed nine points from their final five games to be sure of the the title.

Wanderers began the month with a home meeting with Barking on Saturday 4th April 1987. April showers had made the Loakes Park surface a messy affair and the game matched the conditions. With former Wanderer George Borg as the visitors Player/Manager, Barking proved to be tough opponents and had 'keeper Jon O'Brien in top form. He denied Declan Link in the fourth minute and three minutes later turned an Andy Graham shot onto the post. The frustation continued for Wycombe with a Graham effort being ruled out for offside but the East London's side luck ran out on 25 minutes when they made a mess of clearing a corner and Graham managed to queeze the ball into the corner of the Gas Works end net. Barking had a goal ruled out for a foul on Gary Lester three minutes later before Wycombe were given a great chance to make it 2-0 when Noel Ashford was upended by Tony Welch in the box. Mark West, who had appeared to solve Wanderers' penalty taking problems the previous month, stepped up to take the kick but in an effort to place the ball past O'Brien, sent a tame kick that the Barking 'keeper blocked with ease. Wanderers continued to dominate but the Wanderers faithful had to endure a nervous second-half and it wasn't until six minutes from time when Link struck from 10 yards from Ashford's return ball into the box, that some sort of relief could be shown. Even then an 87th minute goal for the visitors from Mark Kane made the closing moments a little tense before the final whistle signalled three crucial points for Wycombe. Speaking after the game Alan Gane said, "It was a tremendous performance - some of the best football we've produced this season but we couldn't put the ball into the net. We didn't play in the second-half but the result was right. I'd settle for two more wins like that." And on the subject of penalty taking, he added, "I think Declan would like to have another go at it."

During the week Wanderers fans had hoped that Yeovil would slip up in their game in hand but a 2-0 victory over Kingstonian cut Wycombe's lead to six points with four games remaining for both clubs. Wanderers Captain Keith Barrett spoke to the press during the week and said, "It is in our hands. We must win two of our remaining four games to win the League but we are just taking them one at a time." The next game was on Saturday 11th April 1987 when Carshalton Athletic provided the opposition at Loakes Park. The visitors came with a poor record of form but dominated the opening stages and but for squandering a handful of good chances could have shocked Alan Gane's side. Wycombe struggled to adjust following the loss of key defender Kirk Corbin to an injury in the opening minutes. Mark West filled the right back spot and after a nervous start coped admirably, along with Graham Bressington in midfield who was returning after suspension. Conrad Kane was a constant threat from the visitors but Carshalton should have taken the lead on the half-hour mark when Steve Tomlin balloned his shot over from six yards. But Wycombe finally made the breakthough four minutes before the break when Kevin Durham eventually bundled the ball home after Carshalton 'keeper Peter Dale failed to deal with a high ball. Wanderers killed the game off during a two minute spell in the second-half. First on 64 minutes Neil Price lofted a ball over the Athletic defence for Andy Graham to direct home. Mark Dawber, making a suprise appearance following a quick recovert from his injury, came on as substitute a minute later and his first contribution was to win a penalty when he was chopped down by bulkly defender Curtis Warmington. This time it was Declan Link who was entrusted with the spot-kick and this time it was converted into the left hand corner to put Wycombe 3-0 up. And the 1,331 crowd were treated to another goal six minutes from time when Keith Barrett knocked in a loose ball after Link's glancing header had been parried by Dale in the visitors goal. After the game Alan Gane admitted his side were fortunate not to go behind, "They missed some great chances and we were lucky to be 1-0 at half-time. But I still think we would have won ewven if they had scored. It seems we either need to score or concede a goal to get us going."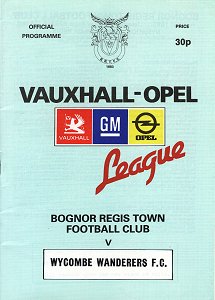 All eyes were now on Wanderers' trip to Bognor Regis Town the following Monday 13th April 1987 where victory for Wycombe would virtually seal the title. Wanderers' goal difference of +66 compared to Yeovil's of +40. But Wanderers would have to claim the points without the services of defender Kirk Corbin who would be ruled out for the remainder of the season with ligament damage, while Kevin Durham was doubtful after suffering a deadleg. Corbin's absence meant a dramatic recall for Anthony Riley who was now living in Rugby. Alan Gane commented, "Anthony has been playing for Rugby but we have an agreement whereby we can call on him whenever we need him...and we need him." And Gane said his side would be going all out for League title at Nyewood Lane, saying, "In normal circumstances we would be happy with a draw but these are not normal circumstances. We know we can't rely on Yeovil losing, so we must win it ourselves. We have a chance at Bognor and we want to win it. But if we don't win at Bognor we'll win at Hitchin or Dulwich Hamlet."


A sizeable contingent of Wanderers fans made the journey south to see the game at Bognor, swelling the attendance to 1,030. Team news saw Kevin Durham recover from his deadleg but there was a surprise absence of Andy Graham who has contrived to miss the team coach to the game. George Link was drafted into the midfield as Wycombe went all out for victory. The majority of the travelling fans were packed behind the goal when Noel Ashford was floored in the penalty area after just nine minutes to give Wycombe a spot-kick. Declan Link strolled up to take it but he and Wanderers followers could only watch in agony as Simon Steele dived to push away the kick. Keith Barrett and Graham Bressington both skyed efforts before the break while Gary Lester was in top form to deny Bognor with two saves in quick succession to see the game go in goalless at the break. The second half saw Wycombe continue to batter the Bognor goal with Link having four chances in as many minutes but the Wanderers striker still seemed to be suffering from a nasty bang on the back of the head from Billy Gill in the first-half and had lost his finishing touch. Perhaps inevitably and with 17 minutes remaining Bognor scored the goal that looked to have spoiled the party for the Wanderers followers. It came when Russell Burtenshaw crossed from the right towards big striker Clive Green. Unfortunately for Wanderers, Kevin Day was first to the ball and it rebounded off the back of his head and into the net.





But this proved to be the signal for Wanderers to 'get going'. Mark West replaced the out of sorts Declan Link and three minutes later the scores were back level after George Link put the ball over from the right to eventually find an unmarked Kevn Durham who cooly slotted past Steele. Wanderers then swamped Bognor with a rush forward to try and win the game. However, as the 90 minutes approached it looked like the title celebrations would have to wait until the following Saturday. It was literally in stoppage time when a ball into the Bognor penalty area by George Link found the head of Mark West whose header seemed to be heading for the safety of the keepers' arms. But in state of panic it was Mr Popular, Billy Gill who diverted the ball past his own 'keeper and into the back of the net. Noel Ashford had no hestitation in taunting the Bognor player, while Wanderers fans celebrated the goal in ecstatic fashion in the descending mist of Bognor. Moments later the final whistle blew and Alan Gane hugged Assistant John Reardon on the touchline and Wanderers fans spilled onto the pitch to congratulate their heroes. All the tension from the season was released as emotional scenes followed with the players being swamped and then cheered back from the dressing room for a final send off. Quite what the locals of Bognor made of more than 600 Wanderers fans cheering through their streets at 10pm at night, is not documented.


Manager Alan Gane was quick to praise his players and backroom staff in the dressing room immediately after the game. He said, "I just want to say three things. You've done it the hard way but I'm delighted because we did it by playing football and I'm really happy because you're a great bunch of lads." Gane also said, "I'm delighted to get abck at the first attempt. We were better than the rest all the way through the season."
Assistant John Reardon also commented, "It's fantastic to win it the way we did tonight because Bognor are no mean side and they made it very hard." Kevin Durham, scorer of Wanderers' equaliser said, "I mis-hit it completely. If I had struck it well it may have never gone in. But all this is fantastic for me since I heven't really been involved in anything like it before."
And skipper Keith Barrett added, "I'm absolutely delighted for everyone connected with the team. They all worked hard and fought together well and I was particularly pleased since we raised our game when we went a goal down. Losing a goal spurred us on and we played much better after that."

Having celebrated the title at Bognor on the Monday, technically, a further point was needed before the trophy could be officially handed over. That opportunity came at Hitchin Town on Saturday 18th April 1987. Before the game Wanderers had amassed 95 points and victories in the remaining two games would ensure a points total in excess of 100. With a goals total of 96, the century of League goals was also in sight. However, once again it looked like an anti-climax was on the cards as the game entered the final 15 minutes with the score still at 0-0.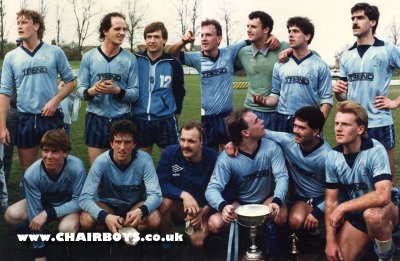 But with around 300 travelling fans in the 606 attendance, urging them on, it was the Link combination that finally broke the deadlock, Declan tucking in George's cross. But Hitchin, needing points themselves to stay clear of the relegation zone, forced an equaliser with three minutes remaining and it looked as if victory would be denied. Cue Andy Graham, absent from the party at Bognor, to rise highest to steer a header past the Hitchin 'keeper from another pinpoint Noel Ashford cross. Literally seconds later the final whistle was blown and Keith Barrett was picking up the Championship Trophy, while an informal team shot took place on the pitch. Meanwhile, Alan Gane commented afterwards, "We did just enough to win. We playedat half pace which I suppose was expected after last Monday. We are now concentrating on the Berks and Bucks Senior Cup Final but we are all determined to set a new club record wins in a season."



  
Vauxhall Opel League Premier Division
Up to and including Sat 25th April 1987
Top six only

                PL  W  D  L  GF  GA Pts
1. Wycombe W    41 31  5  5  99  31  98
2. Yeovil Town  40 27  8  5  67  25  89
3. Slough Town  42 23  8 11  70  44  77
4. Hendon       41 22  7 12  66  51  73
5. Bognor Regis 39 20 10  9  81  51  70
6. Harrow Boro  41 19 10 12  65  43  67

April/May 1987 - Trophies galore for Wycombe as season draws to a close
1986-1987 index