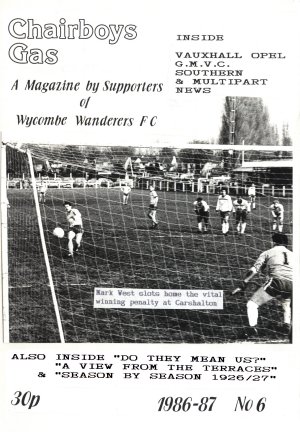 March 1987 saw Wanderers enter the home straight in their quest for promotion to the Conference and on paper it looked to be a relatively straight forward set of fixtures to contend with. Wanderers also had a 16 point lead over second placed Yeovil Town and although The Glovers had two games in hand, it was Wanderers who were odds on favourites for the title.

First on the agenda for the month was the visit to Tooting & Mitcham United on Saturday 7th March 1987. The home side were languishing five places from the foot of the Isthmian League table but Wanderers were unable to put them out of their misery as Alan Gane's side struggled to find form in front of goal. On a bitterly cold day and in swirling wind at Tooting's Sandy Lane ground, Wanderers dominated possession but with a forward line of Mark West and Jason Seacole, supplemented by soon to be capped England non-League international Noel Ashford, the game ended goalless. It was Seacole who went closest for Wanderers when he connected with a long clearance from Gary Lester on the hour mark but David Taylor in the home goal made a fine reaction save. Elsewhere, Yeovil disposed of Barking by a 3-0 scoreline to narrow the gap at the top of the table to 14 points with Town having ten games remaining and Wycombe eight.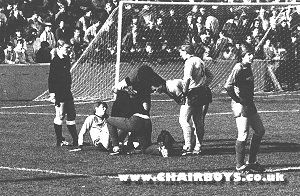 A week later on Saturday 14th March Harrow Borough proved to be their usual determined self, forcing Wanderers into another nervous display. Frustration boiled over for a small minority of the 1,465 attendance at Loakes Park as they saw a second successive 0-0 draw and with Yeovil winning, Wycombe's lead was down to 12 points and with the Somerset side still having two games in hand. There was further bad news on the day too when promising striker Mark Dawber was forced off after only three minutes when he came out second best in cruching tackle with Boro 'keeper Stuart MacKenzie. The visitors intentions were also made clear just after the half-hour mark when Declan Link was cut down by Steve Bateman. Boro' defender Robbie Johnson argued with Link over his reaction to the tackle and was then surprisingly sent-off by the referee, leaving Bateman unpunished. As Johnson left the field in a confused state, the linesman drew the referee's attention to the fact he had sent the wrong man off, prompting the ref to sprint back to the penalty area and show Bateman a yellow card - the referee was a relatively youthful Graham Poll. But even with a one man advantage, Wycombe couldn't find the net and it was visitors who went closest to snatching victory when Amercian International squad member John Kerr beat the offside trap but shot straight into the arms of Gary Lester. (Kerr would later join Wycombe during the 1988/89 season). Alan Gane kept his team in the dressing for 20 minutes after the game, and emerged to say, "That was our worst performance of the season. Some players are doing well at the same time as others are off form, but I didn't need to have a go at them, they know they had problems." But Gane insisted he was not too concerned, adding, "We'll have to pull our socks since we're going through a bad patch. Fortunately we're not losing. We're still confident, we're still out in front and we're not worried."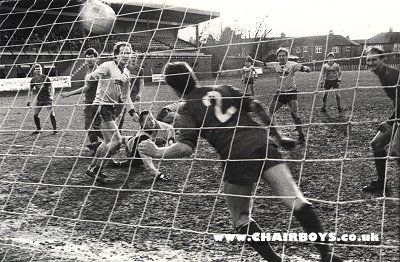 During the week Yeovil had won one of their games in hand (beating Worthing at home 5-0) and closed the gap to nine points. Wanderers next game was the visit to Worthing on Saturday 21st March 1987 and with Worthing one place off the bottom of the table was rated in the 'easier' catergory by many Wanderers followers. However, with the scoreline still goalless at the break, there were signs that more nerves had started to get hold of the Wanderers players. Their was more frustration for Wycombe followers when a 61st minute penalty awarded to Wycombe following a trip on Noel Ashford saw Declan Link fire the resulting spot kick wide. But Link was not despondent with the miss and four minutes later somehow managed to squeeze home the ball following Jason Seacole's corner. It was another huge relief for the 350 or so travelling fans in 556 attendance and shortly afterwards it was 2-0 when Andy Graham nodded home an Ashford cross. Six minutes from time Link made it 3-0 when he headed home from close range following Graham's flick. It was a vital victory for Wanderers although not one recognised with any distinction by the BFP Midweek, whose back back the following Tuesday proclaimed 'CHILTERN ARE THE GREATEST', after Chiltern Rugby Club had beaten Marlow in the Bucks Cup in front of a couple of hundred spectators. Wycombe were consigned to the inside pages where Alan Gane commented, "I'm pleased we carried on after the penalty and we needed the three goals to give us confidence in front of goal which had missing in the last few games."

A home tie with Abingdon Town in the Semi-Final of the Berks and Bucks Senior Cup on Tuesday 24th March 1987 provided a welcome break from the pressures of League football. In front of a 691 attendance Wanderers put out a relatively strong side and were 1-0 inside four minutes through another Declan Link goal. Dave Burgess, struggling all season with injuries limped off seven minutes later and would miss the rest of the season. On 12 minutes Wanderers were 2-0 up thanks to an own goal and Andy Graham made it 3-0 around the half-hour mark as Wanderers went into cruise control. But Wanderers' penalty problems continued shortly after the restart when George Link was felled in the box by Roger Charles. This time Noel Ashford took on the responsibilties but struck the kick straight at the Town 'keeper. However, further goals from Declan Link and Mark West completed the scoring on the night to set up a Final against Aylesbury United at Wolverton on Saturday 25th April 1987.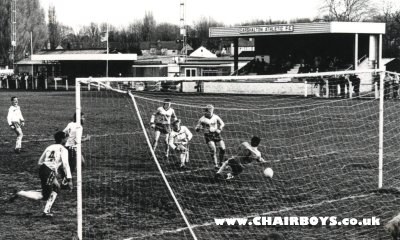 It was back to league action at Carshalton Athletic on Saturday 28th March 1987
with the Wycombe travelling contingent swelling the gate to 600. It proved to be another nerved racked day for Wanderers followers. A tight first half threatened to boil over with both Graham Bressington and Neil Price going into the referee's book. Then moments before the break home striker Bobby Armitt was brought down as Gary Lester and Kevin Day converged on him. The referee awarded the penalty but Armitt, still suffering from the foul, fired wide of Lester's post. That proved to be a wake up call for Wycombe who looked more lively in the second period but still struggled in front of goal. It was the 65th minute substitution of Jason Seacole for Mark West that proved inspirational. Within five minutes West had been floored by Carshalton's Curtis Warmington inside the area and it was West who had no hestitation of taking the responsibilty of the taking the spot kick and putting Wycombe 1-0 up amid scenes of wild celebration on the grass banks behind the goal. Two minutes later a Kevin Durham cross from the right was converted by Link and the three points were confirmed. Alan Gane commented after the game, "We needed to settle down and we knew a goal would have done it. That's what happened when Mark put away the penalty. It was great penalty and he nearly scored again."

While Wycombe were beating Carshalton, Yeovil also took three points from their trip to Dulwich Hamlet leaving Wycombe with the task of needing nine points from their final five games to secure the Championship. To help with the run-in Alan Gane was in the process of making signings too. In came Carl Hoddle, 19 year old younger brother of Glenn, after his release from Barnet. Also on his way to Loakes Park was goalkeeper John Granville from Millwall who was drafted in for cover for Gary Lester. Gane said, "Both players are replacements in case of injuries. At this stage of the season we can't afford to have too many of the side missing." Meanwhile, moving in the other direction was Neil Stanley, who joined Farnborough Town, while midfielder Anthony Riley had decided to quit the Club come the end of the season. The next games for Wycombe were the following Saturday at home to Barking, then Carshalton at home on saturday April. The games where Wycombe would potentially seal the title would be away to Bognor Regis on Monday 13th April 1987, away to Hitchin Town on Saturday 18th April and finally at Dulwich Hamlet on Saturday 2nd May.



  
Vauxhall Opel League Premier Division
Up to and including Sat 28th March 1987
Top six only

                PL  W  D  L  GF  GA Pts
1. Wycombe W    37 27  5  5  89  38  86
2. Yeovil Town  36 23  8  5  58  22  77
3. Slough Town  37 21  6 10  64  39  69
4. Hendon       36 21  5 10  63  47  68
5. Harrow Boro  38 18 10 10  62  41  64
6. Bognor Regis 32 17  9  6  72  43  60

April 1987 - Wanderers reel in the honours
1986-1987 index