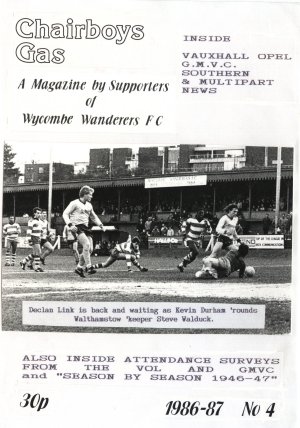 January 1987 proved to be a defining month in the destination of the Isthmian League Championship for the 1986/87 season. However, before the fun and games could start, Wanderers had to endure a stuttering start to the new year. The New Years Day clash at Windsor & Eton was postponed due to a waterlogged pitch at Stag Meadow but the trip to Croydon on Saturday 3rd January 1987 went ahead and saw an end to Wanderers record breaking winning run in the League. It came as Alan Gane was forced to field stand-in 'keeper Rick Collier as a replacement for the injured Gary Lester. Collier had been drafted in due to second choice Steve Curry being unavailable. It looked like busy as usual for Wanderers as they dominated the opening stages and top scorer Mark West going close. But it was Croydon who scored what turned out to be the only goal of the game on 18 minutes when a corner was not defended well and Murray Jones turned in the loose ball after John Daley's shot had hit the cross bar. A minute later it got worse for Wycombe when West was red carded for retaliation in a incident with home defender Micky Stratford. The dismissal fired up the Wanderers but despite several close chances Wanderers lost for the first time in thirteen League games.

The defeat at Croydon was tempered by the news filtering through that day of the resignation of Yeovil Manager Gerry Gow shortly before The Glovers 1-1 draw at Hendon. It was alledged that Gow had been the victim of a hate campaign by a small group of Yeovil 'supporters'. They had sent water, gas and other workmen to his house and hate-mail had been pushed through his letterbox. It proved to a be a sad end for Gow who had claimed the previous month other sides were raising their game when playing Yeovil. He said "Our main problem is that teams look upon Wycombe as just another side, whereas they always look on Yeovil as a one-off match. We are convinced everyone raises their game a lot more against Yeovil than they do against Wycombe." The pressure on Gow had also not been helped by Yeovil Chairman Gerry Lock who had opted to join the Isthmian League on relegation from the Gola League at the end of 1984/85 because it "may provide us with a quicker route back." The Glovers missed out to Sutton United come the end of the 1985/86 season and it looked odds on now that Wycombe would pip them to the title come May 1987. The new man in charge at Huish would be former Wealdstone boss Brian Hall.

Things couldn't be more different at Wycombe where Manager Alan Gane was awarded the Isthmian League Manager of the Month award before the home meeting with Hitchin Town on Tuesday 6th January 1987. And Wanderers just avoided the curse of such awards after a 76th minute penalty from Noel Ashford was enough to secure a 1-0 victory at Loakes Park. The highlight of the evening for the 794 attendance was the introduction of Declan Link as an 87th minute substitute following his signing earlier in the day. The 22 year old went close to scoring three times in his brief appearance and Link commented after the game, "I think all the time I knew I was coming back. There were other offers. Farnborough were keen because of my past partnership with Simon Read. But I've got too much going on for me here." But Link's arrival signalled the end of Byron Walton's time with Wycombe after Alan Gane opted to release the battling front man. Gane commented, "Byron was obviously unhappy at hearing the news but I was not happy giving it to him. It was pure econimics, by signing Declan we had too many forwards. Byron has been honest and hard working and I'm sorry to see him go." The arrival of Link was also coupled with the signing of Declan's younger brother George.

Bottom placed Walthamstow Avenue were the visitors to an icey Loakes Park on Saturday (10th January 1987) and were expected to provide little resistance to Wanderers. And so it proved. Kevin Durham's corner drifted into the Avenue net after less than 60 seconds, and with the score 3-0 after 15 minutes, the contest was as good as over and the final score of 7-1 to the Wanderers could have been far greater. There was good news after the final whistle too for the majority of the 1,010 attendance as the result from Yeovil revealed they had dropped two more points, this time to lowly St Albans City. It left Wanderers 11 points clear with 15 games remaining and Wanderers fans were beginning to feel cautiously optimistic that the Championship was in sight.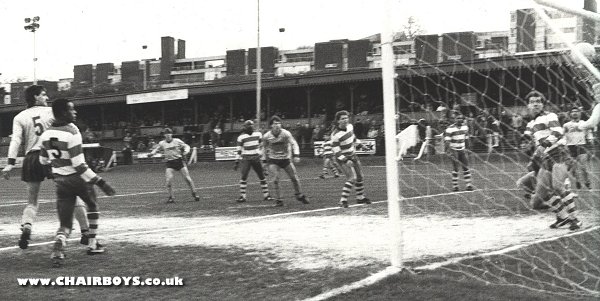 The icey conditions and the detoriating weather meant that the midweek Berks & Bucks meeting with Windsor was postponed, as was the scheduled game at Bognor (Saturday 17th January 1987). Wanderers next outing was at home to Bromley on Saturday 24th January 1987. Bromley arrived at Loakes Park in good form and tested Wycombe's resolve to the extreme. Things were not made easy for Wycombe with Mark West and Noel Ashford sitting the game out due to suspension. Bromley's aggresive tactics won them few friends with the home fans and the game was still goalless on 35 minutes when Mark Dawber ended up being carried off following a lunge by Bromley's Alan Scotting. However, it was Dawber's replacement, George Link who broke the deadlock shortly after the break and Graham Bressington made it 2-0 on 66 minutes following a move that he started and finished. Declan Link made it 3-0 from the spot five minutes later but Bromley's Dick Tydeman didn't agree with the handball decision against him and after shoving the referee was promptly sent off. The visitors continued their hardman tactics and even exchanged threats with the Loakes Park crowd but it was Wycombe who held their nerve to bag a comfortable 3-0 victory. The Bucks Free Press, who had relegated the Wanderers match report to the inside back pages due to some local rugby matches, pulled no punches with their headline which said 'Blues roast the butchers'.

The following week produced a set of results that still make entertaining reading more than 20 years later. First up on Tuesday (27th January 1987) was the visit of Windsor & Eton in a Berks & Bucks Senior Cup tie. The Berkshire outfit had beaten Wycombe home and away in the Isthmian League two seasons previous and had gone on to claim to be the leading non-League side in the Berks and Bucks. This time around they were well and truly put in their place as Wanderers raced into a 4-0 lead after 15 minutes and led 7-0 by half-time! The final score of Wycombe 11 (eleven) - Windsor 1 (one) was simply a true reflection of the gulf in class between the two sides but the joy of the victory was somewhat toned down by the fact that four days later Windsor would provide Yeovil's next opposition in the Isthmian League.

While Yeovil travelled to Windsor on Saturday 31st January, Wycombe made their first visit for several years to Clarence Park to play St Albans City. A decent crowd of 1,173, swelled by at least half that figure following Wycombe, witnessed an entertaining game on a sunny afternoon in Hertfordshire. The result itself was worthy of celebration and with FA Cup day meaning that BBC Radio 2 were giving a rare reading of the Isthmian League results, it was with mild curiosity that the result from Stag Meadow was observed. Windsor & Eton 1 (one) Yeovil Town...................0 (nil). Reports of Wycombe fans travelling back from the game having to pull over to celebrate are not exaggerated. The local press in Windsor also revelled in the result in their match report, saying in their headline, 'THE JOKES ON YOU YEOVIL!' and adding "The comedians who rolled along to Stag Meadow to mock poor old Windsor were left choking on their jokes after less than a minute. Saturday's match, four days after the Royals had been slaughterd 11-1 at Wycombe, was preceded by one-liners like, 'I've brought my pocket calculator along to keep the score' and 'I hear Windsor have changed the Golden Goals competition - the winner is the one whose ticket numner matches a minute when a goal isn't scored." But for Yeovil, unbeaten away from home in the League all season, their contribution to the comedy at Stag Meadow was to concede a goal after just 57 seconds and then spend the remainder of the game doing everything but score.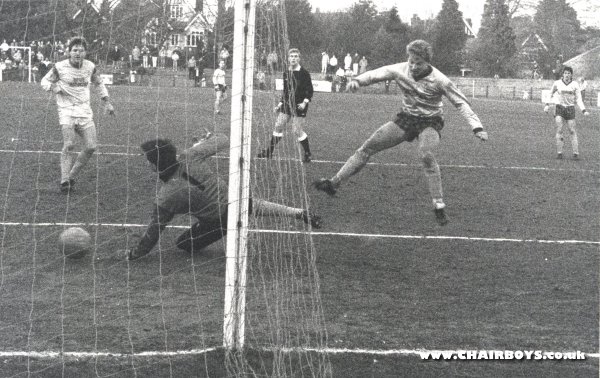 Wanderers were now a staggering 17 points clear of Yeovil and everybody knew that only a major disaster could prevent Wanderers obtaining their promotion dream. But there was still an air of caution as just twelve months earlier Wanderers had seen a late slump in League form cost them their place in the Gola League. The next two matches in February would also see them take on potentially tough opponents in the form of Farnborough Town and Yeovil Town. Alan Gane was also not counting his chickens as he commented to the press, "These are two very difficult games coming up and we can't afford to lose them. One thing that will spur us on is knowing that they have go to make up that gap up and we are determined that Farnborough won't do the double over us. We're going to keep going game by game. We'll keep our heads down and just keep plodding on until the end of the season."



  
Vauxhall Opel League Premier Division
Up to and including Sat 31st Jan 1987
Top six only

                PL  W  D  L  GF  GA Pts
1. Wycombe W    29 24  1  4  78  25  73
2. Yeovil Town  28 16  8  4  41  20  56
3. Farnborough  26 14  6  6  54  43  48
4. Slough Town  25 14  4  7  45  25  46
5. Bognor Regis 23 12  8  3  58  32  44
6. Hendon       25 13  5  7  44  36  44

February 1987 - Tough month ahead - surely not fourth defeat of the season to Yeovil?
1986-1987 index