Getting there
By Car: (approx 85 miles from HW)
The ground is situated in close proximity to junction 6 of the M6 (spaghetti junction). From the motorway junction follow signs for A38, Birmingham (NE), Lichfield to the Salford Circus roundabout. Turn right (s/p City Centre A5217) onto Lichfield Road). Keep right and join Aston Hall Road (s/p Witton, Aston Villa). For Villa Park continue to the end of Aston Hall Road and then turn right into Witton Lane. Check www.rac.co.uk for specific or more detailed directions.
Train: Nearest stations Aston and Witton - From High Wycombe take the Chiltern Railways to Moor Street and then walk the short distance (approx 10 minutes) to New Street and then get the local service to Aston or Witton (Witton is closest to the way sections). Check www.nationrail.co.uk for specific times and connections of trains.


KNOW YOUR HISTORY

Villa Park will always be ingrained in the history of Wycombe Wanderers after being the venue for the FA Cup Semi-Final clash with Liverpool on 8th April 2001. More than 19,000 fans made the trip to Villa Park to supporter the Wanderers in the history making tie - with the majority seated in the famous Holte End.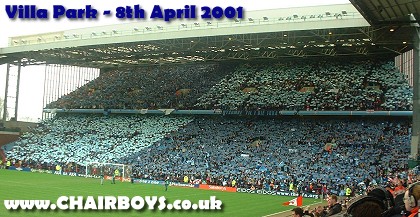 Villa Park memories 2001

The two sides first met at any level in a pre-season friendly at Adams Park in July 1997. This was to be the first full season in charge for Wanderers boss and former Villa player John Gregory. However, in February 1998, Gregory had quit his post at Wycombe to take up the Manager's position at Villa Park made vacant by the resignation of Brian Little.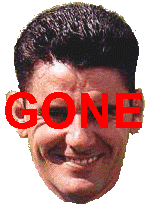 John Gregory off to Villa - February 1998 memories

Prior to the FA Cup meeting with Villa in January 2016, the only previous competitive meetings between the two sides at First Team level had come in the Football League Cup. Both at Adams Park and both ending in comprehensive defeats for the Wanderers. The first occasion in September 2003 saw a 5-0 defeat under Lawrie Sanchez, while two years later lightening did strike twice as despite leading 3-1 at the break, a John Gorman led Wycombe side crashed out by a 8-3 scoreline. Unsurprisingly, it was the first time Wanderers had conceeded eight goals at Adams Park but the result had the historians flicking through the record books to find anything else similar in the Club's history. The findings were that the previous eight goal home cascade took place in Great Western League match in October 1941, when Oxford city ran out winners 8-4 at Loakes Park. Prior to that, the records show that Wanderers lost 8-3 at home to Cambridge Town in the FA Amateur Cup Second Round on 28th January 1928, while way back in October 1899, Wanderers played a FA Cup tie at home to a professional Reading side, only to lose 8-0. The tie with Reading was one of the few games Wanderers played on the grounds of Wycombe Abbey while 'levelling' work was carried out to Loakes Park. A crowd of a close to 3,000 watched the tie having crossed a specially made bridge across the Dyke from the Rye.

Aside from the FA Cup Semi-Final tie in 2001, Wanderers have not played a First Team fixture at Villa Park. However, Wanderers Youth Team travelled to Villa Park in December 2004 to take on a extremely strong Villa side in the 3rd Round of the FA Youth Cup.

Wanderers went down to a narrow 1-0 defeat but looking back at the Villa side that evening, gives an indication of the strength of the youth set-up at Villa Park. Gabriel Agbonlahor is the stand out name. He was more than year away from making his Villa First Team debut but has gone on to make more than 300 apps for the Premiership side. Midfielder Craig Gardner also went on to play for the Villa First Team and was turning out for West Brom side as of the 2015/16 season. Goalkeeper Robert Olejnik, defender Paul Green, midfielders Isaiah Osbourne and Craig Gardner and strikers Sam Williams and Adam McGurk, all went on to Football League careers.

For Wanderers, Ikechi Anya has made the most progress but only after being released by Wanderers in 2007 by Paul Lambert. Steven Gregory also fought out a League career with Bournemouth and Gillingham – again after being released by Wycombe in May 2008 by Paul Lambert again.

These were the full line-ups that evening


Wycombe: Stephen Flower, Craig Roberts (sub HT Wesley Douglas), Gary Bunting, Tamba Ngongou (sub 82 Rashid Kamara), Kieron Gradwell, Tom Cadmore, Ikechi Anya, Steven Gregory, Andy Savage (sub 82 Ryan Tackley), James Faulkner, Liam Grier - subs not used: Alex McCarthy (GK), D'juvane Davidson
Aston Villa: Robert Olejnik, Paul Green, Scott Bridges, Magnus Troest, Stephen O'Halloran, Isaish Osbourne, Christian Kabeya Tshimanga (sub 76 Michael Tuohy), Craig Gardner, Shane Paul (sub 59 Seyi Morgan), Gabriel Agbonlahor, Sam Williams (sub 76 Adam McGurk) - subs not used: Stephen Henderson, Ashley Edkins

Villa v Wycombe - FA Youth Cup memories from 2004
Chairboy Connections
Players who have played for both Clubs


Indicates profile available by clicking name.



Stephen Cooke - Midfielder who made six loan appearances for Wycombe from Villa during the 2004/5 season. Had earlier made three Premiership appearances for Villa as substitute during the 2002/3 campaign but failed to add to his tally and was eventually signed by Bournemouth in July 2005 - going on to score 3 goals in 40 League appearances. Also played on loan at Torquay United while with The Cherries before a move into non-League football.

Neil Davis - Striker who made 13 League appearances for Wanderes during the 1996/97 season while on loan from Villa. Eventually dropped into non-League football with Hednesford Town before time with Newport County during the 2002/3 and 2003/4 seasons.

Janoi Donacien - Defender who made 2 loan appearances at Wycombe from Villa during the early part of the 2015/16 season when aged 21. Had previously been on loan at Tranmere Rovers. Subsequently went on loan to Newport County following his brief time at Adams Park. Had yet to make his Villa First Team debut as of January 2016.

Dion Dublin - A 19 year old Dublin made two loan appearances for Wycombe in October 1988 from Cambridge United before he had made a his First Team debut for The U's. Later moved onto Manchester United, Coventry City and then to Aston Villa in November 1998 for a £5.75m transfer fee. Would go on to score 59 goals in 190 appearances for Villa before moving on to Leicester City in July 2004. Finished his career with Celtic and then Norwich City

David Farrell - Midfielder signed for Wycombe from Villa by Alan Smith for £100,000 in September 1995 but after 6 goals in 60 League apps moved on a free to Peterborough United during the summer of 1997. Scored 52 goals in 388 appearances for Posh in a nine year spell. Later played for Boston United and Burton Albion.

Wayne Henderson - Goalkeeper who made three appearances for Wanderers at the end of the 2003/4 season while on the books of Villa. Had two loan spells at Notts County the following season, while still at Villa, making 11 League appearances. Later spent time on loan at Brighton & Hove Albion before a permanent move to The Seagulls in January 2005. Made a £150,000 move to Preston North End in January 2007 but a back serious back injury eventually ended his career following a brief loan spell at Grimsby Town. Never made a First Team appearance for Villa.


Chris Herd Australian born defender who made four 'League Two' appearances for Wanderers on loan from Villa during the 2007/8 season when aged 18. Earlier that season had scored two goals in 11 apps for Port Vale in 'League One'. Later played on loan at Lincoln City, Bolton Wanderers and Wigan Athletic before being released by Tim Sherwood at Villa in the summer of 2015 and having made 36 First Team apps for Villa. Signed a short term deal with Chesterfield in September 2015.

Paul Kerr - Midfielder who scored on his solitary League game for Wycombe (substitute away to Blackpool - 26th November 1994) after the then 30 year old signed a month-to-month contract under Martin O'Neill. Originally came through the youth ranks at Aston Villa, scoring three times in 24 League appearances in a five years, before a four year spell with Middlesbrough. Moved to Millwall in March 1991 - scoring 14 goals in 44 League appearances before leaving for Port Vale in July 1992 for a £140,000 fee. Released by Port Vale at the end of the 1993/94 season. His only other First Team game for Wycombe was the Football League Trophy defeat at Shrewsbury on 29th November 1994.



Tommy Mooney - A former Youth Teamer with Aston Villa but failed to make it into the First Team and spent three seasons with Scarborough before making his Football League debut with Southend United in 1993. Went on to spend time with Watford, Birmingham City, and Swindon Town before a season with Oxford United where he finished as top scorer during 2004/5 with 15 League goals. Joined Wanderers in the summer of 2005, scoring 32 goals in 101 appearances under John Gorman and Paul Lambert before moving to Walsall in the summer of 2007. Ended his playing career playing in Spain before returning to the UK to join the coaching staff at Villa. In December 2014 he was appointed 'loans manager' at Villa.



Luke Moore - Former Villa trainee who made his senior debut aged 17 while on loan at Wycombe during the 2003/4 season under Tony Adams. Scored during his second game (Bournemouth December 2003) and in the next game bagged a hat-trick in the 4-1 home victory over Grimsby Town. Made six appearances in total for Wanderers before returning to Villa and making his debut later in the 2003/4 season. Would eventually total close to 100 apps for Villa before a move to West Brom in the summer of 2008 following an earlier loan spell. Later spent time on loan at Derby County before two years with Swansea City. Moved away from the UK in 2013 to play in Turkey, USA and then Canada.

Stephen O'Halloran - Left-sided defender who was given his professional debut by Paul Lambert at Wanderers during a loan spell from Aston Villa in the 2006/7 season - making 11 League appearances and playing in the League Cup Quarter-Final victory over Charlton Athletic and the Semi-Final 1st Leg draw with Chelsea at Adams Park. Recalled by Villa Manager Martin O'Neill before the 2nd Leg at Stamford Bridge. Never made a First Team appearance at Villa and eventually joined Coventry City for the 2010/11 season. Signed for Carlisle United in the summer of 2011 but made just 5 League appearances before dropping into non-League football with Nuneaton Town and then Stockport County.

Elliot Parish - Goalkeeper who is a former Youth Team player with Aston Villa but made his senior debut during a loan spell to Lincoln City at the end of the 2010/11 season. Released by Villa in January 2012 having failed to make a First Team appearance and joined Cardiff City. Made two loan appearances at Wycombe from Cardiff in September 2012 after first choice Nikki Bull and cover Matt Ingram were injured. Released by The Bluebirds at the end of the 2012/13 season without a First Team appearance. Subsequently played for Bristol City, Newport County (loan), Blackpool and Colchester United.

Cyrille Regis - Spent the 1994/5 season at Wycombe under Martin O'Neill making 35 Division Two appearances and scoring 9 times. Left to join Chester City at the end of that season - going on to make 29 League appearances and scoring 7 times in a two year spell. Best remembered for his time with West Brom, Coventry City, Aston Villa and Wolves. Originally played in the Isthmian League for Hayes. Totalled more than 600 League appearances in his professional career - scoring more than 150 times. His time at Villa came between 1991 and 1993, where he scored 12 times in 52 League appearances under Ron Atkinson and then Dean Saunders.

Kenny Swain - A midfielder for the Wanderers during the 1972/73 season under Brian Lee before signing for Chelsea in the summer of 1973 - going on to make 119 League appearances while at Stamford Bridge before signing for Villa in 1979 after Chelsea's relegation to the second tier. At Villa he was switched to full-back and was part of the sides that one the League Championship in 1981 and the European Cup the following season. Moved to Nottingham Forest in 1983 before signing for Portsmouth in 1985 - spending three years at Fratton Park before ending his playing career at Crewe Alexandra. Later moved into management with Wigan Athletic, Grimsby Town and the England U16 and U17 sides.

Lee Turnbull - Midfielder who was originally a trainee with Middlesbrough before becoming one of Graham Taylor's first signings as Aston Villa Manager in 1987. However, left Villa without making a First Team appearance and joined Doncaster Rovers for a four year spell. Was later then leading scorer for Chesterfield during the 1990/91 season following a move from Doncaster. After 26 goals for The Spireites he moved back to Doncaster in October 1993 before Martin O'Neill signed him for Wycombe in January 1994 for £20,000. Scored once in 11 games for Wycombe before a £12,000 move to Scunthorpe United in March 1995 following an earlier loan spell. Went on to manage Barrow as well as being involved in the Football in the Community scheme with Scunthorpe United.

Richard Walker - A former youngster with Villa who made his First Team debut aged 20 in December 1997 as a late substitute in a Premiership meeting with Leeds United. Spent most of his time at Villa away on loan, starting at Cambridge United where he scored 3 goals in 21 League appearances during the 1998/99 season. Also spent time on loan at Blackpool before a three month loan spell at Wycombe during the early part of the 2001/2 season. Scored four goals in eleven games for Wanderers before opting to join Blackpool on a permanent basis in preference to Wycombe. Left Villa Park having totalled 10 First Team appearances and scoring twice - the highlight being a strike against Arsenal in March 2000. Appeared on loan for Northampton Town from Blackpool during the 2003/4 season, and later had a short loan spell at Oxford United before joining Bristol Rovers at the start of the 2004/5 campaign, going on to score more than 50 goals in just over 150 appearances. Spent the 2007/8 season on loan with Shrewsbury Town before a permanent move to League newcomers Burton Albion in the summer of 2009.

Guy Whittingham - Striker who began his football with Yeovil Town while still in the Army. Went on to join Portsmouth in 1989, scoring close to 100 goals in a four year spell before joining Villa in the Premiership for the 1993/94 season. Scored 5 times in 25 League apps for Villa before moving on to Sheffield Wednesday. Rejoined Pompey in 1999 and spent a short spell on loan at Oxford United during the early part of the 2000/2001 season. Joined Wycombe on transfer deadline day the same season during Wanderers' famous FA Cup run. Scored a crucial goal at Bristol City in April 2001 to ease any relegation fears. Finished his playing career at Newport Isle of Wight, where he was also Manager.

Also

John Gregory - Former Villa midfielder in the late 1970's who managed Wycombe between September 1996 and February 1998 before being poached by Aston Villa. Spent four years at Villa Park, taking them to sixth spot in Premiership in 1998/99 and to a FA Cup Final defeat to Chelsea in 2000. His time at Wycombe is best remembered for fending off the threat of relegation from the Second Division (third tier) but also for a humiliating defeat to Basingstoke Town in the FA Cup in November 1997.



Martin O'Neill - Legendary Wanderers Manager between 1990 and 1995. Spent four years as Villa Manager between August 2006 and August 2010 - finishing 11th and 6th (three times) in Premiership, as well as reaching the League Cup Final in February 2010 where they lost 2-1 to Manchester United. His time at Villa also included a period where O'Neill was heavily linked with taking the vacant England Manager's job.



Paul Lambert - Former Celtic midfielder who ,in his first major Managerial role, took Wanderers to the Semi-Final of the Football League Cup in 2007 (losing to Chelsea over two legs). Quit Wycombe after losing in a 'League Two' Play-Off Semi-Final to Stockport in May 2008. Subsequently managed Colchester United and Norwich City before taking the reigns at Villa in June 2012. Had an indifferent time at Villa Park - overseeing defeats to Bradford City in the Semi-Final of the League Cup in January 2013, plus four consecutive seasons where they lost to lower league opposition in the FA Cup. He was eventually sacked by Villa in February 2015 and replaced by Tim Sheerwood.



Scott Marshall - The former Arsenal defender played briefly at Wycombe in the 2003/4 season under Tony Adams. He later help coach the Wycombe youth side and found his way to Villa in June 2013 due to his Paul Lambert connections from Norwich City. He acted as Interim Villa Manager in February 2015 after Lambert was sacked but left on the arrival of Tim Sherwood.

Chairboys all-time record against Villa
DATE
Comp
V
Res
SCORE
Att
Fri, July 18, 1997
Fr
H
L
0-5
6,975
Tue, Sep 23, 2003
LC2
H
L
0-5
6,072
Mon, Jul 18, 2005
Fr
H
L
0-2
3,505
Tue, Sep 20, 2005
LC2
H
L
3-8
5,365
Sat, Jul 20, 2013
Fr
H
D
2-2
4,629
Sat, Jan 9, 2016
FAC3
H
D
1-1
9,298
Tue, Jan 19, 2016
FAC3r
A
L
0-2
20,706
Key:
FLC = Football League Cup
Fr = Friendly
FAC= FA Cup
Where available click date for match report