FAREWELL MARTIN
(Monday 19th May 2003)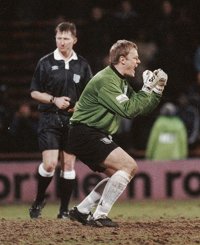 Martin Taylor's announcement on Friday 16th May 2003 that he was leaving Wycombe and considering retiring from the game, came as big shock to many Wycombe followers. The 36 year old had spent six years with Wycombe, made close to 300 apperances and had been a regular winning of the Player of the Season award. However, he suffered an injury plauged season in 2002/3 and the arrival of Frank Talia finally edged out the ever popular Wanderers No.1. Taylor had 12 months of his contract still to run and commented to the press "It's a sad day. I didn't want to hang around and hold the club to ransom so we came to an agreement. I don't think I'm going to play on." He says he will now concentrate on his partnership in a building firm but hasn't ruled out continuing in the non-League game.
Taylor started his senior football career as a youngster with Mile Oak Rovers but it was Derby County who gave him the chance in the full-time ranks. As a young 'keeper he had to be content with being an understudy to England's No.1 Peter Shilton for five years and actually made his Football League debut during the 1987/88 season while on loan at Carlisle United. Taylor also had a loan spell at Scunthorpe United before making his County debut in the 1989/90 season.
It was during the 1992-93 season that Taylor became a regular in the Derby side. It was during the following season that Taylor reached the Division One play-offs with County, including the infamous semi-final victory over Millwall at the New Den where Taylor was kicked to the ground by a fan following the final whistle. However, there was disappointment for Taylor and Derby in the final at Wembley when they lost 2-1 to Leicester City.
There was a greater set-back for Taylor the following season when on 16th October 1994 a 50/50 challenge during a Division One game at Southend saw his left leg shattered. Southend's Manager at the time was Peter Taylor and recalls "It was a very slippery pitch and it was a bad injury and I felt for Martin that day. I remember I went to see him in Southend hospital a couple of times".
It would be more than two years before Taylor played football again and it was a testing time for him and his family. "There were times when I would just go home and cry but the next day you wake and go at it again. I'd surprised myself I did it for two years day in day out".
Taylor's comeback came for Derby on 8th March 1997 when he was thrown straight into a FA Cup Quarter-Final tie with Middlesbrough at the Baseball Ground. Taylor's efforts could not prevent Derby going down 2-0 and it was a few weeks later that John Gregory, now Manager at Wycombe and former team-mate of Taylor at Derby, brought Taylor to Adams Park on loan.
Taylor's first game in a Wycombe shirt came on Saturday 29th March 1997 when a safe pair of hands saw Wycombe run out 3-0 winners. Taylor went on to play a further three games for Wanderers that season before being recalled by County but it wasn't the last we'd see of him. Taylor had been impressed with the set-up at Wycombe and when he was released from Derby in the summer of 1997, Gregory stepped in to secure his signature, apparently ahead of at least two chasing Division One club's, Taylor preferring to try and make his mark at a Wycombe rather than a "middle-of-the-road First Division side".
It was to be the start of five season's when Taylor was virtually ever-present in the Wycombe side, earned three consecutive Player of the Season awards and reached a high when he starred in the 2000/2001 FA Cup run. That run included a remarkable return to the New Den where a post and crossbar saved a late winner for The Lions in the Second Round. But it will be the heroics in the Fifth Round replay against Wimbledon at Selhurst Park that will go down in Wanderers and FA Cup folklore. Taylor saved a last minute penalty that would have seen The Dons win and then took part in the most dramatic penalty shoot out of all time, scoring himself with the 19th spot-kick before seeing Mark Williams sky the 20th and take Wanderers into the Quarter-Final.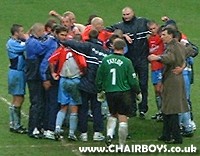 Taylor recalls that day "How ever excited you could be, it was ten times better than that. It was probably the first time I felt like that since I set out to be a professional footballer". Taylor would feature again in the Quarter-Final against Leicester City at Filbert Street, making a crucial save when the score was 1-1. It was result that left Taylor in tears in the dressing after the game as once again the emotions overflowed. Taylor frustrated Liverpool in the semi-final before finally being beaten by a Emile Heskey header in the 78th minute. The final whistle brought more tears.
But while it's easy to single out the FA Cup run as Taylor's swansong, it was his consistency during his time at Wycombe that made him hugely popular with the fans. Time and time again he would pull out unbelievable stops to prevent crucial goals for the opposition and Wanderers lengthy but unremarkable spell in Division Two may well have been shorter if it wasn't for his form.
It appears that back injury proved to be the downfall of Taylor's career at Wycombe. He missed the pre-season programme of 2002/3 but still managed to pull on the gloves for the opening League fixtures. By this time Talia was on the scene and where as in the past Taylor may have played on through injury it was the Aussie 'keeper who got his chance. It left Taylor waiting on the sidelines for a return but it appeared that Taylor, allegedly one of the higher paid players at Wycombe, did not figure in the Manager's future plans. His last First Team game for the Wanderers came in the away game at Cheltenham in December 2002 where rather aptly he kept a clean sheet.
He spent the latter part of the season on loan to Barnsley but returned early when he suffered a back injury. Perhaps it was the injury that finally pushed him towards the decision to make his move away from Adams Park. He told the press "Last season was very disappointing because of all the injuries I had and didn't want it to turn sour. My body was telling me it was time to go really. I've got some new challenges ahead of me and I'm looking forward to it.". Wanderers fans have paid several tributes via various internet forums and Taylor add "I've enjoyed it at Wycombe and I would like to thank all of the supporters for that."
Farewell Martin and goodluck for the future.

Read all the latest news from chairboys.co.uk
---
---
---

THE GAS
ROOM
Leave your own stories and comments via the Message Board
---