GREGORY REVEALS WYCOMBE/VILLA DEAL IN NEW BOOK
(Tuesday 4th July 2000)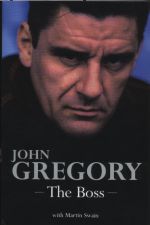 Ex-Wycombe Manager John Gregory has revealed more details about the bizarre sequence of events leading up to his appointment as Villa boss in February 1998. Writing in his newly published book, John Gregory - The Boss, Gregory says how he was contacted by Villa at the hotel where Wycombe were staying prior to the game with Bristol Rovers. Gregory only told his wife about the offer before calling Wycombe Chairman Ivor Beeks early the next morning.
According to Gregory, Wycombe Chairman Ivor Beeks initially wanted £250,000 as compensation from the Premier League side. In his new book Gregory says "I told Ivor he was being excessive. He disagreed. Villa were a big Premiership club who deal in millions and they were not going to take little Wycombe for a ride".
Gregory describes Beeks as "the perfect chairman" and details the "comical" negotiations that went on between Villa and Wycombe before the final deal was struck. Gregory was left to negotiate the deal himself via a series of phone calls between himself and Beeks - each time Gregory going back to Villa Chairman Doug Ellis with Beeks' reaction. The final deal was £100,000 compensation for Wycombe plus all the gate receipts from a pre-season game with Villa. Even then Villa had offered only a 50-50 share of the gate but Gregory bluffed his way through. "With the money Villa are offering, I'll pay it myself if I have to." were the thoughts of Gregory at the time according to his new book.
The publication concentrates heavily on Gregory's time at Villa - from the dream start, to the pressures of dealing with Stan Collymore, to the lows of last winter and onto the FA Cup Final appearance against Chelsea.
The passing references to Wycombe are recalled with much joy for Gregory "I learned from errors and rebuilt my managerial confidence. I knew every corner of that ground and every member of staff; I wasn't sure where the job would lead but I was blissfully happy"
From a Wycombe point of view, coverage is minimal and there isn't much here that hasn't already been published. It's a shame that his highs (avoiding relegation) and lows (losing to Basingstoke) while at Wycombe are left out. However, if you have an interest in Aston Villa or are just simply keen to know how the mind of a Football Manager operates when confronted with million pound earners, then Gregory's book will keep you ingrossed until the end.

John Gregory - The Boss is published by Andre Deutsch priced £14.99 and is available from leading book retailers.

The book is also currently on a special 30% off list price offer from amazon.co.uk
Order The Boss-John Gregory from amazon.co.uk for just £11.99

Return to News Desk...
---


Click here for special offers on Book's, CD's, Video's and DVD's
---

THE GAS
ROOM
Leave your own stories and comments via the Message Board