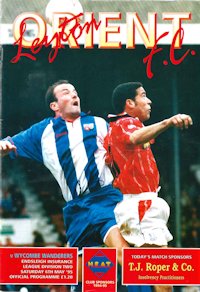 Leyton Orient 0
Wycombe Wanderers 1
Saturday 6th May 1995
Football League Division Two
After Wanderers' promotion hopes were ended following a home defeat to Plymouth on the penultimate weekend of the 1994/95 season, more than 2,000 Wycombe fans travelled to Brisbane Road to see a final day 1-0 victory over already relegated Leyton Orient. Veteran Cyrille Regis gpt the only goal of the game in what many people believed would be Martin O'Neill's final game in charge of the Wanderers having joined five years previous.

Reporting for the Bucks Free Press from Brisbane Road, Claire Nash wrote: Cyrille Regis ended the longest goal drought of his career to ensure Wycombe Wanderers finished in sixth place in Division Two. The oldest swinger in town finished with a flourish just 47 seconds after coming on as a half-time substitute at Leyton Orient. His curled shot from 30 yards was a welcome reminder of what was second nature to the 37-year-old veteran during a glittering career and the first half of this season.

And it hadn't come too late for manager Martin O'Neill who has given the striker a free transfer, but with a view to renegotiating new terms this week. Regis wants to continue playing. "It was great to come in and score and get my goals into double figures here. My contract's up and I'll be seeing the gaffer next week. First and foremost I want to continue playing, so we'll have to wait and see what happens," he said.

Regis's moment of sublime perfection stood out in a match which was drained of frills and thrills in sweltering heat. Wycombe's brighter moments in the first half were supplied by 17-year-old Anthony Clark in his first- team debut. The teenage striker, born when Regis was at his zenith at West Brom, underlined the potential which had impressed in recent appearances for Wycombe's reserves and throughout the youth team's baptism of fire in the South East Counties League. Bletchley-based Clark makes up for a lack of height with guile and pace. Two crosses in the first 15 minutes caused problems for Orient, the first flashing in front of Gary Patterson who couldn't connect and the second, following a jinking run past two defenders, hit the woodwork.

Saturday's other stars were Wycombe's supporters who gave Blues a rousing reception after the final whistle. They turned up in force to boost relegated Orient's dwindling gates on the final day of the term. They went home sun-singed for their trouble but were thanked by Wycombe's players and O'Neill who, job offers pending, had possibly overseen his last Blues game. The latter hangs very much in the balance with no official approaches having yet been made.

But what was officially decided on Saturday was that the win made certain that Wycombe finished sixth in their first Division Two term - just three points behind Huddersfield in the play-offs and above arch rivals Oxford United. Orient, who ended up with the wooden spoon at the bottom of the table, threatened to put them off their stride, however. They were keen to end on some sort of note in their last game after giving Wycombe's Terry Howard, a former O's stalwart, a warm welcome.

Darren Purse got the ball in the back of the net after Blues goal keeper Paul Hyde failed to clear a free kick on 33 minutes. Fortunately for Blues the striker had strayed way off side to reach Gary Barnett's cross. Hyde redeemed his wobble with two fine saves before the break.

The start of the second half heralded Regis's return. He scarcely needed prompting to make an impact and delivered a long- range screamer after picking a short midfield pass from Dave Carroll. Wycombe dominated from there on in, with Miquel Desouza unlucky not to score on his comeback from injury after replacing Clark on 64 minutes.

Wycombe: Hyde, Cousins, Crossley, Howard, Evans, Brown, Carroll, Bell, McGavin (sub 45 Regis), Clark (sub 64 Desouza), Patterson - sub not used: Moussaddik (GK)
Scorers: Regis (46)
Bookings: Brown 81 (foul)
Leyton Orient: Heald, Warren, Austin, Brooks, Hague, Bellamy, Barnett, Wilkie (sub 56 Perfimou), Purse, Shearer, Rufus - subs not used: Sopp, Bird
Scorers: none
Bookings: none
Referee: M Bailey (Cambridge), injured and replaced by R Saunders on 43 minutes
Attendance: 4,698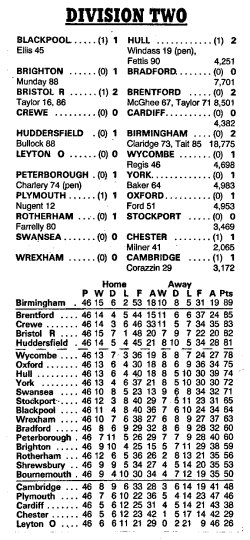 Speaking after the game Martin O'Neill commented on the old and new blood on show at Brisbane Road: "I will free Cyrille [Regis]. I want to renegotiate to give slightly less money. It will give him a bigger incentive to play for us. Obviously the situation is that he is a year older. I think Cyrille has to take stock himself. It's true that he never recovered form he had before Christmas after injury. But he had to keep playing because we simply did not have anyone else to replace him."

Meanwhile, press reports suggested that O'Neill was set to fend off interest from Queens Park Rangers to sign youngster Anthony Clark on a full time contract. But O'Neill was keen for Clark to finish his schooling first. "He's got bags of potential. But I want him to finish his A-levels before putting too much pressure on him. "I have seen too many lads of 17 on the scrapheap by 22," said O'Neill.

Former O's defender Terry Howard was given a great reception by the home fans at Brisbane Road and said after the game: "To come back and play was more difficult than I thought it would be — for the first 15 minutes I found it very difficult to concentrate. But I got a nice reception from the fans before, during and after the game." Howard added: "In many ways I was glad there was nothing on the game. If there were relegation and promotion issues still to be decided it would have been really difficult. I would not have wanted to play in a team that put Orient down - but all in all it turned out to be a nice day."



Next game - Wanderers in the London Fives at Wembley on 15 May 1995