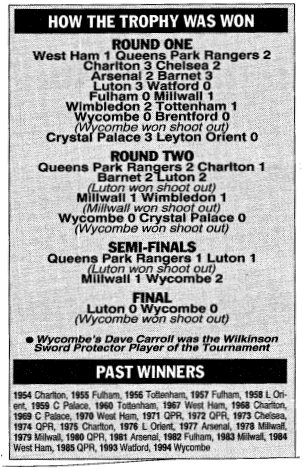 Wanderers take 5-a-Side title
Monday 15th May 1995
London Fives at Wembley
Wanderers completed a remarkable second successive victory in the Evening Standard London Five-a-Side competition held at Wembley Arena on Monday 15th May 1995. With the disappointment of missing out of reaching the Division Two play-offs behind them, Martin O'Neill took a strong squad to compete in a tournament that his side had defied all odds to run out winners on their debut appearance 12 months previous.

In what turned out to be O'Neill's final games in charge of a Wycombe team, the event saw 16 clubs line-up, including Premier League sides Arsenal, Chelsea, QPR, Tottenham Hotspur, West Ham and Wimbledon, plus Crystal Palace (relegated at the end of the 1994/95 season).

Wanderers' victory saw them become the first side to successfuly defend the title since Millwall in the 1978/79 season and only the third club to achieve that feat in the 41 year history of the competition. Wycombe squeaked through the early rounds via penalty shoot-outs against Brentford and Crystal Palace before beating Millwall in the semi-final despite trailling 1-0 with only three minutes remaining. In the Final, Wanderers beat Luton Town in another sudden-death 30-yard penalty shoot-out - 1994 hero Chuck Moussaddik saving Luton's first one on one effort from Marvin Johnson before Dave Carroll slotted home Wycombe's run at the opponent's 'keeper to seal the £10,000 winning cheque.

Speaking after the awards were made, Martin O'Neill said: "We were delighted to be invited last year and this time we fully justified our place among the big clubs. We were psyched up for it this time. We really wanted to win it and prove that last year wasnít fluke. Iím thrilled to bits. Iím ecstatic, I really am. It might sound a bit ridiculous but as far as Iím concerned itís like winning the European Cup. This is some consolation for missing out on the play-offs and the fact is, our failure to qualify [for the play-offs] meant that we were able to use a lot of our first team players."


The Wycombe Wanderers management and players after the London Fives success at Wembley - May 1995
Back row: Martin O'Neill (Manager), Jason Cousins, Mickey Bell, Chuck Moussaddik, Jim Melvin (Coach)
Front row: Steve Brown, Steve McGavin, Simon Garner, Dave Carroll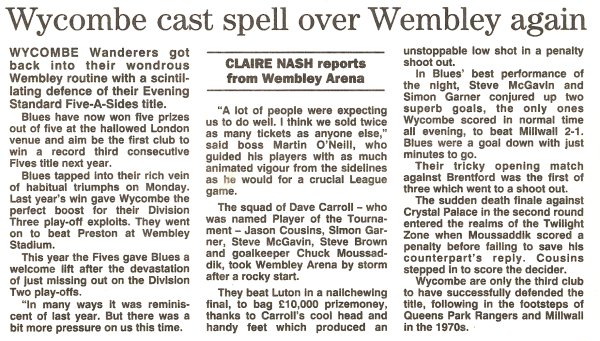 The evening also saw O'Neill quizzed again about his future with Wycombe having been linked with the Manager's jobs at Derby County, Norwich City and Crystal Palace in the final weeks of the season. The Wycombe boss said: "My Chairman has promised to keep me informed of any approach but there has been none up to now." Less than a month later and O'Neill was on his way to Norwich City as his five and half year spell at Wanderers finally came to an end.