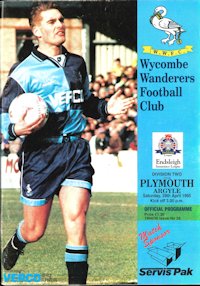 Wycombe Wanderers 1
Plymouth Argyle 2
Saturday 29th April 1995
Football League Division Two
Wanderers, and particularly Martin O'Neill's, 'silly little dream' of achieving a third successive promotion finally ended on Saturday 29th April 1995 following a 2-1 home defeat to relegation threatened Plymouth Argyle.

Victory in the previous Saturday's game at home to Chester had put Wanderers back up to 5th spot in the Division Two table but Crewe's midweek 1-0 win at Swansea had pushed Wycombe below the play-off line again and with The Railway Men still having a game in hand, a win was a must against The Pilgrims.

Reporting for the Bucks Free Press from Adams Park, Claire Nash wrote: Wycombe Wanderers were stung by the reality of life at the sharp end of the season. The mathematical chance of making the play-offs remained before Blues' final home game of the season. But a defeat at the hands of a side determined to avoid relegation to the Football League basement for the first time in their history all-but wiped it out. Wins for play-off rivals Crewe and Bristol Rovers made it fractionally easier for Wycombe's players to bear bowing out on a low note at Adams Park.

It had looked increasingly unlikely that Crewe, who have a game in hand, were going to hand a play-off place to Blues. But if Wycombe had beaten Plymouth on Saturday, who knows what could have happened. Still, the writing had been on the wall for the few weeks. Whatever happened, it would be extremely tight, nay miraculous if Wycombe made it.

The players, to a man, were disappointed they couldn't make everything hang in the balance until the last Saturday of the term. They were tripped up by a side that have got it together at the 11th hour. Plymouth, under former Bristol City boss Russell Osman, gave Blues as stern a test as they've had at home this season. The Pilgrims deserved their win but have still got to beat Oxford to avoid the drop.

Wycombe played well but couldn't take their chances to avoid only their third home defeat of the season. Plymouth rocked Blues, and silenced Wycombe's supporters in a 6,850 crowd, in controversial circumstances after just five minutes. Paul Dalton set off on a good run on the left flank and unleashed a cross which Wycombe's defence struggled to clear. It came back out to Dalton who had strolled back into the frame from being out of play, in an offside position, and played in a cross that found Keith Hill. The latter happily stabbed home to the delight of Plymouth's impressive 1,000 strong support in the Hillbottom Terrace.

Martin O'Neill turned peace maker to calm down Blues' goal keeper Paul Hyde and Terry Howard who screamed at the lines man. The manager exercised his prerogative to give him a hard time throughout the rest of the game, however. Wycombe struggled to gel for the remainder of the half, with Steve McGavin a subdued force up front. The defence, with skipper Terry Evans incredibly making a return just two weeks after a serious ankle ligament injury and Jason Cousins back after a one-match ban, was clearly uncomfortable with the pressure Plymouth brought to bear.

A Wanderers revival looked on after the break when Mickey Bell equalised on 47 minutes. The winger pounced with an emphatic finish after Matt Crossley's header was scrambled off the line. Wycombe stepped up the tempo, but Plymouth continued to threaten on the break. It was on such a counter-attack that they regained the lead after 65 minutes. Kevin Nugent found Landon unmarked with a neat chipped cross behind Evans. Hyde was left with little chance to do anything about Landon's drilled shot. Simon Garner added more bite up front after replacing Steve Thompson, but Wycombe found a stubborn obstacle in Plymouth's 17- year-old goalkeeper James Dungey.


Wycombe: Hyde, Cousins, Howard, Crossley, Evans, Brown, Carroll, Bell, McGavin, Hemmings, Thompson (sub 60 Garner) - subs not used: Skiverton, Moussaddik (GK)
Scorers: Bell (47)
Bookings: Evans 90 (ungentlemanly conduct)
Plymouth: Dungey, Patterson, Naylor, Hill, Edworthy, Barlow, Skinner (sub 60 M Evans), Castle, Nugent, Landon, Dalton. - Subs not used: Burnett, Osman (GK)
Scorers: Hill (5), Landon (65)
Bookings: Barlow 23 (foul), Patterson 80 (professional foul), Hill 90 (ungentlemanly conduct)
Referee: J W Lloyd (Wrexham)
Attendance: 6,850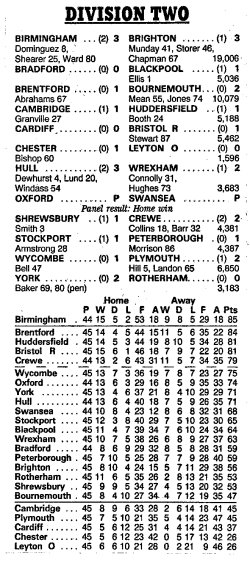 Speaking after the game Martin O'Neill , said: "I thought we would get 81 points and get to the play-offs. But we didn't. Before the season started, I obviously wanted us to win the league. The minute you start thinking about consolidation, you start thinking relegation,"

Wanderers' players were disappointed to be involved in a season without a promotion. "To be so close and yet so far is a crying shame," said goalkeeper Paul Hyde. But he added: "It's been a great season. It would have been unbelievable to get promoted again. Maybe the Club could do with another season in the same league."

Steve Brown said: "I think it's been a marvellous season. We've gone to clubs like Huddersfield, Birmingham and Oxford and beaten them. It's just a shame to see it go out the window, particularly against a side like Plymouth who've been struggling most of this year." The Supporters' Player of the Season wouldn't blame the eight game without a win in February and March as a decisive factor, insisting "Every team has a sticky patch. That's not an excuse. We had to get a result today and we didn't. We could go back over the whole season and pick things out that we could have done differently. But that just makes it hardc to stomach."

Martin O'Neill did not blame Wycombe's eight-game slump without a win in February and March for their missing out on the play-offs. He pointed to not having squad cover early enough as a hindrance, and a string of injury blows including those to Keith Ryan and Miquel Desouza. "At one point I was struggling with just 19 players, now I have the comparative riches of 27." He also said money had not necessarily been an issue although problems in getting the players he wanted when he wanted had perhaps a more significant factor. "The hardest thing in management is knowing exactly when is the right time to buy. Some people will say if it's not broken, don't fix it or the best time is when you're playing well," added O'Neill.

And with Wanderers out of the promotion race, talk turned again to the speculation of O'Neill's future at Adams Park - Norwich City now leading the chase according the the national media. "To be honest with you, I had not given it a thought, I really mean this. The fact we have not gone up has not really sunk in yet. I will be meeting with the Chairman [Ivor Beeks] soon to discuss everything," said O'Neill. The Wycombe Manager reiterated the gentleman's agreement with Beeks which extended his 'contract' by three years at the start of the 1994/95 season. It gave him the choice to go to a bigger club if he wanted to. But he pointed out: "People have to offer you jobs. I said before I turned Leicester down that you have to put yourself under pressure and do well for people to come in for you. The reason I've not given this much thought is because the Chairman has not come up to me and told me there are something like 19 offers on the table."

Meanwhile, Chairman Ivor Beeks commented: "Martin's under contract for the next two years He's not going anywhere. I would be disappointed if there was a vacancy and Martin was not linked with it, but at the moment there is nothing to talk about." Beeks added "I'm delighted we're in the Second Division because when we started out at the beginning of the season, we did not want to be one of sides at the bottom of the table by the end of it. From that point of view it's been an incredible season. Martin sets himself and the players such high standards. I believe in him and I believed that he could get us there. I think with the quality of players and the fans' support that's gathering momentum, we'll be a force to reckon with next year."

Before then it was on the final game of the 1994/95 season where more than 2,000 Wanderers supporters were set to travel to Brisbane Road to take on Leyton Orient. The game would mark the return to his old club for Terry Howard. The defender left The O's mid-way through the 1994/95 campaign in controversial circumstances - now ex-Orient Manager John Sitton sacking the long serving player halfway through a home defeat with Blackpool. Howard commented: "John Sitton told me that time would be the judge over whether or not he had made the right decision. Well I've got a regular place at a better club and he's been sacked."



Next game - Leyton Orient v Wycombe - Saturday 6th May 1995