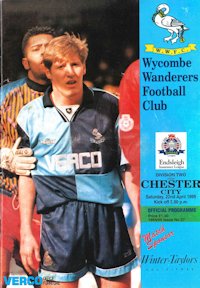 Wycombe Wanderers 3
Chester City 1
Saturday 22nd April 1995
Football League Division Two
Wanderers climbed back into the final play-off spot in Division Two following a no bother 3-1 victory over already relegated Chester City at Adams Park. Coming after a midweek 1-1 draw at Brighton, Wycombe were cruising at 2-0 after less then half an hour and then attention started to turn to what their play-off rivals were up to in their games. After the final whistle, Wanderers heard that their play-off cause had been helped slightly by rivals Crewe Alexandra, who had two games in hand, dropping points with a 2-2 draw at home to Plymouth. But sixth-placed Oxford United, one point behind, and fourth-placed Bristol Rovers, three points ahead, won their games, the latter frustratingly for Wycombe with a last-minute winner against Leyton Orient.

Reporting for the Bucks Free Press from Adams Park, Claire Nash wrote: Wycombe Wanderers kept their own Division Two house in order with a work manlike victory over Chester City on Saturday. They moved back to fifth and a play-off place as a result. But attention was distracted elsewhere as soon as matters were in hand at Adams Park, courtesy of two goals by Tony Hemmings and one from Steve McGavin.

Wycombe were without stalwart defenders Terry Evans, who was missing his second game with an ankle ligament injury, and Jason Cousins, who served a one-match suspension. Club skipper Glyn Creaser, in only the second League appearance of his testimonial season, replaced team captain Evans, while Terry Skiverton filled in for Cousins at right back. Steve Thompson returned to Blues' midfield after a hamstring injury. Jason Soloman was relegated to the substitutes' bench where he joined Simon Garner, who seems to be perennially rested these days, just in case of the play offs one would think. The veteran striker has dismissed suggestions of an ankle injury, and his wrist, which has been strapped up during the past month, is fine according to the popular marksman.

Wanderers' skilful striker McGavin played on Saturday despite receiving a worrying knock in last Wednesday's 1-1 draw at Brighton. Blues were faced with new injury worries early on against Chester. "We were uncomfortable. Both Matt Crossley and Tony Hemmings were struggling after just 15 minutes," said Martin O'Neill. Hemmings, who used his head effectively for the first time this season by knocking in two first-half goals, was substituted early in the second half after straining his back.

Although Chester came off worst in an encounter where they eventually enjoyed most of the possession, Creaser was the game's most battle-scarred victim. The Blues defender needed three stitches in a chin wound he suffered when jumping up to head Mickey Bell's eighth-minute free kick back across the box for Hemmings to head in at the near post. Creaser also cracked his ribs and was later involved in a scuffle with Chester striker Stuart Rimmer. Both escaped with bookings after hitting out before other players intervened. Creaser was replaced by Soloman after 58 minutes. O'Neill and the match sponsors, who voted him man of the match, were pleased with his contribution. "He's a better captain than he is a footballer," said the Blues boss in a roundabout compliment afterwards.

Wycombe's good opening continued on 28 minutes when Hemmings deftly headed home his second from Bell's right-wing cross. The game deteriorated as a spectacle from there. Chester pulled a goal back through Spencer Whelan on 42 minutes. Wycombe didn't look in much danger after the break, but they disappointingly had little to offer in the way of adrenalin-pumping action. They did what they had to do after making heavy weather of it all, killing the game off with a goal against the run of play. McGavin flicked in Bell's left-wing cross on 64 minutes. The last time Chester threatened was when Dave Flitcroft's fierce shot was tipped over by Paul Hyde on 68 minutes. Everyone then tuned into their radios to find out what influential dramas had unfolded elsewhere.


Wycombe: Hyde, Skiverton, Howard, Crossley, Creaser (sub 58 Soloman), Brown, Carroll, Bell, McGavin, Hemmings (sub 48 Garner) - sub not used: Moussaddik (GK)
Scorers: Hemmings (8, 28), McGavin (64)
Bookings: Creaser 35 (violent conduct)
Chester: Felgate, Jenkins (sub 49 Alsford), Burnham, Preece, Jackson, Whelan, Flitcroft, Shelton, Milner (sub 45 Hackett), Rimmer, Bishop- sub not used: Newland (GK)
Scorers: Whelan (42)
Bookings: Rimmer 35 (violent conduct), Flitcroft 51 (foul), Preece 74 (foul). Whelan 79 (use of elbow)
Referee: A Riley (Leeds)
Attendance: 5,284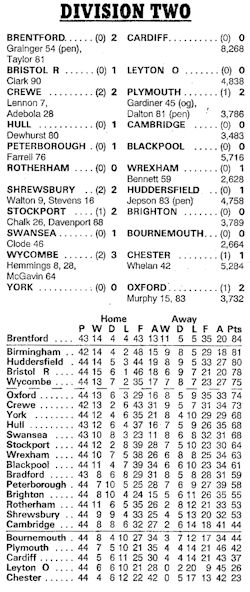 Speaking after the game Martin O'Neill said: "We're back in it. I've never given up hope, even when we had 10 games to go and needed about 21 points. We're ahead of target now, but it's been hard work. At least we're above the play-off line. We've got two games to go [Plymouth at home and Leyton Orient away) and all we can do is win them. If we get to 81 points I think we will be very hard to pull back" But O'Neill realised there was no room for complacency. Plymouth, battling to avoid relegation, pegged back Crewe's two-goal lead on the same day that Wycombe beat Chester, while Orient kept Bristol Rovers contained until the dying moments.

Meanwhile Steve Brown put Wycombe's no-frills victory over Chester in to perspective after a strangely muted team performance at Adams Park. "It wasn't an attractive performance but we got a result and it's probably one of the most important of the season. If we had not won, it would have been curtains for the play - offs".

And a post match press conference could not pass without O'Neill being quizzed about his future at Wycombe. O'Neill admitted: "I look with envy at the Premier, that's where it's happening. I want to manage at the very top, whether for a month or seven years. If I continue to do well some Premier team will ask me to be their boss. I'm 43 and there are younger guys who are at the top and are winning things. I am proud of what has been achieved here at Wycombe but I don't know how much further this club can go. I just want to see how we finish this season, then I'll sit down with the chairman and have another look at things."



Next game - Wycombe v Plymouth - Saturday 29th April 1995