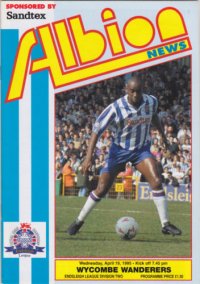 Brighton & Hove Albion 1
Wycombe Wanderers 1
Wednesday 19th April 1995
Football League Division Two
Wanderers moved up a place to 6th in Division Two after drawing 1-1 with Brighton in a midweek fixture at the Goldstone Ground. Dave Carroll got the goal for Wycombe in the second after George Parris had given the home side the lead eleven minutes before the interval. It was Carroll's second crucial goal in as many games, having scored the winner against Oxford United the previous Saturday. Wycombe secured their draw at Brighton without skipper Terry Evans, who was ruled out with an ankle ligament injury, and Peter Garland. Wanderers failed to get an extension to the bustling's midfielder's one-month loan stint from Charlton Athletic.

Reporting for the Bucks Free Press from the Goldstone Ground, Claire Nash wrote: Dave Carroll's traditional end- of-season flourish is bolstering Wycombe Wanderers' charge for a play-off place. The midfielder's vital equaliser at Brighton on Wednesday night, which was Blues' first away goal in 537 minutes of football, followed up his crucial winner against Oxford United last Saturday.

It was Carroll of course who sent Blues into Division Two in a blaze of glory with his two goals in last year's play-off final. But whether his priceless contribution, specifically being in the right place at the right time to scramble home two messy strikes, prove enough to take Wycombe to Wembley again remains to be seen.

With two more nerve-wracking weeks of the season to go, matters remain very much in the balance. But both Carroll and Blues are buoyed up for their run-in after negotiating what threatened to be, and indeed, turned out to be, a tricky game against Brighton, their bogey team of the season.

"It was very important point for us. In the first half we were awful. In the second half, though, we were 100 times better than them." said Carroll, adding: "With the remaining games, we've now got to get nine points out of nine, which I think is very possible." The winger helped pave the way for such possibilities when he toe-poked home a Tony Hemmings' cross at his second bite. It came amid a significant improvement on a poor first-half performance at a bitterly chilly Goldstone Ground.

Brighton took the lead courtesy of an untimely Paul Hyde clanger in Wycombe's goal. George Parris's effort squirmed through the goalkeeper's hands after Hyde appeared to have it covered. The game was there for the taking once Wycombe equalised, but Tony Hemmings wasted a couple of well-worked attacks engineered by Steve Brown in a now typically assured midfield performance by the latter.

The tension was very much in evidence in the first half. Wycombe missed the mammoth presence of skipper Terry Evans in central defence. Brighton's flying full backs Peter Smith and Stuart Tuck caused problems when their crosses bombarded Blues' unfamiliar pairing of Matt Crossley and Terry Skiverton at centre back. - Smith and Tuck's runs forward also kept Wanderers' wingers Carroll and Mickey Bell preoccupied, hence cutting off a supply route to Hemmings and Steve McGavin who were kept in check by Brighton's three-man central defence. Blues' containment in their own half was a tough baptism for Skiverton, who was recalled in place of Evans, alongside stand-in captain Crossley. But both came through with credit.

Wycombe were battered by Brighton's intimidating preamble to scoring. Jason Cousins and Bell took a clattering, Parris being booked for a foul on the latter. But he shrugged off the caution by unleashing a fairly speculative shot after John Byrne teed him up on 34 minutes. The ball skidded along the floor, Hyde seemingly having matters well in hand after diving to his left, but the shot squealed into the back of the net.

A sense of urgency infused Wycombe's play. Their attitude and effectiveness improved drastically after the break. Brown sent Hemmings through with a terrific pass on 53 minutes, but the striker took the ball too far and it went out for a goal-kick. The equaliser arrived on 65 minutes after Bell sent Hemmings on a run down the left. The striker squeezed in a tight cross which Carroll greeted. His first shot was blocked, but he was fortunate to have a second chance to put it away. Hemmings was put clear on 72 minutes but shot wide, much to boss Martin O'Neill's annoyance. Brighton's response saw Byrne show off a few skills. -But Wycombe finished on top, trying to force a winner from a flurry of corners.

Wycombe: Hyde, Cousins, Howard, Cross ley Skiverton, Brown, Carroll, Bell, McGavin (sub 62 Garner), Hemmings (sub 90 Regis) - sub not used: Moussaddik (GK)
Scorers: Carroll (65)
Bookings: Cousins 70 (foul), Brown 76 (foul)
Brighton: Rust, Smith, Tuck, Parris, Foster, McCarthy (sub 62 Munday), Myall, Byrne, McDougald, Minton, McGarrigle. subs not used: Fox, Ormerod (GK)
Scorers: Parris (34)
Bookings: Parris 31 (foul)
Referee: M Pierce (Portsmouth)
Attendance: 8,094

Speaking after the game First Team Coach Paul Franklin said: "We're still in there. Nothing's changed. We set out to get 12 points from our last four games. Now we've got to get all nine." Commenting on the absence of Terry Evans, Franklin added: "Evans was a big loss for us. But everyone came to terms with him not being there and played excellently in the second half."

Meanwhile, specualtion continued in the press in putting Martin O'Neill in line for managerial jobs at clubs including Norwich, Arsenal, Sheffield Wednesday and Derby County. Gary Megson had recently been made caretaker manager at Norwich, O'Neill's former club, until the end of the 1994/95 season. The Canaries were third from bottom in the Premiership after losing two consecutive matches since Megson took over. Some Norwich fans were also calling for the departure of the club's Chairman Robert Chase. O'Neill commented: "It's only a distraction, the usual paper talk, that's all. I have things to do here and the situation will not change before the end of the season."



Next game - Wycombe v Chester - Saturday 22nd April 1995