Wycombe Wanderers 1
Brighton & Hove Albion 3
Tuesday 23rd August 1994
Football League Cup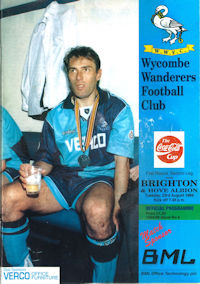 Wanderers had a reality check in their Football League Cup 1st Round 2nd Leg meeting with Brighton & Hove Albion - going down 3-1 on the night and 5-2 on aggregate. A Cyrille Regis goal in the 1st Leg at The Goldstone Ground had given Martin O'Neill's side more than a fair share of hope for the return at Adams Park but the visitors had scored three times before the break to put the tie beyond in the most widely optmistic Wycombe follower.

Wycombe had gone into the tie following an unbeaten start to the their first season in Division Two - their most recent achievement being a 1-0 success at Huddersfield on the opening day of The Terriers new stadium.

With a limited number of fit players to choose from, O'Neill stuck with the same starting XI that won in Yorkshire and it perhaps showed in a lethargic opening 45 minutes that was duley slated by the Wycombe boss in his post-match comments.

Reporting for the Bucks Free Press at Adams Park, Claire Nash wrote:

'Brighton emphatically wrapped up a 5-2 Coca-Cola Cup first-round aggregate victory on a nightmarish evening for Wycombe at Adams Park.

Tuesday's tie was poised with the promise of a tight-fought thriller - Blues trailing 2-1 from the first leg with a vital away goal in the bag. But there was no fairytale comeback for Martin O'Neill and his players this time.

In last year's second round they were a hair's breadth from knocking out Premiership side Coventry after being three goals down. But Brighton forced them to confront a few home truths about Division Two-level cup football on Tuesday night. A skillful performance by Liam Brady's men was spurred on by a second-minute goal which sounded an early death knell for Blues.

Wycombe flailed after Kurt Nogan's snapshot was adjudged to have gone over the line before Keith Ryan frantically hacked it way. They floundered when Junior McDougald literally chipped in with his second of the tie on 26 minutes. Nogan's second on 44 minutes left Wycombe treading water.

Blues tried to respond but ultimately looked bereft of imagination as they tried to counter an invisible brick wall 20 yards out after Brighton pulled down the shutters. It was too little, too late, by the time Wycombe got a semblance of a foothold. Substitute Lee Turnbull snatched scant consolation with his first Blues goal on 89 minutes. By then O'Neill had played his final card, throwing three men up front in a last-ditch effort.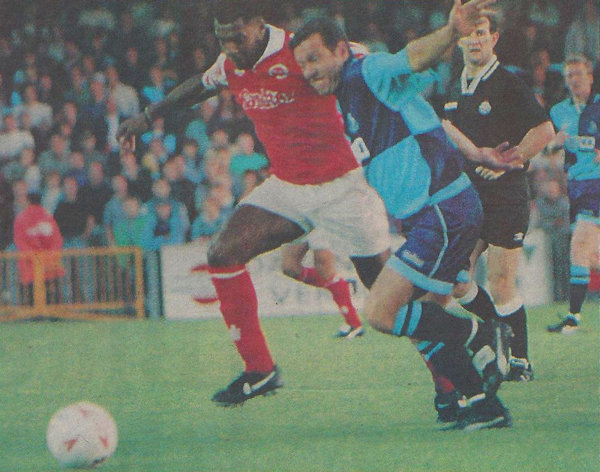 Brighton could have added a hatful of goals to their first-half haul. Beforehand, manager Brady was forced into making changes, apparently out of necessity, with defender Ian Chapman and midfielder Jeffrey Minton out with illness and injury respectively. But with ex-Stoke and England winger Mark Chamberlain, on a month's loan from Portsmouth, and 40-year-old warhorse Jimmy Case waiting in the wings, the former Arsenal and Republic of Ireland star almost had an embarrassment of riches to call on.

Brighton's prime midfield mover Dean Wilkins provided Nogan with a cross which he fired in after Blues' keeper Paul Hyde committed himself too early. Chamberlain terrorised Blues on the right wing even more than Robert Codner did last week, the latter moving to central midfield. Steve Thompson tried to get things going for Wanderers, but moves invariably broke down.

Brighton's second goal of the night was a touch of pure class by Junior McDougald, his delicate chip from Codner's through ball beating Hyde from 25 yards. Headers from Creaser and Steve Brown went narrowly over. But then Brighton signaled the prospect of a second-half rout when McDougald centred Case's long ball for Nogan to fire home on 44 minutes.

The two strikers had chances to secure hat-tricks after the interval. Wycombe's veteran striker Simon Garner, who ran about in vain most of the evening, let rip without reward from 30 yards on 78 minutes. Turnbull converted Garner's pass 11 minutes later to spare some of the blushes.'


Wycombe:Hyde, Cousins, Brown, Creaser (sub 51 Hemmings), Evans, Ryan, Carroll, Thompson, Regis (sub 59 Turnbull), Garner, Stapleton - sub not used: Moussaddik
Scorers: Turnbull 89
Bookings: none
Brighton: Rust, Bissett, Pates, Case, Foster, McCarthy, Chamberlain (sub 75 Funnell), McDougald, Nogan, Codner, Wilkins (sub 36 Simmons) - sub not used: Ormerod
Scorers: Nogan 2, 44, McDougald 26
Bookings: McDougald 17 (foul)
Referee: P Alcock (Redhill)
Attendance: 5,281

Speaking after the game, Wycombe manager Martin O'Neill was left questioning his players' purpose, saying: "We were well and truly hammered. That was a display not normally associated with us. I am very disappointed, I wonder whether the players are or not. Brighton played very well. They had the benefit of an early goal, and their confidence followed thereafter. We did not create anything in the game. We were not even second to the ball this evening, We were more like fifth, sixth or seventh."

A clearly disappointed O'Neill went on to add: "Tonight was real life. Our first two games were like a nice welcome to Division Two in comparison. Tonight has underlined that we are short of ability and .that means we have got to do something about it. I am looking for players for every single department. I cannot expect Simon Garner and Cyrille Regis to continue to play week in, week out throughout the season."

The Wycombe Manager then contined to hint that changes could be made as early as the following weekend's meeting with Bristol Rovers at Adams Park: "We have done enough to get a decent start in the League, but we deserved nothing from the game tonight. If we play another game like that, we will never get a point. We have got to strive to keep going forward. Quality players cost a few bob. We have delved meekly into the market before. But there is money from Steve Guppy's transfer and still, I believe, from Keith Scott."



Next game - Wycombe v Bristol Rovers - Saturday 27th August 1994