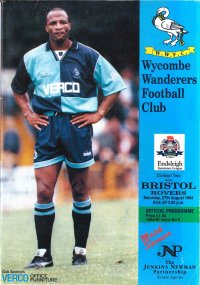 Wycombe Wanderers 0
Bristol Rovers 0
Saturday 27th August 1994
Football League Division Two
Jason Cousins missed a penalty as Wanderers had to settle for a 0-0 draw at home to Bristol Rovers. Martin O'Neill included new loan midfielder Andy Turner (from Spurs) in his starting XI and on a hot afternoon at Adams Park, Justin Skinner (on loan from Wimbledon) was also used as a second-half substitute. Rovers, also unbeaten in their first two League games of the season, included their own Justin Skinner in their line-up.

Wycombe's chance to take control of the game came in the 17th minute when Billy Clark was adjudged to have pushed Cyrille Regis in the area - however, Cousins' spot-kick crashed against the cross-bar.

Reporting for the Bucks Free Press, Claire Nash wrote: 'Wycombe Wanderers reasserted themselves after last week's Coca-Cola Cup mauling, with a share of the spoils with Bristol Rovers on Saturday. Manager Martin O'Neill was happy with a point despite Blues, still unbeaten in the League and having not yet conceded a goal, missing a first-half penalty through Jason Cousins. Paul Hyde's saves and the woodwork denied Rovers' late charge.

Earlier, Wycombe had been bolstered by new signing Andy Turner as they endeavoured to smooth over the shortcomings so starkly exposed by Brighton's emphatic cup victory four days previously. Turner turned it on for the appreciative Adams Park crowd and restored the Wycombe left wing to some of its former tricky activity during Steve Guppy's tenure. The 19-year-old, on a month's loan from Tottenham Hotspur, provided forwards Simon Garner and Cyrille Regis with better ammunition than they have been receiving of late.

It was Cousins, though, who was in receipt of Wycombe's best chance. But the full back, playing in place of the injured Matt Crossley in central defence, blasted the 17th-minute spot-kick against the bar. O'Neill did not rue the miss, but was disappointed with Blues' lack of shape following Turner's substitution after 66 minutes due to a hamstring twinge. The Wycombe manager is confident that it will not stop Turner from playing during his month-long stay. "He came in to do fine. He can take a few players on with his pace."
O'Neill was particularly pleased with Regis's performance, his best since joining on a free transfer from Wolves earlier this month. Wycombe's penalty was given when the veteran striker was adjudged to have been pushed in the back by Billy Clark. "Regis was outstanding for us," said O'Neill. "He made things happen."

The visitors dominated the last 15 minutes with the crossbar denying substitute Gareth Taylor's close-range effort with four minutes to go. Moments earlier Rovers lost their England Under-21 squad striker Marcus Stewart, who suffered a broken nose when both he and Terry Evans went to head the ball.

Rovers manager Jo Ward, who did not think Wycombe should have had a penalty, believed one should have been awarded for his team. Wycombe had put them under the cosh in the first half, the first 15 minutes being played at a break-neck pace. There was a lull after Blues' spurned spotkick, although Garner displayed a ready willingness to shoot on sight from long-range. His do or die approach saw him and Rovers' goalkeeper Brian Parkin needing treatment after an early clash. The latter needed six stitches for a knee wound.

There was a late scare for Wycombe in first-half injury time when the ball was threaded through to Rovers' right back David Pritchard, whose shot from six yards was hacked away for a corner.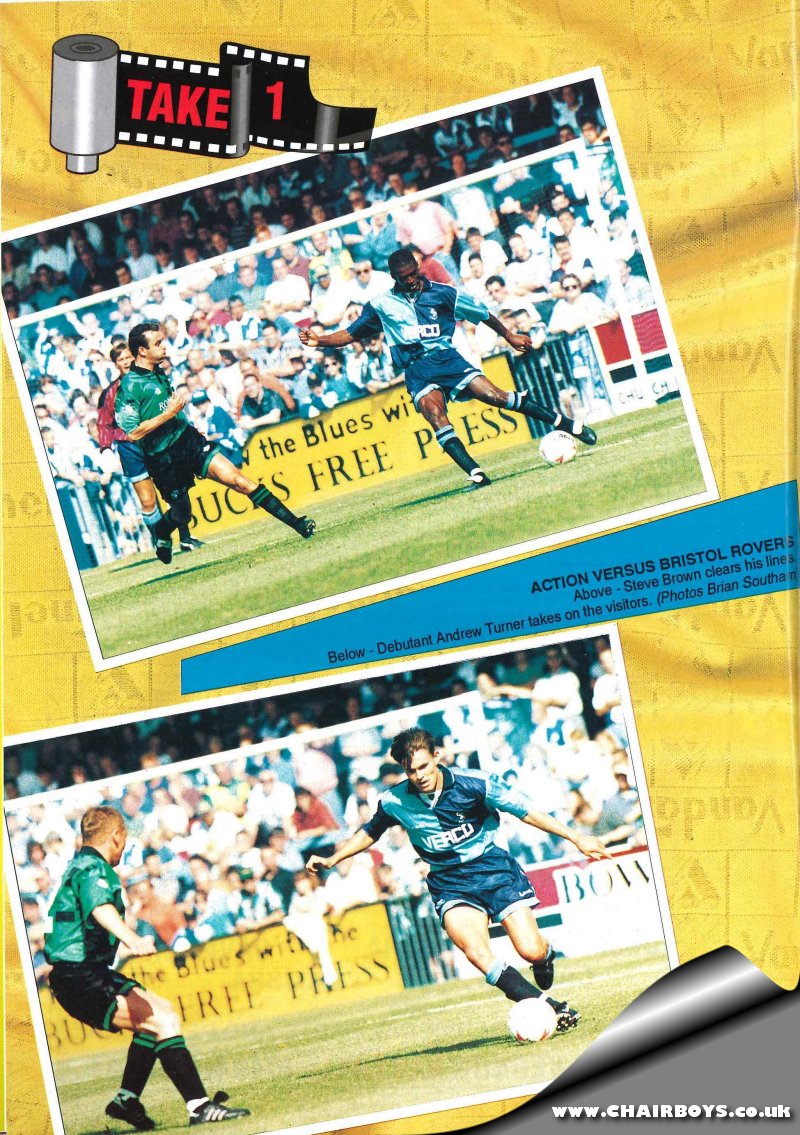 Wycombe began the second half in the same vein as the first. Garner just narrowly missed connecting with Turner's first-time cross on 46 minutes and Parkin saved well from Keith Ryan's volley from Carroll's flick-on three minutes later. A Garner/Regis one-two on 53 minutes was promising, but the latter was unable to finish the move he initiated.

Turner, who scored three goals in 18 appearances for Spurs last season, went for goal himself on 60 minutes, but pulled his shot wide of the near post. Rovers seemed content to hit Wycombe on the break at this point. They prospered after Turner was replaced by Hemmings on the left on 66 minutes. Wycombe were rejigged again when Justin Skinner, a second new on-loan signing, made his debut in replacing Garner with 12 minutes to go. Rovers began to fashion more flowing moves, with Worrell Sterling, who has played against Wycombe in three FA Cup ties with Peterborough and Rovers, being used more on the right.

Stewart's 62nd minute header was cleared off the line by Cousins after Hyde was out of position. Three minutes later Hyde parried a meaty 25-yard shot by the visitors' busy central midfielder Justin Channing. Regis did not let up though, trying to chip Parkin on 77 minutes but the keeper was equal to it.

Rovers' recent new addition from Wimbledon, Paul Miller, was through after beating Hyde, but he took the bail too wide and wasted his chance. Blues were grateful for the woodwork's intervention after they failed to clear Channing's corner, and Lee Archer's ball back in, before Taylor pounced.


Wycombe: Hyde, Cousins Brown, Turner (sub 66 Hemmings), Evans, Ryan, Carroll Thompson, Regis, Garner (sub 78 Skinner) - sub not used: Moussaddik
Scorers: none
Bookings: none
Bristol Rovers: Parkin, Pritchard, Gurney, Channing, Clark, Tillson, Sterling, Miller, Stewart (sub 71 Taylor), Skinner, Archer (sub 90 Browning) - sub not used: Law
Scorers: none
Bookings: none
Referee: Mr P Foakes (Clacton-On-Sea)
Attendance: 5,895

Speaking after the game Wanderers Manager Martin O'Neill said: "Had we scored the penalty I thought we would have gone on and secured the win," he said afterwards. In the second half we lost the tempo a little and could not get going again. We were up against it late on and had to make a few clearances, so overall I'm happy with a point." O'Neill went on to add that he was concerned at the late scramble to stop Rovers snatching a winner: "When we are on top, we are fine. When we are not we get ourselves into a situation where it's last-ditch stuff and we cannot get ourselves out of it."



Next game - Birmingham City v Wycombe - Tuesday 30th August 1994