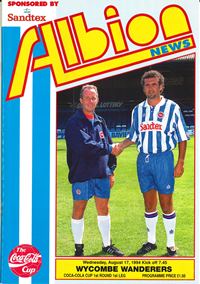 Brighton & Hove Albion 2
Wycombe Wanderers 1
Wednesday 17th August 1994
Football League Cup
1st Round - 1st Leg
Wanderers' came away from their Football League Cup 1st Round, 1st Leg tie at Brighton and Hove Albion with a one goal deficit ahead of the return at Adams Park on Tuesday 23rd August 1994. The home side, managed by former Arsenal midfielder Liam Brady, had taken the lead moments before the half-time break when Junior McDougald fired in from close-range. However, a Cyrille Regis header six minutes into the second-period (his first goal since signing for Wanderers the previous week) stunned the home fans and it was only a last minute goal from Kurt Nogan that gave the fellow Second Division side a slender advantage for their trip to Bucks.

Reporting for the Bucks Free Press, Claire Nash wrote: 'Cyrille Regis scored his first Wycombe goal to keep Blues in with a considerable shout in this Coca-Cola first round tie in which they trail Brighton 2-1. The 36-year-old stiiker scored with a bullet header on 51 minutes to draw Blues level on Wednesday.
Brighton had earlier forced their advantage at the worst possible moment for Blues - seconds before the half time interval. With almost uncanny timing, Liam Brady's side produced a second late-show when they scored a first-leg winner in the final minute.
Regis's effort, though, gives Blues a vital foothold in next week's encounter. Away goals will count double if the scores are level after extra time.
Wycombe had a stern task at the Goldstone Ground to keep a lid on their fellow Division Two opponents. They managed to give Brighton enough food for thought to suggest that next Tuesday's second leg at Adams Park (ko 7.45pm) will not be a foregone conclusion however. But that was only after the hosts pace-packed midfield and forward line had given them plenty to chew on.
Glyn Creaser, replacing Matt Crossley who was still suffering from a dead leg from last Saturday's win over Cambridge, had the toughest marking job in containing scorer Junior McDougald. His opening goal gave the game a much-needed tonic after it lapsed into an unattractive airbourne stalemate halfway through the first 45 minutes. Brighton had the best of the early probings, Wycombe not fashioning their first promising flurry in the 29th minute when Regis was not far off connecting with Terry Evans's knockdown from David Titterton's cross.
Brighton's threat came from all sides, with playmaker Dean Wilkins providing Robert Codner on the right flank and Junior McDougald and Kurt Nogan up front with plenty of ammunition. It was Codner's whipped-in cross after a searing run on the right which McDougald fired home at the near post.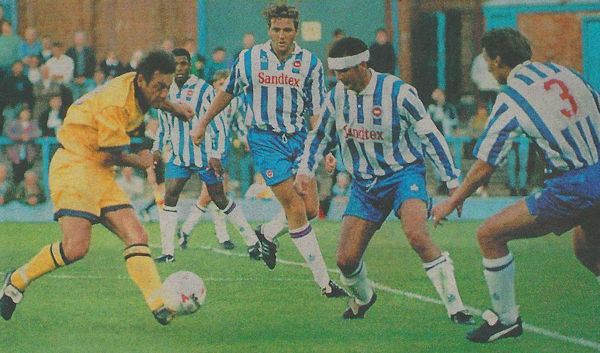 Wycombe found their feet at the start of the second half. Steve Thompson and Dave Carroll strove to thread a supply line to Simon Garner and Regis who had veteran Seagulls defender Steve Foster for company. Blues' reward arrived when Carroll worked some customary magic from a free kick which penalised Stuart Munday's climbing expedition on Regis. The latter got into a perfect position to flick the resulting cross beyond Brighton keeper Nicky Rust.
Brighton, not surprisingly disgruntled at losing their lead, hit back immediately but Blues' keeper Paul Hyde held firm amid the onslaught. Titterton had to go off after straining his knee a few minutes later.
Wycombe had a lucky escape on 71 minutes, with Nogan hitting the crossbar and then the upright. Brighton boss Brady, the former Arsenal midfield maestro, was prompted into apoplexy three minutes later when referee Ian Remley waved play on after Creaser's challenge on McDougald as the striker cut into the penalty area. Wycombe had their most sustained period of pressure during the last ten minutes. Tony Hemmings went on a handful of fast forays forward after replacing Garner. But Brighton were always likely to hit back on the break. And so it proved when McDougald's cross from the right flashed across the face of goal where Nogan was on hand to blast home.'

Wycombe: Hyde, Cousins, Titterton (sub 59 Brown), Creaser, Evans, Ryan, Carroll, Thompson, Regis, Garner (sub 77 Hemmings), Stapleton.- sub not used: Moussaddik
Scorers: Regis 51
Bookings: Titterton 56 (foul)
Brighton: Rust, Munday, Pates, Chapman (sub 80 Smith), Foster, McCarthy, Minton, McDougald, Nogan, Codner, Wilkins - subs not used: Funnell, Ormerod
Scorers: McDougald 45, Nogan 90
Bookings: none
Referee: Mr I Hemley (Ampthill, Beds)
Attendance: 6,884

Speaking in the days after the game, Wanderers Manager Martin O'Neill said: "We have played two good sides now (Cambridge and Brighton) who had decent runs at the end of the last season that almost put them in line for promotion. We acquitted ourselves reasonably well in one game, less so on Wednesday night. The calibre of these teams' players suggest it's not going to be easy."

O'Neill added: "It would have been better if we had not conceded a late goal. But if we can win the game 1-0 after extra-time, that will be sufficient. We were under pressure for long periods in the game. I thought Glyn Creaser, who came in for Matt Crossley, and Terry Evans did will to contend with that."

Before the 2nd Leg Wanderers would travel to Huddersfield to play a League game that would mark the official opening of the Terriers new ground. O'Neill commented: "It is quite exciting playing in a new stadium. It is an experience we should look forward to rather than shy away from." Only 100 or so tickets had been made available to Wycombe fans for the all-ticket 13,000 capacity game at the McApline Stadium.



Next game - Huddersfield v Wycombe - Saturday 20th August 1994