1974-75 - Wanderers' memorable FA Cup run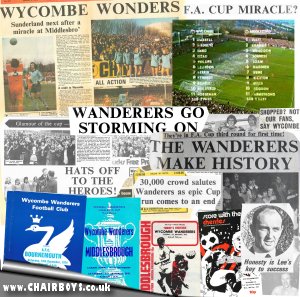 The 2014/15 season marked the 40th anniversary of Wanderers' memorable run in the FA Cup - a run that saw the Club reach the Third Round Proper for the first time in their history and attract widespread media attention.

Chairboys on the Net took a look back on that run on a round by round basis, with match reports, memorabillia and memories published to correspond roughly with the anniversary of each game.

It's been a pleasure putting this collection together - although perhaps a bit more time consuming than first thought. Below we list a number of items that, if this was a DVD, would be termed 'Extras' for those people who want just that bit more.

We would still be delighted to hear from anybody with their memories from these games and especially the more unusual memorabillia, such as match tickets, posters, photos and national press coverage. We would include these in an update to this page.

Extras



Wycombe v Middlesbrough - Bucks Free Press - 3rd January 1975
Special 4 page souvenir match preview supplement
Scanned and enhanced by Paul Lewis - chairboys.co.uk
Download PDF - 5MB

---

Wycombe v Middlesbrough - ITN Newsreel (silent)
Newsreel footage - Middlesbrough arriving at Loakes Park
Available to view from itnsource.com
---

Wycombe v Middlesbrough - ITN Newsreel (silent)
Newsreel footage - Keith Searle at work on building site, Tony Horseman at machine, Brian Lee coaching team, fans getting tickets.
Available to view from itnsource.com
---
BBC Radio London phone-in with Brian Lee - Sunday 5th January 1975
Digitised by Paul Lewis from a 40 year old C90 cassette tape lent by Ian Blacklidge
It cuts off after 45 minutes but it is still worth a listen
Download mp3 - 20MB

---

Wycombe v Middlesbrough - The Big Match
Extract from London Weekend coverage broadcast Sunday 5th January 1975
Part of The Loakes Park Years video released 1990 - Produced by John D Taylor
Uploaded to YouTube by 'chairboygazza'
---
Wycombe v Middlesbrough - Midweek Free Press - 7th January 1975
4 page special report of tie at Loakes Park
Scanned and enhanced by Paul Lewis - chairboys.co.uk
Download PDF - 4.5MB

---

Middlesbrough v Wycombe - ITN Newsreel (silent)
Broadcast in High Wycombe area on Wednesday 8th January 1975
Available to view from itnsource.com
---

Middlesbrough v Wycombe - Bucks Free Press - 10th January 1975
5 page coverage of replay at Ayresome Park, plus more from first tie
Scanned and enhanced by Paul Lewis - chairboys.co.uk
Download PDF - 6MB

---
Read about each round via the links below
All first published to coincide with the 40th anniversary of each tie >>>>
Sat 14th Sep 1974 - Marlow v Wycombe Wanderers - FA Cup 1st Qual. Round
Sat 5th Oct 1974 - Wycombe Wanderers v Milton Keynes City - FA Cup 2nd Qual. Round
Sat 19th Oct 1974 - Chesham United v Wycombe Wanderers - FA Cup 3rd Qual. Round
Sat 2nd Nov 1974 - Wycombe Wanderers v Margate - FA Cup 4th Qual. Round
Sat 23rd Nov 1974 - Wycombe Wanderers v Cheltenham Town - FA Cup 1st Round
Sat 14th Dec 1974 - Wycombe Wanderers v AFC Bournemouth - FA Cup 2nd Round
Wed 18th Dec 1974 - AFC Bournemouth v Wycombe Wanderers - FA Cup 2nd Round replay
Sat 4th Jan 1975 - Wycombe Wanderers v Middlesbrough - FA Cup 3rd Round
Sat 4th Jan 1975 - Wycombe Wanderers v Middlesbrough - quotes and press reaction
Tue 7th Jan 1975 - Middlesbrough v Wycombe Wanderers - FA Cup 3rd Round replay
Tue 7th Jan 1975 - Middlesbrough v Wycombe Wanderers - quotes and press reaction

Credits

Paul Lewis - Editor and web production - Taken to Middlesbrough at Loakes Park by my Mum.
Just about see me in the Big Match coverage - complete with knitted blue jumper,bobble hat and Wycombe Wanderers bag bought from Woodward Stalders in Castle Street.


The late and great Steve Maguire - Wycombe Wanderers match report collection, including an amazing amount of 'away' reports and national coverage from the Middlesbrough game. We miss you Steve.


Phil Ball - scanning of of Steve's collection for the 1974/75 season - also appeared on the front page of the Bucks Free Press, January 1975, seen queing for tickets for the Middlesbrough at Loakes Park, along with his brother Martin.


Stuart Earp and Michael Knox - Bucks Free Sports reporters, Bob Mead - Bucks Free Press photographer. All the other sports reporters and photographers from the clippings used.
And finally, of course: Wycombe Wanderers Football Club players and officials 1974/75



>>>> Return to 1974-75 FA CUP retro feature index page