Marlow 0
Wycombe Wanderers 1
Saturday 14th September 1974
FA Cup First Qualifying Round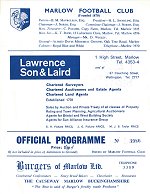 Wanderers opened their 1974-75 FA Cup campaign with a trip Athenian League side Marlow. Wanderers were huge favourites - but the passage to the next round would be far from easy.

On a scorching hot afternoon in Marlow, with goalscoring legend Tony Horseman missing through injury, Wanderers dominated for the majority of the game but had to wait until the 84th minute to net the only goal of the game - Steve Perrin doing the honours in scrambling the ball home past home keeper Dave Wigley after Howard Kennedy's cross had been chested down and shot goalwards by Keith Searle.

Commenting on the game, Bucks Free Press reporter Stuart Earp said, "Without wishing to take anything away from Marlow, who raised their game and fought hard throughout, Wanderers were just too bad to be true on Saturday. Nothing would go right for them from the start and there were times when it looked on the cards that they would finish on the losing side. Before the match, most people were wondering just how many goals Wycombe would score. Perhaps this was the trouble. The team was overconfident, the fans were overconfident and both paid the penalty with a frustrating 90 minutes of downright poor football. It wasn't so much that Marlow played particularly well, it was more a case of Wanderers playing badly."

Marlow, who had taken three games to beat Aylesbury United in the Preliminary Round to get the chance to take on Wycombe, almost took a shock lead in the 20th minute when Paul Kurka bent a swerving shot around the Wycombe defensive wall and forced John Maskell to dive full length and grab the ball. Eight minutes later Keith Mead had to be alert to clear a Mick Page off the line before Ray Palmer could get the vital touch that would have seen Marlow take the lead. Those scares had followed a opening spell of attack from Wanderers where they had forced four corners in the opening 20 minutes, with Perrin going closest on a couple of occasions.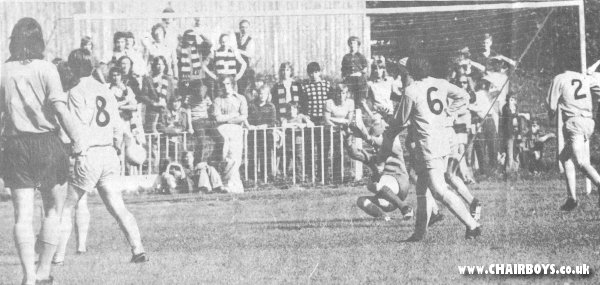 The second-half followed a similar pattern with Wanderers' frustrations compounded when the home fans began chants of 'Wembley, here we come'. Thankfully for Wanderers followers, Perrin popped up to grab the vital goal, just when a replay looked on the cards. Stuart Earp concluded his match report by saying, "On this showing a repeat of last year's heroics against Newport and Peterborough looked very far away."


Wycombe: J.Maskell; K.Mead. A.Phillips, D.Bullock. G.Hand; G.Mackenzie (sub. 64 T.Reardon), H.Kennedy, M.Holifield, D.Evans, K.Searle, S.Perrin
Scorer: Perrin 84
Marlow: D.Wigley, T.Dickinson, P.Sewell, P.Stone, M.McKeown, C.Reid, P.Eyres, T.Staines (sub. 60 P.Edmonds), R.Palmer, M.Page, P.Kurka
Scorers: none
Referee: Mr R. Buckingham
Attendance: 600 (approx)

Wanderers reward for beating Marlow would be a home tie with Southern League Division One North side Milton Keynes City. The side, formerly called Bletchley Town, secured their trip to Loakes Park with a 2-1 victory over Wolverton & B.R.


Sat 5th Oct 1974 - Wycombe Wanderers v Milton Keynes City - FA Cup 2nd Qual.Round >>>

What else was happening in the UK in September 1974
2nd September 1974 - Rising Damp sitcom first broadcast ITV
5th September 1974 - Porridge sitcom first broadcast BBC1
12th September 1974 - Brian Clough dismissed after less than two months as Manager of Leeds United
23rd September 1974 - BBC Ceefax begins first teletext service
No.1 UK Singles Chart - Love Me For A Reason by The Osmonds & Kung Fu Fighting by Carl Douglas.
No.1 UK Albums Chart - Hergest Ridge by Mike Oldfield




>>>> Return to 1974-75 FA CUP retro feature index page