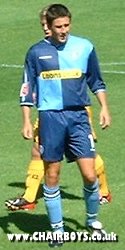 Career summary at Wycombe
88 appearances - 8 goals.
Career Details (*) indicates loan spell
Date
Club
League
Apps
League
goals
Cup
Apps
Cup
Goals
Trainee
Tottenham Hotspur
-
-
-
-
July99-July04
Plymouth Argyle
124(47)
38
23(7)
7
2004/2005
Wycombe Wanderers
31(7)
4
6
0
2005/2006
Wycombe Wanderers
8(19)
2
3(1)
1
Nov05
Torquay United (*)
-
-
-
-
2006/2007
Wycombe Wanderers
1(8)
0
2(2)
1
Background: 6 foot striker signed by Wycombe just prior to the start of the 2004/5 season. Had previously spent five years at Plymouth Argyle where he had scored more than 40 goals in a little over 200 appearances. A former trainee at Spurs who also gained honours for the England Under 18 side - making three apps and scoring twice. Played a large part in Argyle's Division Three Championship winning side of 2001/2 and also featured in the Division Two Championship side during 2003/4 where he also featured on the left of midfield. Will see his move to Wycombe as a chance to rekindle his goalscoring touch at the level where he previously excelled despite being only 19 years old at the time. Speaking shortly after signing Stonebridge, Manager Tony Adams commented "He's going to be very valuable to us. He's mobile, he can hold the ball up well and he's got an eye for a goal and I think he will link up well with Nathan (Tyson)." Went on to have a lacklustre first season at Wycombe and was eventually loaned out to Torquay United in November 2005. In and out of the side under the managership of both John Gorman and Paul Lambert before being forced to retire in February 2007 due to a rare condition called Reactive Arthropathy which causes swelling of the joints.