Cheltenham Town 0
Wycombe Wanderers 0
Thursday 18th May 2006
Football League 'League Two'
Play-Off Semi-Final 2nd Leg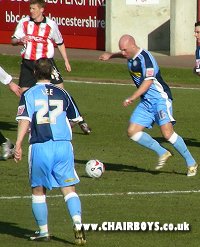 Wanderers' season came to a disappointing finish at Whaddon Road after a 0-0 scoreline saw a 2-1 aggregate victory for the home side. Backed by close to 1,500 fans Wycombe had the far greater efforts at goal but again failed to seriously test the opposing goalkeeper. Will Antwi came closest to taking the match into extra time when his goalbound header was blocked with 16 minutes left on the clock.
The pattern of the game was again familiar for anybody who has seen Wycombe this season. The early pressure belonged to the Wanderers but chances went begging summed up when Rob Lee blazed over from 20 yards on 16 minutes after a ball in from the right was laid back by Jermaine Easter. Cheltenham looked more theatening on the break and Steve Williams had to be alert seconds after Lee's sky rocket when he pushed away at the near post from Ashley Vincent after the youngster collected a pass down the right flank.
The second-half proved to be just as open but for Wycombe, now kicking towards the more and more vociferous away following, the tension rose with each passing minute. As did the frustration when Danny Senda's ball into the near post from the right was clipped over the bar by Tommy Mooney after the former Oxford striker flung himself towards the ball.
If anything it was the home side who looked more likely to score as Wanderers eventually ran out of steam. Williams made another good save on 65 minutes from Brian Wilson and moments later Stephen Guinon shot over from 12 yards after a low cross from the right by Vincent. When Mooney limped off injured with 19 minutes remaining it was getting clear this wasn't going to be Wycombe's night. It got desperate at the end with Roger Johnson playing up front but it simply wasn't going to happen against a highly impressive Cheltenham defence. The salute by the Wycombe players to the fans after the final whistle was another emotional occasion at the end of a season that will be remembered for all the wrong reasons.
Final Score - Cheltenham Town 0 Wycombe 0
Aggregate - Cheltenham Town 2 Wycombe 1

Speaking to the media after the game Chelenham Town boss John Ward commented "It was the best 0-0 I've ever seen. We tried but they (Wycombe) are a very good team. They came at us. We knew they would at certain stages but not for probably 85 minutes and we had to be strong. We got fortunate now and again. One or two shot across our goal mouth but it was just our night."
Meanwhile, Steve Brown said "We came here and we knew what we had to do and there was no point in sitting back or playing the game like a game or chess because we had to get a goal. We've gone out from the start but that is how we have played all year. We've created chances but unfortunately today nothing has fallen to us. It was probably the most one sided 0-0's I've seen for a long time."

Wycombe: Williams, Senda, Easton (sub 88 Williamson) Johnson, Betsy, Easter, Bloomfield (sub 79 Oakes), Martin, Antwi, Mooney (sub 72 Griffin), Lee - subs not used: Talia, Burnell
Bookings: none
Scorers: none
Cheltenham Town: Higgs, Gill, Caines, Duff, Armstrong, Vincent (Bird 79), Finnigan, McCann, Wilson, Odejayi (Spencer 67), Guinan - subs not used: Brown, Gillespie, Bell.
Bookings: none
Scorers: none
Referee: Mr N Miller
Attendance: 6,813 (away 1,426)
Interactive Stats

Match and players
All the Wycombe results, scorers, team line-ups and statistical breakdown of the current season - FULLY INTERACTIVE to your heart's content.


Latest Table and form Updated table with results archive of ALL Division Two games plus form guide and previous meeting between ALL clubs for the past four seasons.


All match reports © 1996, 1997, 1998, 1999,2000, 2001, 2002, 2003, 2004, 2005, 2006 Chairboys on the Net (www.chairboys.co.uk) - Not to be reproduced without our written permission.