Plymouth Argyle v
Wycombe Wanderers
Tuesday 4th November 2003
LDV Vans Trophy 2nd Round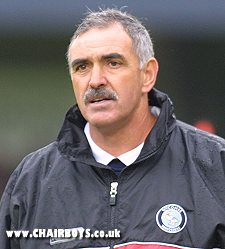 John Gorman signed off as caretaker boss of the Wanderers by seeing his side win through to the 3rd Round of the LDV Vans Trophy via a dramatic penalty shoot-out at Division Two leaders Plymouth Argyle. The scores were level at 2-2 after 90 minutes but to add to the drama Guy Branston was red-carded as the teams prepared for extra-time following comments made to referee Brian Curson regarding a disputed off-side decision. Wanderers held out through extra-time and then won a controvsersial spot-kick competition where three kicks (two for Plymouth) were ordered to be re-taken. Frank Talia proved to the hero with two saves out of four, while Michael Simpson, Chris Vinnicombe, Danny Bulman and finally a cooly placed effort by Danny Senda delighted the small band of travelling supporters.
The game itself had seen Wanderers race into a 2-0 lead as early as the 15th minute following two strikes from Jermaine McSporran. The first came in the 9th minute when Stuart Roberts raced down the right wing following a through ball from Danny Senda. In a mad panic, Argyle 'keeper McCormick raced off his line but Roberts flicked the ball past him and McSporran got the final touch on the goal-line to ensure the ball ended in the back of the net. Six minutes later Wanderers were 2-0 up when Simpson's free-kick was headed down in the box by Roger Johnson and McSporran was on hand at the left hand post to tuck the ball in.
However, Wanderers were pegged back when the home side scored twice in a twelve minute spell. First on 22 minutes a corner was delivered from the right by Lee Hodges and Graham Coughlan was allowed to head home at the near post. Argyle then levelled the score on 34 minutes when the Wycombe defence failed to deal with a free-kick from the right, the ball was headed back across the face of the goal and Mickey Evans picked his spot past Talia.
Arygle had further chances before the break through Hodges and Evans while a rare attack by Wycombe saw Branston head past the post from six yards following a corner from the right by Darren Currie.
Half-time 2-2
Argyle continued to have the upper hand for the remainder of the ninety minutes. Marino Keith was denied by Talia on 58 minutes while moments later Evans fired over from around 20 yards. Wanderers struggled to create many clear cut chances and despite forcing three or four corners these were all delivered to the far post with little effect.
The game really picked up in the final ten minutes of normal time. First Talia scooped the ball away after Johnson almost turned a cross into his own net on 80 minutes while from the resulting break McSporran directed a header straight at McCormick. A minute later Roberts found space on the left edge of the box but his shot was saved while the non-stop action continued at the other end when Ian Stonebridge got past the Wycombe defence down the left wing but Bulman was back to cover.
After Simpson had shot over, Wanderers had their best chance to win the game with three minutes left on the clock. A massive clearance by Talia found McSporran just to the right of goal and when McCormick came out to challenge 'Jocky' tried an improvised overhead kick that bounced goalwards and then agonisingly struck the left hand post and was cleared.
The final action of the 90 minutes ended in controversy when an Argyle break down the right looked suspiciously offside. The flag stayed down and Wycombe cleared to concede a corner on the right from which Branston did well to head wide of his own goal.
90 minutes 2-2

The arguements contined after the final whistle with Branston raising his complaints to a point where he was sent off for foul and abusive language. His choice of words will now cost him a two game ban starting from any games played from 18th November 2003 (the day his current loan spell from Rotherham is due to expire). Not to be out done, John Gorman strolled out into the middle of the pitch to confront the officials and was promptly sent to the stands by referee Curson.


Currie was sacrificed for Andy Thomson as Wycombe re-organised the now depleted defence. Johnson also had to suffer the wars as he was knocked out by David Friio shot having also received treatment earlier in the game for another head injury. However, Johnson battled on and along with Thomson and 'keeper Talia, kept the home side at bay. Argyle went closest when he blocked a close range efforts from both Stonebridge and Evans. Wycombe had one attack through a Dannie Bulman breakway but he ran out of steam as he approached the goal.
120 minutes 2-2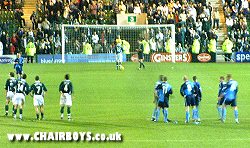 The penalty shoot out had its own touch of farce. Argyle went first and scored through Paul Wotton but Simpson saw his kick saved but it was ordered to be re-taken as the keeper moved and he made no mistake with the second attempt. Talia then saved Nathan Lowndes kick before Vinnicombe smashed one down the middle to make it 2-1. Frio then saw Talia pull off another save before Bulman made it 3-1 with a low shot to the right. Tony Capaldi was then given three chances to score his effort knowing that a miss would send Wanderers through. He scored with the third attempt but Senda was calmness personified when he converted his kick to send Wycombe through.
Argyle refused to send anybody to speak to the press after the game but John Gorman was delighted to say a few final words as Wycombe boss, commenting "I'm full of praise for the lads, they've done tremendously well tonight. They've shown a battling spirit and commitment that has seen them through to penalties and through to the next round of the competition and I couldn't have asked for any more from them. It's a wonderful way to round off my time as caretaker manager."
Final Score - Plymouth 2 Wycombe 2 - Wycombe won 4-2 on penalties
Wycombe: Talia, Senda, Vinnicombe, Johnson (sub 118 Brown), Branston (sent-off 90 minutes), Currie (sub 91 Thomson), Simpson, Bulman, Mapes (sub 60 Ryan), McSporran, Roberts - subs not used; Williams, Bell
Bookings: Simpson (dissent 20), Johnson (foul 33)
Red Card: Branston (abusive language 90)
Scorers: McSporran (9,15)
Plymouth: McCormick, Worrell, Wotton, Coughlan, Gilbert, Hodges (sub 79 Capaldi), Friio, Bent, Stonebridge (sub 106 Lowndes), Evans, Keith (sub 71 Norris) - subs not used: Aljofree, Sturrock
Bookings: none
Scorers: Coughlan (22), Evans (34)
Referee: Mr Brian Curson
Attendance: 4,298 (approx 50 away section)
Interactive Stats

Match and players
All the Wycombe results, scorers, team line-ups and statistical breakdown of the current season - FULLY INTERACTIVE to your heart's content.


Latest Table and form Updated table with results archive of ALL Division Two games plus form guide and previous meeting between ALL clubs for the past four seasons.


All match reports © 1996, 1997, 1998, 1999,2000, 2001, 2002, 2003 Chairboys on the Net (www.chairboys.co.uk) - Not to be reproduced without our written permission.