Plymouth Argyle 1
Wycombe Wanderers 0
Saturday 3rd May 2003
Football League Division Two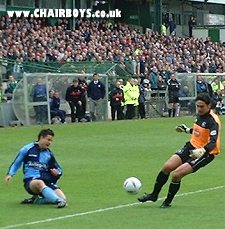 Jonny Dixon goes close for Wycombe on the final day of the 2002/3 season.

A 75th minute goal from Argyle substitute Nathan Lowndes was enough to consign Wanderers to a first ever final day defeat under Lawrie Sanchez and a result that sees Wycombe finish in 18th place in Division Two with a measly 52 points from the 46 games played.
Lawrie Sanchez used this game to give the younger players in the squad some more air time and also to make some further experiments with the shape of the side. Keith Ryan was dropped back into the right back position while Danny Senda was given a free role in midfield. Lewis Cook also came into the midfield at the expense of the injured Darren Currie while upfront the prefered starting combination was Richard Harris and Stuart Roberts with Jonny Dixon relegated to the bench.
It was a combination that never looked likely to threaten the home side with anything other than half chances and it wasn't until late in the game that Wycombe registered a shot on target.
The home side meanwhile created the better openings but their finishing let them down. Wanderers survived a 20 minute shot from David Friio that Frank Talia saved while the best first half effort from Wycombe came on 39 minutes when Cook's cross from the left bye-line was slashed high of the target by Senda. A minute before the break Friio struck another effort from 20 yards that smacked against Talia's right hand post before being cleared.
Half-time 0-0
Michael Simpson picked up a rare injury just before the break when he tweaked a hamstring. He was replaced after the interval by Luke Oliver with Ryan moving into midfield and Johnson to the right of defence.
Wanderers best spell came after Dixon and Gavin Holligan replaced Harris and Roberts. Dixon charged down a clearance from the Argyle 'keeper on 72 minutes but the 'keeper recovered in time to block Dixon's shot from wide on the right. Three minutes later Wanderers conceeded their goal when David Norris knocked in a cross from the right and an unmarked Lowndes was there to direct the ball past Talia. The Wycombe 'keeper went on to make good saves from Mickey Evans and another Lowndes effort before Dannie Bulman almost snatched a late equaliser with a long range effort that the Argyle keeper saved to his left.
Thankfully the result was irrelevant for Wycombe although the home fans could celebrate a victory that took them to 8th place in the table with 65 points, while elsewhere the news that bitter rivals Exeter City had dropped into the Conference raised a few smiles amongst the locals.
Final Score Plymouth 1 Wycombe 0


For those who like to quote statistics, the 2002/3 has seen Wycombe finish with eight games without a win and final points that is the second worse since Wanderers gained promotion to the Football League ten years ago this week. They have conceded more goals than any other season in the Football League and won just 13 games (on equal with the previous worst in 1998/99).
Speaking after the game Lawrie Sanchez said "We've taken three points out of 24, it's not good enough and there has been reasons. The introduction of youth and the break up of letting people like Rammell and McCarthy go but it isn't good enough no matter what and we've got to make sure that we start next season a hell of a lot better than we've finished this one."
Sanchez will be the man under pressure to get things right on the pitch next season but admits that it will be a testing time, adding "I think the young lads will have to improve rapidly. We will need them and we will need to avoid injuries and we will need to avoid suspensions. We aren't going to be in a different boat to an awful lot of teams in our division. I think the top seven teams down to Tranmere are far and way better than the rest of us. But there isn't a great deal between us and Plymouth."

Wycombe: Talia, Senda, Thomson, Johnson, Vinnicombe, Roberts, Simpson (sub HT Oliver), Ryan, Bulman, Harris (sub 65 Holligan), Cook (sub 65 Dixon) - subs not used Rogers, Simpemba
Yellow Cards: Oliver (58 foul)
Plymouth: Larrieu, Worrell, Coughlan, Wotton, McGlinchey, Norris, Bent, Friio, Capaldi (sub Beresford), Stonebridge (sub 74 Evans), Keith (sub 73 Lowndes) - subs not used: Aljofree, Martin
Yellow Cards: Norris (73 foul)
Referee: George Cain (Bootle)
Attendance: 10,129 (approx 400 away end)
Interactive Stats

Match and players
All the Wycombe results, scorers, team line-ups and statistical breakdown of the current season - FULLY INTERACTIVE to your heart's content.


Latest Table and form Updated table with results archive of ALL Division Two games plus form guide and previous meeting between ALL clubs for the past four seasons.



All match reports © 1996, 1997, 1998, 1999,2000, 2001, 2002, 2003 Chairboys on the Net (www.chairboys.co.uk) - Not to be reproduced without our written permission.