April 1999 News
brought to you by
---

NEWS FROM WEEK ENDING 24th April 1999
SURVIVAL PATH - START PRAYING(24th April 1999)
With no game last Saturday (17th April) because of Wigan's AutoWindcreens Final on Sunday, Wycombe fans could only watch in disbelief as teams around them won or picked up points. Northampton won with a last minute goal at Reading from David Savage, while Oldham got a late winner at Wrexham. Lincoln won 1-0 at Luton. The table after last Saturday's games looked like the table below. Postponements in the week mean that the fellow strugglers will all cramming their games in during the final days of the season. It should all be a lot clearer after this Saturday's games - start praying folks!


NATIONWIDE DIVISION TWO - bottom half
                                      
including 17 Apr  P  W  D  L  F  A PTS
                                       
13 Notts Co       41 13 10 18 48 56 49 
14 Luton          42 13 10 19 46 57 49 
15 Colchester     42 11 15 16 45 61 48 
16 Wrexham        41 12 12 17 40 57 48 
17 Burnley        42 11 14 17 47 70 47 
18 Bristol R      41 10 15 16 54 50 45 
19 Oldham         42 12  9 21 43 59 45 
20 York           42 11 11 20 53 74 44 
21 Northampton    42 10 14 18 35 49 44 
22 Wycombe        41 10 11 20 45 53 41 
23 Lincoln        41 11  7 23 37 68 40 
24 Macclesfield   41 10  9 22 35 53 39 


This weeks Division Two fixtures
    and results

Tuesday April 20 1999 

Chesterfield 0-0  Bristol Rovers
Northampton  OFF Wigan
Notts County OFF Macclesfield
Preston      1-0 Walsall
Wrexham      2-1  Gilligham
York         OFF Blackpool

Wednesday April 21 1999 

Fulham       4-1 Millwall



Saturday  April 24 1999 

Blackpool    1-2 Bristol Rovers
Bournemouth  0-0 Chesterfield
Fulham       1-1 Wrexham
Lincoln City 0-1 Walsall
Macclesfield 1-2 York
Man City     1-2 Wycombe
Millwall     2-2 Preston
Northampton  3-3 Colchester
Notts County 1-2 Luton
Oldham Ath   1-4 Gillingham
Stoke City   1-4 Burnley
Wigan Ath    4-1 Reading 

SIMMO SIGNS(21st April 1999)
Michael Simpson has signed a new two year deal with Wycombe as Lawrie Sanchez finalises the players he intends to keep at Adams Park for next season. Paul McCarthy is also expected to sign a new deal soon. At last week's supporters' forum, Sanchez indicated that he was looking for a couple of wide players and another 'Keith Scott' type forward 'but cheaper'. Paul Read, John Cornforth and Michael Forsyth, all players out of contract in the summer, were not mentioned in Sanchez's summary of his team plan for next season. Having sold Keith Scott for £250,000 and payed out £200,000 for Sean Devine, the funds are basically back to zero but Sanchez seemed confident of picking up players on a 'free'.
LET'S ALL GO TO MAINE ROAD(21st April 1999)
Despite the problems with tickets Chairboys on the Net urges all Wycombe fans to try and make the trip to Maine Road on Saturday 24th April. Wycombe Wanderers Football Club Secretary Ian Moat has still to respond as to why Wycombe are the only club to be allocated the 'overflow' section at Maine Road.
As far as we know tickets for the game are still available from The Commercial Office at Adams Park, Wanderers in Town or via the Ticket Hotline on 01494-441118, priced £9 adults/£6 concessions. Away travel can be booked on the Official Supporters Association Coach by phoning 01296-429307 or on the Independent Coach by phoning 01494-450622. Nearest train station is Manchester Piccadilly and then take a bus or taxi from Piccadilly Gardens. Get there if you can and support The Wanderers - this game is now absolutely vital in our survival plans this season.
IN DUBLIN'S FAIR CITY(20th April 1999)
Lawrie Sanchez has arranged a pre-season game with Irish League side Bohemian of Dublin. It will be Wycombe's first trip of this kind as a Football League club. The game is due to take place on Saturday 24th July 1999. The Club are looking for four sponsor's to pay £1,000 a head to travel with the team - all travel, accomadation, food and drink included. Anyone wishing to sponsor Chairboys on the Net on this p*ss-up trip, please contact us now at cotn@chairboys.co.uk to reserve your prime advertising slot on probably the most popular website in all of Bucks(*)
X-BLUES AT WEMBLEY(17th April 1999)
Ex-Wycombe players Matt Crossley and Gary Patterson will be going to Wembley in the FA Trophy Final in May after they helped Kingstonian overcome Cheltenham Town in the two-legged semi-final. 'Sir Matt' is well known for his semi-final exploits having scored two goals in the 2nd leg of the Sutton/Wycombe tie in April 1993 as Wycombe pulled the game around from a 3-2 home defeat to win 4-0 at Gander Green Lane. On Saturday in the second-leg at Cheltenham following the 2-2 draw at Kingston, Crossley popped up again to head home after only five minutes and set The K's on route to a 3-1 success. It will be Kingstonian's first trip to Wembley since 1960 when they lost 2-1 to Hendon in the Amateur Cup Final. This year in the Trophy they will play Forest Green Rovers who beat St.Albans in the other semi-final.
---

---

NEWS FROM WEEK ENDING 17th April 1999
FREE TRAVEL TO LINCOLN(15th April 1999)
Lawrie Sanchez announced at the Fans Forum on Thursday night (15th April) that Wycombe fans will offered the chance of FREE coach travel to the final game of the season at Lincoln on May 8th. More details on this will follow although we do know that bookings will have to placed in advance in order for the organisers to arrange a sufficient number of coaches.
More news from the forum to follow.
DEVINE SIGNS IN RECORD DEAL(15th April 1999)
Wycombe have negoitated a Club record deal of £200,000 for the services of Sean Devine. The three-year deal was finalised on Thursday morning (15th April) less than a day after Devine had scored another two goals as Wycombe drew 2-2 at Stoke City. 26 year old Devine had been a goal-machine at Barnet since making his debut in October 1995 but had struggled to make the Barnet First Team this season following an alledged bust up with Bees boss John Still. He scored on his Football League debut for Barnet and went on the notch 46 goals in 106 appearances for The Bees in three seasons. Devine also scored on his Wycombe debut at Reading and has now scored five goals in just seven appearances. The news of Devine's signing will delight Wycombe fans as we enter the final few vital weeks of the season. Earlier in the season Devine was close to moving to Preston North End in a £600,000 deal and his recent rise from the ashes at Wycombe had alerted several other clubs. Wycombe's previous record signing had been Steve McGavin from Birmingham for £175,000. Since the Devine deal was sealed Lawrie Sanchez has confirmed that Wycombe received £250,000 from Reading for Keith Scott.
---
FANS GIVEN RAW DEAL AT MAINE ROAD(14th April 1999)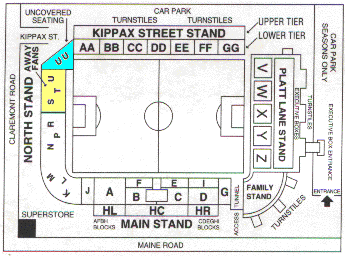 Wycombe fans will be left out in the cold at Maine Road when the Wanderers visit Manchester City on Saturday 24th April. Wycombe have been allocated an area of the 32,000 capacity stadium that is normally used as an 'overflow' area for away fans and is known as the 'windy corner' by locals. For ALL other games this season away fans have been allocated Blocks S,T and U of the North Stand that has a capacity of 2,400 - even though on most occasions the full allocation was not taken. Only when the away section of the North Stand has been filled has the 1,000 capacity 'windy corner' been used. The Official Manchester City website confirms that the Wycombe game is NOT all-ticket yet Wycombe fans are being treated different to EVERY other visiting club this season. This week Lincoln and Luton fans will have had superior seats to Wycombe fans even though they are likely to take a similar number of fans to Maine Road as Wycombe. The only consolation is that tickets are £1 cheaper BUT with a restricted view and no roof. When Wycombe played a League Cup game there on a Wednesday night in October 1995 there were 1,400 who made the journey from Buckinghamshire. Wycombe could easily take a similar amount this time if results keep going our way. Lawrie Sanchez has publicly asked for more support at the away games, yet the decision to allocate just 1,000 inferior seats to Wycombe will make many fans angry.
Who's to blame? Not necessarily Manchester City. Chairboys on the Net are currently awaiting feedback from Wycombe Wanderers but it does appear that once again the interest of the supporters has not been considered and there has been a total lack of consulation with any supporters groups.
SURVIVAL PATH - BACK IN ZONE AGAIN(14th April 1999)
Tuesday (13th April) night's results saw Wycombe slip back in the relegation ahead of the trip to play Stoke City at the Britannia Stadium on Wednesday. Wycombe's point on Wednesday wasn't enough to climb back out but there's still plenty to play for. Quite a few club's are now looking over their shoulders with the safety mark likely to be more than 50 points and 'goals scored' may also play an important part.


This weeks results and Fixtures

Tuesday April 13 1999 

BOURNEMOUTH  0-1 WALSALL
BLACKPOOL    0-2 BURNLEY
FULHAM       3-0 GILLINGHAM
LINCOLN CITY 2-2 READING
MACCLESFIELD 2-0 CHESTERFIELD
NORTHAMPTON  2-2 YORK
NOTTS CO     1-1 WREXHAM
OLDHAM       2-1 BRISTOL ROVERS
WIGAN        2-2 PRESTON

Wednesday, April 14 1999 

MAN CITY  2-0     LUTON
MILLWALL  2-0     COLCHESTER
STOKE     2-2     WYCOMBE



Friday, April 16 1999 

COLCHESTER  2-1  NOTTS CO

Saturday, April 17 1999 

BURNLEY      0-0 BOURNEMOUTH
CHESTERFIELD 1-0 FULHAM
GILLINGHAM   0-2 MAN CITY
LUTON        0-1 LINCOLN CITY
PRESTON      1-2 BLACKPOOL
READING      0-1 NORTHAMPTON
WALSALL      2-0 MACCLESFIELD
WREXHAM      1-2 OLDHAM
YORK         2-2 STOKE



NATIONWIDE DIVISION TWO - bottom half
                                      
including 16 Apr  P  W  D  L  F  A PTS
                                       
13 Luton          41 13 10 18 46 56 49 
14 Blackpool      41 12 13 16 37 47 49 
15 Colchester     42 11 15 16 45 61 48 
16 Wrexham        40 12 12 16 39 55 48 
17 Burnley        41 11 13 17 47 70 46 
18 Bristol R      41 10 15 16 54 50 45 
19 York           41 11 10 20 51 72 43 
20 Oldham         41 11  9 21 41 58 42 
-------------------------------------- 
21 Wycombe        41 10 11 20 45 53 41 
22 Northampton    41  9 14 18 34 49 41 
23 Macclesfield   40 10  9 21 35 51 39 
24 Lincoln        40 30  7 23 36 68 37

SURVIVAL PATH - OUT OF ZONE(10th April 1999)
Wycombe's victory at Wrexham took them out of the bottom four for the first time this season. It's all very tight at the bottom with Macclesfield, York ,Northampton, Colchester and Notts County all winning on Saturday. Stoke City lost 4-1 at home to Bristol Rovers prior to Wycombe's visit there this Wednesday (14th April). The table after Saturday's results looked like this.


NATIONWIDE DIVISION TWO - bottom half
                                      
including 10 April P  W  D  L  F  A PTS
                                      
13 Blackpool      40 12 13 15 37 45 49
14 Notts Co       39 13  9 17 46 53 48
15 Wrexham        39 12 11 16 38 54 47
16 Bristol R      40 10 15 15 53 48 45
17 Colchester     40 10 15 15 43 58 45
18 Burnley        40 10 13 17 45 70 43
19 York           40 11  9 20 49 70 42
20 Wycombe        40 10 10 20 43 51 40
21 Northampton    40  9 13 18 32 47 40
22 Oldham         40 10  9 21 39 57 39
23 Lincoln        39 10  6 23 34 66 36
24 Macclesfield   39  9  9 21 33 51 36


NEW KIT REVEALED(7th April 1999)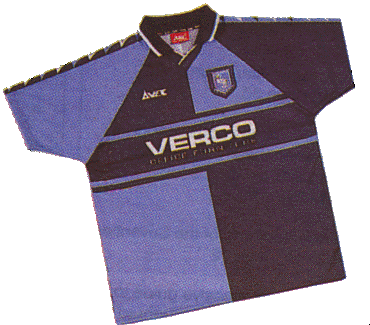 The first pictures of Wycombe's new kit were published in last week's Bucks Free Press. The complete strip will feature light blue shorts and socks and will be officially shown for the first time before the home game with Blackpool on Saturday 1st May 1999. The design has been changed significantly from previous versions of the quartered theme with not only the quarters being switched but the introduction of a rather cumbersome and intrusive banner logo for the Club sponsor. The Club are hoping that the changes will generate an improved market for the replica shirts that, not surprisngly, have tailed off since the trio of Wembley visits under Martin O'Neill. However, supporter reaction has been mixed to date despite the 'quartered theme' being maintained. It would seem from the initial comments that, with the exception of those diehards who buy all the replica shirts, at £35 to £40 a throw the new shirt is unlikely to start a massive rush to the Club Shop when it goes on sale from 1st June 1999.
---

---

NEWS FROM WEEK ENDING 10th April 1999
WYCOMBE ON THE ROAD TO SURVIVAL(7th April 1999)
After Tuesday (6th April) evening's games Wycombe remain at the edge of the relegation zone with four consecutive away games to come. On Saturday (10th April) it's off to North Wales to play Wrexham. The Robins were in serious relegation trouble at the turn of the year but seem to have pulled themselves out of trouble. Wycombe have lost on all their previous four visits to the Racecourse Ground and scored just once in the process, so there's plenty to improve on. The following Wednesday (14th April) it's the first ever trip to play Stoke City in a league match. Stoke have already lost on seven occasions at The Britannia Stadium this season and with Mohan and Kavanagh now at City there's sure to be a twist in the tale. Wycombe then have a ten day break before travelling to Man City on Saturday 24th April and then to Notts County on Tuesday 27th April. It's likely that Wycombe will need to take at least six points from these four games to have a chance of staying up. Start praying folks!


NATIONWIDE DIVISION TWO 
                                       
including 6 Apr   P  W  D  L  F  A PTS
                                       
13 Wrexham        38 12 11 15 38 52 47 
14 Blackpool      39 11 13 15 35 45 46 
15 Notts Co       38 12  9 17 44 53 45 
16 Bristol R      39  9 15 15 49 47 42 
17 Burnley        39 10 12 17 44 69 42 
18 Colchester     39  9 15 15 42 58 42 
19 York           39 10  9 20 47 69 39 
20 Oldham         39 10  8 21 38 56 38 
21 Wycombe        39  9 10 20 41 51 37 
22 Northampton    39  8 13 18 31 47 37 
23 Lincoln        38 10  6 22 34 62 36 
24 Macclesfield   38  8  9 21 30 49 33 

---

---

NEWS FROM WEEK ENDING 3rd April 1999
IN BRIEF(3rd April 1999)
The away game with Manchester City on Saturday 24th April is all-ticket for away fans. Wycombe have been allocated 1,000 tickets and these are available from 10.00am on Monday (5th April) from Adams Park up to the kick-off of the Gillingham home game and then for a short period after the game. Prices are £9 adults - £6 concessions.
Avec have signed a four year deal to produce Wycombe's kit from the start of the 99/00 season. All three Mizuno kits will be scrapped at the end of this season and two new designs will be introduced. The first choice kit features a traditional quartered shirt combined with not so traditional light blue shorts. The second choice kit is an all yellow kit. Pictures of the kit should be available next week and the kit will be previewed prior to the home game with Blackpool on 1st May. The strips go on sale to the public on Tuesday 1st June.
B&B FINAL(31st March 1999)
Wycombe will play Maidenhead United in the Berks and Bucks Senior Cup Final on Holiday Monday 3rd May at The Meadow, Chesham United. Maidenhead beat Windsor in the other semi-final on Tuesday (30th March). Wycombe have a Football League game against Wigan just two days after the Final, so the line-up will depend on the circumstances at the time (say no more at the moment).
A RIGHT ROYAL FEE?(31st March 1999)
There's been plenty of unconfirmed reports over the last week of the actual fee we got for Keith Scott. At last week's Supporters Forum Lawrie Sanchez said that he got a "standing ovation from the Club Accountant" after he had finalised the deal but indicated the fee would remain a secret until other player negotations (including Sean Devine) had been settled. If Chairboys on the Net told you the real figure you'd think it was an April Fool. Scotty scored on his Reading debut in the 3-1 defeat to Man City on Saturday (27th March) and also The Royals goal as they lost 2-1 to fellow play-off chasers Gillingham on Thursday (1st April).
HYDEY TESTIMONIAL(29th March 1999)
Former Wycombe 'keeper Paul Hyde's had an emotional send-off in his testimonial game on Monday night (29th March) at Brisbane Road in a game between Leyton Orient and West Ham United. In front of a crowd close to 5,000 The 'O's lost 4-0 but Hydey kept a clean sheet during his 35 minutes on the field. The first half was a fairly serious affair with The Hammers netting through Marc Keller, Paul Kitson and Rio Ferdinand. The second half was more of a laid back affair with the likes of Glenn Roeder, Alan Comfort, 'Ooo' Terry Howard and 'Old' Peter Kitchen putting on an Orient shirt. Les Sealey went in goal for The 'O's near the end and made one miracle save, gobbed it off a bit to the fans behind the goal and then let in a soft effort at the near post from West Ham youngster Jimmy Bullard.
"Hydey" made close to 250 appearances for Wycombe between July 1991 and February 1996 before he was shown the door by Wycombe's 'Manager' at the time Alan Smith. He went on to join Leyton Orient but sustained a broken leg in January 1998 during a challenge with John Williams against Exeter City. 36 years old on 7th April, Hydey played close to 50 times for the O's and like at Wycombe was a firm favourite with the fans. He's now coaching at Brisbane Road and ironically this involves showing ex-Col U 'keeper Scott Barrett a thing or two (eg watch out for those 100 yard wind assisted shots!).
A number of Wycombe fans made the journey to see the game and there were plenty of quartered shirts on show a few Wembley flags to bring back the happy memories. Hopefully Paul will make a few quid from the game along with a few other functions. He's got six kids now so he'll probably need it. Good luck Paul from Chairboys on the Net.
---
---

---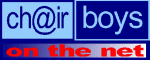 All there is to say and know about Wycombe Wanderers on the Internet
HOME||||INDEX||||ROUGH GUIDE||||NEWS||||REPORTS||||FIXTURES&RESULTS||||INTERACT