PLAYER PROFILE
ALL THERE IS TO SAY AND KNOW ABOUT WYCOMBE WANDERERS ON THE INTERNET....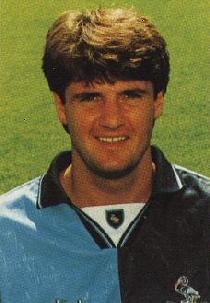 Matt Crossley
Testimonial Year 1998/99
---
Born: Basingstoke 18 March 1968


Playing Career:
Aldershot,Newbury Town,Overton United,Basingstoke Town
Wycombe W Feb 1988-May 1997 330 apps-10 goals
Kingstonian Aug 1997-to date


Matt Crossley was forced to retire from the professional game at the end of the 1996/97 season after spending ten seasons at Wycombe Wanderers. Matt was awarded a Testimonial Season by Wycombe in 1998/99 and a series of fund raising activities were arranged including a Disco, Supporters Forum, Race Night and Golf Day - these were very well supported and thanks to those who supported these events. The fund raising activities were due to culminate in a Testimonial game at the start of the 1999/2000 season but unfortunately suitable opponents and dates could not be agreed and it was decided by the Testimomial Committee to abandon these plans. With Matt not enjoying a highly successful spell at Kingstonian, where he has already picked up two further FA Trophy winners medals, the chances are that a game will be arranged when he finally decides to hang his boots up.
---

---