---
NEWS FROM WEEK ENDING 21st FEBRUARY 1998
Keith Ryan has signed a new three-and-a-half year contract to reduce speculation that he was about to move to Leicester City to join up with Martin O'Neill and co. Ryan will be the first Wycombe player to sign a performance related contract that offers bonuses for wins and league position - but only if the player is in the team. Other players, including Steve Brown and Dave Carroll, will be offered similar deals this summer when their present contracts expire. Ryan has also been awarded a testimonial if he completes his ten years of service in the year 2000.
Wycombe will be asking for a fee in the region of £40,000 if Peterborough want to sign John Cornforth. Cornforth is apparently on a 'good financial package' at Adams Park and will be reluctant to take a drop in wages. Wycombe, on the other hand, are desperate to cut the wage bill. A possible replacement for Cornforth is ex-Norwich and Wales player Jeremy Goss. He has been released by Hearts and is due to play for Wycombe reserves against Barnet on 4th March.
Finally this week, Manager John Gregory has lined up a major music event at Adams Park when Glenn Tilbrook will play an 'unplugged' set in the Vere Suite on Tuesday April 7. Gregory is a big fan of the ex-singer with Squeeze and apparently has a guitar in his office and went to see Oasis in-concert last year. Tickets for the event are priced at £10. EVENT HAS SINCE BEEN CANCELLED DUE TO JOHN GREGORY'S DEPARTURE
---
POSH LOAN CORN
Peterborough United Manager Barry Fry has taken Wycombe midfielder John Cornforth on a month's loan with a view to a permanent move. The Welshman has been in and out of the Wycombe side since he arrived at the end of 1996 and in October last year was on the verge of joining Swansea City. Cornforth, who has made 33 appearances for Wycombe, scoring 7 times, played in Posh's 1-0 victory at Swansea and had a hand in setting up former Wycombe striker Miguel Desouza with the winning goal fifteen minutes from time.
More news on the transfer front comes with David Kerslake agreeing a further one month loan starting from Friday 13th February. Wycombe will contunue to pay a percentage of Kerslake's wages to Ipswich Town despite the defender being unlikely to be fit for a further two weeks. Goalkeeper Brian Parkin has joined Jason Cousins on the trasnfer list.
---
NEWS FROM WEEK ENDING 14th FEBRUARY 1998
Wycombe fans were delighted this week when former player Steve Guppy played for England 'B' against Chile on Tuesday 10th February at West Brom. Guppy is the first ex-Wycombe player to achieve this honour after coming on as substitute during the 2-1 defeat.
Keith Scott is hoping to be in the squad for the game with Burnley at Adams Park on Saturday. Scotty was injured in training in January and was thought to have been out for up to 10 weeks. The news will be a major boost for a Wycombe side sadly lacking in the goalscoring stakes of late.
The forthcoming away games at Bristol Rovers on Tuesday 24th February and Luton Town on Saturday 7th March are 'All-Ticket' for Wycombe fans. Tickets are available now from the Commercial Office at Adams Park, in person or via the Credit Card Hotline (9.15am to 5.15pm Mon-Fri tel:01494-441118) or from Wanderers in Town. Ticket prices are £8.50 adults, £4.50 concessions for the Bristol game and £13 adults and £6.50 concessions for the game at Kenilworth Road.
A new issue of The Wanderer magazine will be available this weekend. The 'mag' by The Indpendent Supporters Club has a new look this month and features a lengthy interview with Paul Read. Copies are sent out to all members and are also available from the WWISC stall in the Hillbottom Road on match days.
Finally in this week's round-up, was Alan Parry joking in last week's programme? The Wycombe Director, writing about a BBC phone-in show that included QPR Chairman, Chris Wright, said he had "even managed to persuade Chris that he should come to Adams Park if Rangers ever consider moving out of Loftus Road to ground share". Any comments from Wycombe or QPR fans - send them via Chairboys Chat.
---
NEWS FROM WEEK ENDING 7th FEBRUARY 1998
Wycombe Wanderers have been rated 19th in the Colman's Football Food Guide out of all Premier League and Football League clubs. The concise review is being distributed free with the latest issue of Goal Magazine. Only Manchester United, Coventry City, Bolton Wanderers and West Ham made the top twenty from the Premier League. Cambridge United were voted the best for food available inside the ground, followed by Huddersfield and Rochdale. At the 'stomach pump' end of the ratings, Wembley Stadium, Wrexham, Bristol City, Swansea City and Leyton Orient were condemned.
With the first team breakthrough's of Mo Harkin and Alan Beeton, the club have revealed plans to develop playing and coaching facilties at a site in the Wycombe area. The club are calling for local businesses or individuals to help sponsor the evolvement of this idea. Wycombe fans will remember, however, that planning permission for a training pitch at Adams Park was granted more than three years ago but no progress has been made and the site is now used for a 'temporary' car-park on match days. Again it appears that finance is the problem, with the club spending the maximum amount of money on players in order to keep Wycombe in Division Two.
---
NEWS FROM WEEK ENDING 31st JANUARY 1998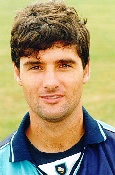 A major shock for Wycombe fans this week as Jason Cousins asks to go on the transfer list at his own request. Cousins signed a new two year deal last summer but has been out of favour since the arrival of David Kerslake on loan. Now 27, Cousins has not made the first-team starting line-up since December and is not happy playing reserve team football. Wycombe will ask for a nominal fee should there be interest in the Wycombe 'hardman' who has made over 300 appearances in 6 and half years at Adams Park. Gregory is keen to sign Kerslake on a permanent basis but his wage demands could prove tricky for the Wanderers.
Striker Paul Read is also apparently unhappy with missing out on first-team football despite the injury to Keith Scott. He missed selection for last week's home game with Blackpool and is unlikely to figure in the long-haul trip to Carlisle this weekend. Gregory could well be keeping in the back of his mind that Wycombe have to pay his former club Arsenal additional fees should Read make an agreed number of first-team appearances for Wycombe. At present Read has made just under 40 apps. but Wycombe will pay out further installments up to a total of £100,000 as he approaches 75 apps. With just 8 goals in his first-team games, Gregory could be thinking of cutting his losses and off-loading the striker on a free.

---
CLUB LOSE SPONSORS
It is likely that Wycombe will lose two major stand sponsors at the end of the current season. Chairboys on the Net has been informed that local newspaper The Bucks Free Press will not be extending their sponsorship of the Family Enclosure area of the Woodlands Stand and that Axa Equity and Law will also drop a similar deal with The Valley Terrace. The reasons are unknown at present but the loss of revenue will be a major blow for the commercial aspirations of the Club. The end of the BFP deal will also see The Blues News dropped as a monthly supplement to the Friday edition newspaper. The club are apparently considering publishing their own magazine on a bi-monthly basis. This is planned to be free to season ticket holders but may cost £1.50 to others. The title of the magazine is yet to be finalised but an initial suggestion of The Wanderer has been muted despite a publication of the same name being used by Wycombe Wanderers Independent Supporters Club.
---
NEWS FROM WEEK ENDING 23rd JANUARY 1998
Wycombe came through the Berks and Bucks Senior Cup game at Bracknell on Tuesday unscathed with a 4-1 victory to reach the 2nd Round. Out of favour first teamer Paul Read got two goals with Ben Hodson and Steve Brown completing the scoring. The Wycombe side also included Jason Cousins, Jason Kavanagh, Brian Parkin, Michael Simpson, John Cornforth and Alan Beeton making his first return after injury. Wycombe will play Slough or Reading away in the next round. Meanwhile the Youth Team made their exit from the FA Youth Cup on Monday at the hands of Peterborough - losing 2-0.
The game at Bristol Rovers on Tuesday 24 February is all-ticket of Wycombe fans. Only terrace tickets are available at £8.50 adults and £4.50 for juniors and OAPS. Home fans can pay on the gate.
---
NEWS FROM WEEK ENDING 16th JANUARY 1998
It all seems to be bad news at the moment. A little bit of hope before the new year is followed by a home defeat and a long term injury to Keith Scott. Scotty arrived at last weeks game with Wigan on crutches and could be out for ten weeks. The injury was picked up following a collision with Steve Brown and Martin Taylor during a training session the previous week. This is a real kick in the teeth for Wycombe fans who saw the striker returning to form following injury problems earlier in the season. Scott's absence will see Paul Read get his chance to prove his critics wrong after a tame Wycombe career to date.
David Kerslake has had his loan at Wycombe extended by another month. Kerslake made his Wycombe debut in the 2-1 home victory over Oldham in December after losing his place in the Ipswich First Team.. Kerslake is doubtful for the League trip to Fulham after he strained a hamstring in the AutoWindscreen defeat at Fulham.
Dave Carroll has been charged with misconduct for remarks made to referee Robert Styles following the 4-2 defeat at Plymouth in November. Carroll has been fined £50 and will miss the away game at Carlisle on 31st January. Wycombe will appeal against the ban but are unlikely to have any joy. The ban is made even worse by the fact that, (surprise, surprise), Steve Brown will also be banned for the clash with the northern strugglers.
---
AUTO DEFEAT AT FULHAM
Wycombe were dumped out of the AutoWindscreens on Tuesday night by an understrength Fulham side. The Wanderers fell behind after just two minutes when a left wing run by the long haired Darren Freeman ended with a bye-line cross that was cut past Martin Taylor by Martin Thomas. Wycombe came more into the game towards the break, obviously keen to salvage something from the season. Mo Harkin, who scored a blinder against Fulham earlier in the season, gave Wycombe some hope on 38 minutes when he hit the target with his right foot after Kerslake and McGavin had less luck. Wycombe had chances to take the game in the second-half but Fulham came stronger as the game progressed. With 6 minutes left Fulham's Andy Arnott forced Taylor to save with the Wycombe defence gone AWOL. Then with 90 minutes approaching, Taylor added to his ever increasing collection of bloopers when he was out jumped by the diminutive Thomas after a cross from the left. To add to the misery Freeman added another in stoppage time after a melee in the Wycombe box.
WYCOMBE TEAM: Taylor, Kerslake (sub 72 Wraight), Kavanagh, Mohan, Simpson, Ryan, Carroll (sub 84 Cornforth), Harkin, Stallard, McGavin, Brown Att:4,319
Wycombe will play Fulham for the fifth time this season on Saturday 17th January - this time in a League meeting at Craven Cottage - kick-off 3.00pm
---
NEWS THIS WEEK ENDING 9th JANUARY 1998
John Gregory has spoken out against the supporters who criticised the club during the opening half of the season. Fuelled by an FA Cup exit to non-League Basingstoke, some supporters claimed a lack of commitment and passion from the players. In addition there were letters published in the local press criticising the Manager. In his monthly article in The Blues News, Gregory said "So stop the whinging, support your team - we all need to be positive entering the New Year. We will be giving 100 percent commitment to the cause - make sure you are"
Wycombe Wanderers' FA Youth Cup game at Peterborough United has been rescheduled for Monday 19th January kick-off 7pm after a waterlogged pitch prevented the game going ahead on Friday 9th January.
Finally this week, Stuart Harvey, who runs the colourful Electric Chairboys website has quite rightly pointed out via the Bucks Free Press that having Ronald McDonald paraded around the pitch before the match is "rather distasteful" and added "This is a very bad example to set for the young fans - why should we help them make even more profit?. If you're in any doubt take a visit to the McSpotlight website. Chairboys on the Net encourages Wycombe fans to treat Ronald McDonald with the same respect as the other 'SuperMac' - Roy McDonough that is.
---
HOME FORM IN 1997
Wycombe ended 1997 with just one home defeat in the Football League - the disastrous 4-1 reverse against Carlisle in September. Of the 22 League games played in 1997 Wycombe won 13 and drew 8. Significantly, Wycombe have drawn half of their 12 home games to date this season and won only once at Adams Park since the start of November. Looking back at 1996, Wycombe played 25 home League games winning 10, drawing 4 and losing a staggering 11 times at Adams Park (only 2 under John Gregory).
So, as the cliche goes, Wycombe need to turn the draws into victories in order to have any chance of even thinking of the play-offs.
---
NEWS THIS WEEK ENDING 2nd JANUARY 1998
Wycombe's next game will be on Saturday 10th January at home to WIGAN ATHLETIC after Wycombe turned down York City's request to bring forward the game scheduled for Tuesday 3rd March. A combination of John Gregory wanting to give his players an extended break and the problems with re-arranging sponsorhip packages are thought to be the main reasons.
Michael Forsyth, Paul McCarthy and Jason Cousins will be suspended for the Wigan game, with Steve Brown only one booking away from another ban. Wycombe have accumulated close to 50 yellow cards already this season and with such a small squad Gregory is keen to cut out any unnecessary suspensions. With defender Alan Beeton also out injured for at least another month, further loan signings may be the answer in the short term. David Kerslake's loan period includes the game with Wigan but this may be extended or converted into a permanent move if no transfer fee is required from Ipswich.
---
AWAY WIN OVERDUE
Wycombe's long overdue away win at Southend was only the third away League victory during the whole of 1997 - the previous two coming at Blackpool in August and at Notts County in April. During 1996 things were no better with a win at Bristol Rovers in December coming over 8 months after the previous away success at Walsall in April 1996 - a 3-2 victory at Bournemouth in February making only three away sucesses during that twelve month spell. 1995 saw away wins at Chester and Leyton Orient under Martin O'Neill while Alan Smith was in charge for victories at Brighton, Bradford, Oxford and Swansea. Wycombe's first full year in the Football League, 1994, saw victories at Lincoln, Gillingham, Colchester and Doncaster while in Division Three with victories at Huddersfield, Birmingham, Crewe, Peterborough, Blackpool and Oxford coming in the opening half of the first season in Division Two. Interesting that the vast majority of the victories have been against clubs that have since been promoted or relegated.
---
TROUBLE FREE WATFORD GAME
The Boxing Day game with Watford thankfully passed off without incident after the visitors brought less fans than expected. Watford had been allocated the Hillbottom Road End plus areas of the family stand and Old Main Stand but their generally good behaviour caused the Wycombe stewards few problems compared to last season's fiasco in the family stand. The total official attendance of just over 8,000 was also a mystery to most Wycombe fans as it seemed that with just a couple of hundred empty seats the total should have been nearer the official capacity of 9,900.
---