Ex-WANDERER FOR ENGLAND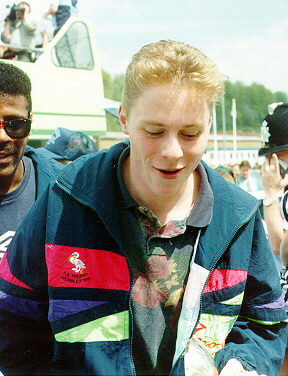 Ex-Wycombe player Steve Guppy achieved the honour of being selected for the England 'B' squad for the game with Chile on Tuesday 10th February and came on as a second-half substitute during the 2-1 defeat. 28 year old Guppy, now playing under Martin O'Neill at Leicester City, has been receiving rave reviews for his his performances on the left side of midfield. "Gupps" teamed up with his former manager at Wycombe last season in a million pound move from Port Vale. The Winchester born player was at Wycombe between 1989 and 1994 - before leaving for Newcastle United under a cloud. Alledgedly, Guppy's agent arranged the deal at the start of 1994/95 season and with O'Neill left in the dark, the Irishman lost patience and let him go for only £150,000 and with further payments for appearances. However, Guppy failed to impress Keegan and Co at St James Park and despite playing in a pre-season televised tournament in Scotland , he failed to break into the first team and moved to Port Vale later that season for £225,000. O'Neill's swoop last season was no surprise and his Premiership performances, where corners are his speciality, have obviously impressed Glenn Hoddle. In his five years at Wycombe, Guppy played in all three Wembley finals but will probably be best remembered for a breathtaking goal against Runcorn on a cold Thursday evening in April 1993 - a 70 yard run down the left ending with a goal as Wycombe clinched a place in the Football League via a 5-1 victory. The same season Guppy gained an England Semi-Pro cap along with team-mates Andy Kerr, Simon Stapleton and Steve Thompson. The season culminated with the added acolade of being awarded the Conference player of the season. In the Football League, Guppy has the honour of being the first Wycombe player to score a League goal in the 2-2 draw at Carlisle in August 1993 - Guppy's goal was in fact the second goal, the first being an own-goal. When Guppy left for pastures new in August 1994 he had made just over 250 appearances, scoring 37 times for the Wanderers - 10 of those goals coming during the first season in the Football League.
Guppy is the first 'true' ex-Wycombe player to make it this far with England. In addition, Wycombe also had a contrived connection in the full squad for the Chile international the following night (Wednesday 11th February) at Wembley, with Coventry City's Dion Dublin having made two on loan appearance for the Chairboys in October 1988 before making his Football League debut with Cambridge United. Chairboys on the Net congratulates both players on their achievement - remember your roots lads.
---