Chelsea 4
Wycombe Wanderers 0
Tuesday 23rd January 2007
Football League Cup Semi-Final - 2nd Leg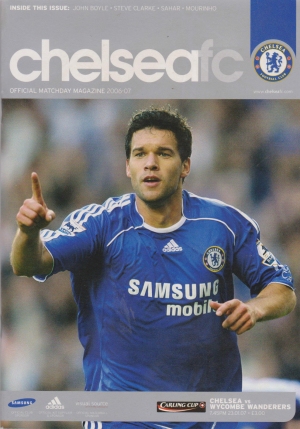 Wanderers' dream of reaching the final of the Football League Cup came to a relatively disappointing end after a 4-0 defeat to Chelsea in the Semi-Final 2nd Leg at Stamford Bridge – the Premiership giants easing through 5-1 on aggregate.

However, after being given a huge scare in the first leg at Adams Park, Chelsea boss Jose Mourinho called on all his big guns for the sellout, winner-takes- all, second leg at Stamford Bridge where Wanderers were backed by a noisey 6,000 following. It took double strikes from £30 million man Andriy Shevchenko and England ace Frank Lampard to finally lay to rest the Wycombe fairytale.

To help overcome Wanderers, Mourinho recalled keeper Petr Cech and Portugal international Ricardo Carvaiho to sure up a rear-guard which had been given such an uncomfortable time by Tommy Mooney and Jermaine Easter in the first leg. Also coming in were £50 million of striking talent with Shevchenko and Didier Drogba. Unfortunately for Wanderers, Schevehenko chose this occasion to finally show the Chelsea fans his potential.

The Ukrainian international twice went close to giving Chelsea a dream start, heading Ashley Cole's cross wide and smashing a volley into Will Antwi, before a mistake from Wanderers helped him fire Chelsea into a 22nd minute lead. Tommy Doherty played a square pass straight into the path of the former European Player of the Year who raced before slipping the ball past keeper Ricardo Batista. The roar from the Chelsea fans was more in relief than delight, with Mourinho punching the air to confirm the feeling in the home camp.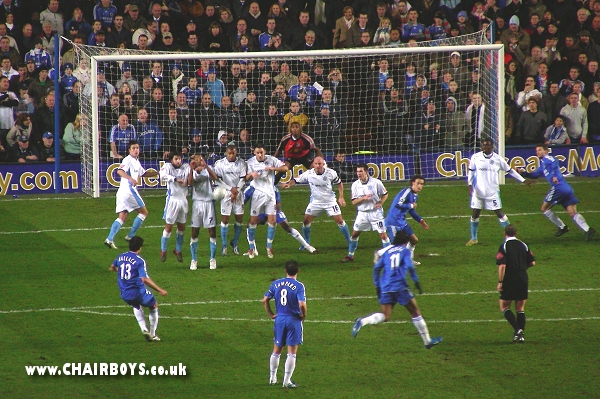 However, Wycombe refused to lay down, with Doherty in particular keen to make up for his error. The Doc brilliantly picked out Mooney, who got the wrong side of Lassana Diarra on the far post, but the Wycombe captain lost his footing at the vital moment and volleyed off target from eight yards.

Doherty, who has an intriguing battle with Germany international heavyweight Michael Ballack all night, then picked out Easter but the strike failed to trouble Cech from 25 yards.

However, three minutes before the interval Wanderers' hopes of reaching the final were virtually extinguished. Drogba flighted a pass through Wycombe's defence, Shevchenko beat the offside flag and thumped his shot over Batista and into the roof of the net for the second. It was cruelly clinical.

But there were no hanging heads from Wanderers and they should have pulled one back in first half injury time. Kevin Betsy got the better of England full back Ashley Cole to deliver a perfect low cross for the waiting Mooney and Easter, but before they could react, Cech bravely dived in to block the cross. A goal then would have given Chelsea plenty to think about.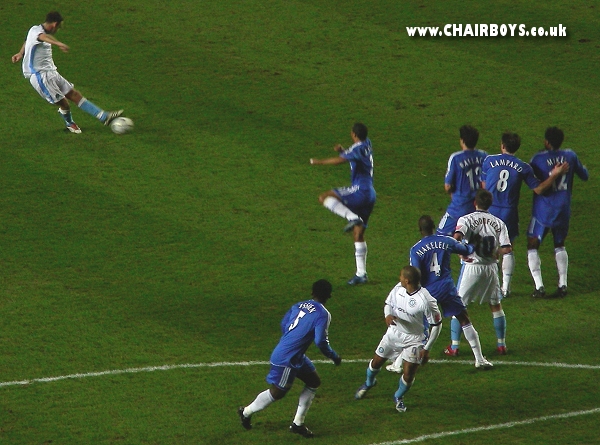 Following the break Lampard should have scored after Russell Martin was caught napping at a throw in but, at the other end, Doherty's great ball gave Easter another half chance but the chance was snuffed out by the Chelsea defence.

Wycombe continued to press and came close to scoring when Russell Martin's free kick stung Cech's fingers. But the killer blow for Wanderers came in the 69th minute. Shevchenko was the provider this time, launching a high ball out of defence towards Lampard. The England international rounded Batista, and then past substitute Sam Stockley before slotting the ball into the empty net.

Lampard then scored his second in injury time after swapping passes with Drogba to make the final score-line a cruel looking 4-0 to the Premiership side.

Chelsea now go to Cardiff on February 25 for the final against Arsenal or Spurs. On the same weekend, Wycombe, who banked an estimated £500,000 in gate receipts and TV money for the semi-final matches with Chelsea, will now make the trip to Mansfield's humble Field Mill ground for a League Two clash.

Final Score - Chelsea 4 Wycombe 0 (aggregate Chelsea 5 Wycombe 1)

Wycombe: Batista, Martin, Antwi (sub 60 Stockley), Williamson, Golbourne, Betsy, Doherty, Oakes (sub 83 Anya), Bloomfield (sub 65 Torres), Mooney, Easter - subs not used: Young, Palmer
Bookings: Antwi
Scorers: none
Chelsea: Cech, Diarra, Carvaiho, Essien, Ashley Cole (sub 84 Morals), Makelele, Mikel, Lampard, Ballack Nright-(sub 84 Phillips), Drogba, Shevchenko (sub 84 Kalou) - subs not used: Hilario, Bridge
Bookings: Essien, Ashley Cole
Scorers: Shevchenko 22, 43, Lampard 69, 90
Referee: Mike Dean (Wirral)
Attendance: 41,591(away 6,000)
Cup quotes and picture memories

Chelsea boss Jose Mourinho heaped praise on Wanderers as his heavyweights finally ended the Chairboys League Cup dream, 'The Special One' said: "We played against an absolutely brilliant Wycombe. Only in this country can you have a semi-final like that against a lower division team. Their attitude was absolutely brilliant. They were not afraid of Chelsea, not afraid of Stamford Bridge, they played to win and not with two busses in the back to protect their goal.

"They came here with a dream and they fought for the dream and had a fantastic attitude. Super congratulations to Paul Lambert and to all the players.

"We had to play with our best possible team and if someone says it was an easy semi-final I don't accept it. It was very difficult. Wycombe have a good team. They gave us two matches and they have to be proud of what they did but I think Chelsea players must be very happy because they performed very professionally."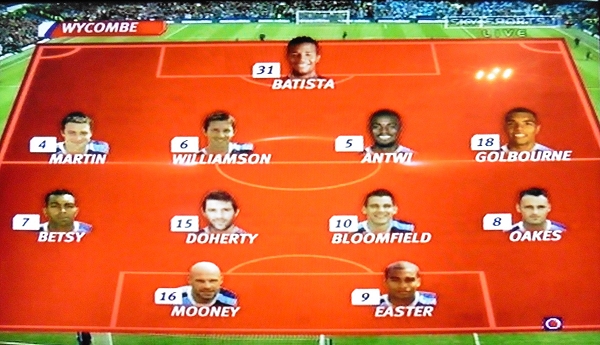 Meanwhile in the Wycombe camp Jermaine Easter said he was was very down, "Nobody likes losing so I'm pretty down about it. I don't like losing full stop but when you get to the Carling Cup semi-final it feels a bit worse, especially when you lose 4-0. I had a couple of half chances but I snatched at them and didn't having anything clear-cut. I thought I'd get something but as a striker you can't get things your way all the time. I'm just a big gutted I didn't make more of what I was given. It's disappointing because you dream about scoring in games like these but at the end of the day it's not happened for me.

"Petr Cech's a world class goalkeeper but then in defence they were very strong and quick and it made it difficult for us. That's a sign of the difference between the sides and teams at this level.

"All the Chelsea players are so athletic, they're quick and strong and it makes it difficult to get in behind them. But we can be proud of ourselves because we've got this far and for a club like Wycombe that's unheard of. At the end of the day they're a class above us and that showed tonight."

Matt Bloomfield: "People are saying congratulations to us but it feels a bit like commiserations. We have done wonders to get this far and we should take heart from that fact. We should be proud of what we've done but we're disappointed because we've lost the game."

Sergio Torres: "I was in the crowd last year to watch Chelsea play Barcelona in the Champions League and I can't believe that the following year I'm on the same pitch playing against Chelsea. I never in my life dreamed that I would play at Stamford Bridge. It means everything to me to have played against the best team in England and one of the best teams in Europe.

"But I am also sad because we thought we could do it because of the way we played against them in the first game at Wycombe - but tonight Chelsea showed us just how good they are. They made the game look easy and Shevchenko was on fire. Hearing the crowd singing my name at Stamford Bridge was superb. I will never ever forget that."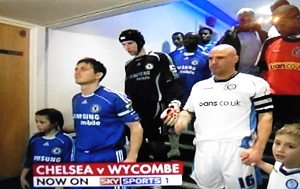 Goalkeeper Ricardo Batista: "Not many teams go to Chelsea and get Jose Mourinho to speak nicely of them. He is the best manager in the world and best coach and he said Wycombe did very well. It gives us confidence to go into the league now and we must keep at that. It was fantastic support from the Wycombe fans, I've never seen supporters like that in my life, they were fantastic."

Chelsea's Frank Lampard: "We've got to give massive credit to Wycombe. Their fans were fantastic and they played like a Premiership team, it's great credit to them."

On-loan Reading defender Scott Golbourne: "Reading's a Premier League side but Chelsea's just a whole new level. Chelsea have their own level and calibre of player and when you walk past players with Shevchenko and Drogba on their back you know you're in for a long night as a defender. We tried to step-up and go toe-to-toe with them but that level is very hard to reach especially when chasing the game. They moved us around and the movement from the front two and midfield was out of this world, I feel like I've run a few marathons tonight."

Ikechi Anya: "Chelsea have huge superstars but the gaffer here is just as big so we didn't fear them and he helped us prepare for it. Chelsea at their best will beat anyone and I don't think they were too far from that tonight. They knew we'd make it difficult and we did but they've still won 4-0 but we're not going to be down or upset."

Defender Mike Williamson: "The Wycombe fans were amazing. There were only 6,000 in a crowd of 40,000 and they were the only supporters you could hear. They were immense and I'm proud of them, they gave us a standing ovation at the end which again was very moving."

Kevin Betsy: "It has been a tremendous achievement to get this far and 4-0 is no disgrace at the home of the champions. We went into the game very positively and for the first 25 minutes the game was quite tight. The manager came in afterwards and praised all the players and all the staff for what we have achieved."

Russell Martin: "It's disappointing to lose 4-0 but two of those goals came in the second half when we were pushing forward. It's frustrating because if my free kick had gone in it might have been different. I think we did ourselves proud tonight like we have done all the way through the competition. We are massively down but we shouldn't be too disheartened because Chelsea are a great team. We feel pride and disappointment. It might sound silly but we always believed we could do something."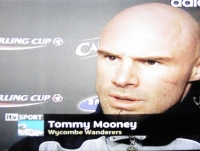 Wanderers Captain Tommy Mooney: "It was one of my proudest moments to lead the team out in front of so many fantastic fans. Mourinho was an absolute gentleman afterwards. He came over to shake my hand and said some very nice things and that means an awful lot because I wouldn't have expected him to have even heard of me. I liked him before and I love him now."

Mooney, who was part of the Sheffield United side beaten by Liverpool in 2003, added: "I'm very disappointed but there's an awful lot of pride as well. We went into this game hoping that we could do something extraordinary. I would have loved to have retired at [after the Final at] Cardiff. It would have been the pinnacle of my career to get there, It's disappointing, to get all the way to the semi-final and lose but we knew it was going to be hard and the team they played was a mark of respect to how well we played in the first leg.

"I think we surprised them and impressed them at Wycombe and they've brought out some of the best players in the world to get themselves through. When you bear in mind we're League Two players we've given a very good account of ourselves."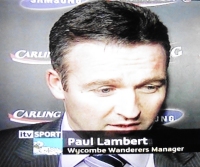 Once again the final word goes to Wanderers Manager Paul Lambert who took a while to come around to reflecting on the achievement of his side: "I'm gutted we didn't reach final. I'm a great believer in trying win whatever you are in. It still feels bad at the moment that we have been knocked out. It hasn't sunk in yet how well we did and how far went in the competition and when the dust settles I'm sure it will but at the moment I'm feeling disappointment and in time that feeling will go.

"But I'm proud of all my players. They went into it believing they could do it but we knew it was a mammoth task, some of the best teams in Europe have come here and got beat.

"When you come to places like this and play against a team as good as Chelsea you have to take your chances when they come. "We had a couple of little chances which never materialised but the lads gave me everything they had. Better teams than us have come here and taken beatings. It is no disgrace, we took Chelsea to two games for them to beat us which is tremendous. We were up against world class footballers and a terrific football club. Our lads gave every ounce of effort."

Lambert concluded: "It's been a fairytale run. We must take enormous credit for coming this far. Nobody expected us to get past the Swansea game in the first round let alone anything else."