Wycombe Wanderers 1
Chelsea 1
Wednesday 10th January 2007
Football League Cup Semi-Final - 1st Leg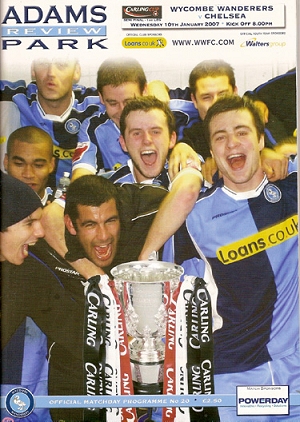 Jermaine Easter's 77th minute equaliser sent Wanderers fans into ecstasy as Paul Lambert's side held Premier League Champions Chelsea to a 1-1 draw at Adams Park in the 1st Leg of the Football League Cup Semi-Final. Easter, whose goal continued his record of scoring in every round of the 2006/7 competition, cancelled out a 36th minute strike from Wayne Bridge and with the scores level, it was Wanderers who went closest to snatching a remarkable lead going into the 2nd Leg at Stamford Bridge on 23rd January.

A sell-out, near 10,000, attendance at Adams Park saw Jose Mourinho's £100 million squad taken to the wire by a Wanderers team assembled, with the exception of the £80,000 paid for Easter, via free transfers and loans.

Chelsea, with injury and suspension problems, fielded the strongest side they could with the exception of Frank Lampard who was summoned from the bench in the second half. The England international was one of three changes from the side which had thrashed Macclesfield 6-1 in the FA Cup at the weekend, along with Andriy Schevchenko (hamstring) and the suspended Ricardo Carvalho. However, their replacements came in the form of internationals Michael Ballack, Michael Essien and Claude Makele – the trio totalling more than 100 caps between them.

Dispute the gulf in experience, it was 25 minutes before Wanderers allowed the visitors into their penalty area and another two minutes before they conceded their first corner. Before then Tommy Mooney had seen an effort ruled out for a previous foul, while Kevin Betsy was denied by Chelsea 'keeper Henrique Hilario's shoulder after he had latched onto Matt Bloomfield's flick from Easter's cross.

But it was the visitors who eventually settled and took the lead on 36 minutes through Bridge. Salomon Kalou's pass sent the England international clear of Russell Martin and Bridge lifted the ball over the onrushing Batista and into the Valley End net before crashing head to head with his former Fulham team mate. Play was held up for five minutes as both players received treatment for their bloody injuries.




The goal out a temporary downer on atmosphere amongst the home support but after a half-time break and against a Chelsea side that were seemingly content to protect their lead, there was suddenly a sense that this tie was not over.

The equaliser should have come on 51 minutes when Mooney played in Bloomfield - but the former Ipswich man cued badly wide. Mooney then went close himself, heading an Oakes cross over the top. It was perhaps credit to Wycombe's step-up in tempo that Chelsea boss Mourinho reacted by bringing on Lampard.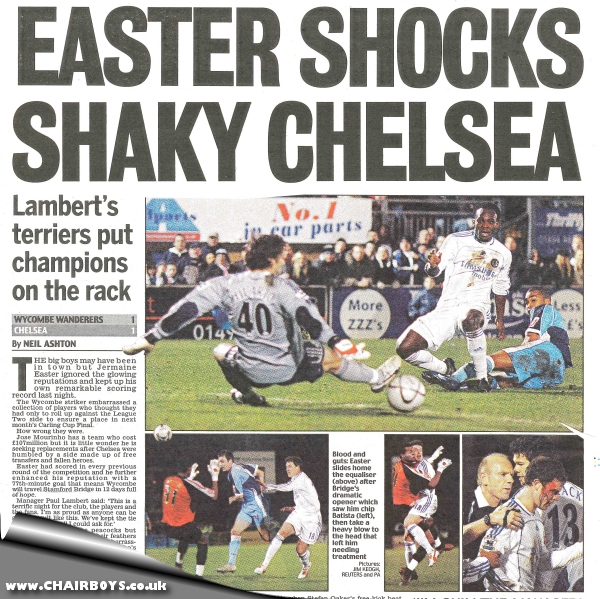 But Wycombe were not threatened by the introduction of the England star and with 13 minutes remaining of the tie, there was a moment that will be remembering for many years to come for those lucky enough to be at the game.

Easter, the goalscoring hero of previous round victories over Premier League Fulham and Charlton Athletic, latched onto another Mooney header before getting the better of the £24.4 million Essien and then guiding his shot into the net and spark scenes similar to those of the 2000/1 FA Cup run.

And with the adrenalin flowing, it very nearly turned to dreamland for Wycombe when Wanderers' million pound sounding substitute Sergio Torres weaved his way into the area before seeing his shot blocked by Essien. Oakes also sent a late free kick just over the bar with Hilario beaten. Wanderers will go to Stamford Bridge for the second-leg in a couple of weeks time as firm underdogs but with the knowledge that Chelsea cannot take Paul Lambert's lightly, or they will be on the end of the one of the biggest upsets in the history of the League Cup.

Final Score - Wycombe 1 Chelsea 1

Wycombe: Batista, Martin, Antwi, Williamson, O'Halloran, Oakes, Bloomfield (sub 75 Torres), Doherty, Betsy, Easter, Mooney (sub 88 Dixon) - subs not used: Young, Palmer, Anya
Bookings: Mooney (5th of season - suspended versus Accrington 20th January), Williamson
Scorers: Easter (77)
Chelsea: Hilario, Geremi, Bridge (sub 67 Lampard), Paulo Ferreira, Ashley Cole, Essien, Makelele, Mikel, Ballack, Kalou, Wright-Phillips (sub 61 Sahar) - subs not used: Makaba-Makalamby, Nuno Morais
Bookings: Makelele, Mikel
Scorers: Bridge (36)
Referee: Mr S Bennett
Attendance: 9,771 (away 1,822)
Cup quotes and picture memories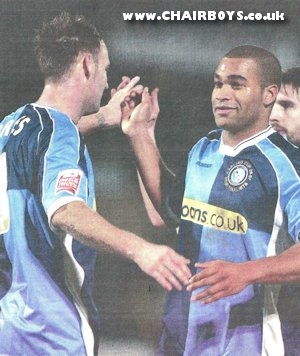 Jermaine Easter, "The cup has been great and scoring against Chelsea is the best feeling I have had in the game. I was going to repeat the matador celebration I did against Charlton but all my composure went straight out out of the window. It is a moment I will never forget. It's the most important goal of my career."

Stefan Oakes: "I've played in one League Cup Final but I'm not going to start thinking about playing in another just yet. "It was terrific performance by everyone including the fans. I think we have shown that teams in the second division can play football. I am so proud to have been part of this team. "I leaned back a little bit on that free- kick. I've had flu all week. I was tired after ten minutes and was too tired to even swap shirts with anyone."

Tommy Mooney: "It is a dream scoreline to take to the Bridge. We have turned the semi-final into a one off game and in a two- horse race you have got a chance. It is now whoever dares wins on the night. I told the players to make sure that when they walked off the pitch they could be proud of themselves and they can be."




Matt Bloomfield: "I'm very disappointed that I didn't score. I had a great chance and I didn't do well enough. I miss-hit it and it went wide. Going to Chelsea will be 100 times harder than anything we have done so far, but why not? Having come this far we'll be disappointed if we don't get to Cardiff."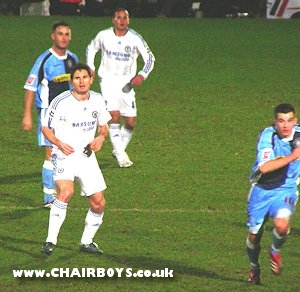 Mike Williamson: "We were gutted to be 1-0 down at half time. I don't think it had sunk in we were playing the champions and I think it is a credit to us that we were so despondent but we carried on and got the result. I was marking Michael Ballack and I asked him in the second half if we could switch shirts and he said yes of course. You've got to look up to these players but you can't be too much in awe of them."

Russell Martin: "It wasn't long ago that I was released by Brighton and was playing for Lewes. If you would have said then that I'd be playing in a semi-final in two years time I'd never have believed you. I was 21 last week and that's the best present anyone could have."

Kevin Betsy "We all played our part. Chelsea have been the best team in England for two years running and for us to hold them to a draw is fantastic. I got Ashley Cole's shirt. He's the best left back in England and it was a privilege to play against him."

Jose Mourinho: "I think if you look at it as the first leg of a semi-final away from home I think it is a good result. I am happy with the result and the effort. We've got the second leg at Stamford Bridge and I think we're in a good position to reach the final."

Paul Lambert, "I will be gutted for the players if we don't reach the final. I don't want to go to Chelsea and be a supporting act. The players have done absolutely phenomenal to get this far. We wanted to keep it as close as we could for the second leg but we have done better than that and got a terrific result. We've kept it alive and that's all I wanted to do. I can't praise them highly enough. We're still in the tie but it it is going to be ten times harder at Stamford Bridge. Chelsea are a world class side and they'll be even stronger for the second leg. We will go to Stamford Bridge and try and enjoy it. We will try and get through. It is going to be a mammoth task. It is still a big, big ask."

The Wycombe boss added, "Giant-killings happen everywhere you go, not just in Britain, they happen all around the world. On any one-given night you just might have a chance against somebody. We'll give it a real go but for us to get through this tie is a mammoth ask. It's going to be the toughest game our lads will ever play in their life. Chelsea are a top, top side and the reason we matched them was sheer effort. We had to get close to people because if you stand off them they will hurt you. If you go into any game with fear you are in trouble.We had to give it our best shot. We had to punch above our weight. I'm as proud as anything of the players. They were absolutely terrific. I thought beating Charlton was an exceptional night for us but tonight exceeds it."