Wycombe Wanderers 0
Colchester United 0
Saturday 23rd March 2002
Football League Division Two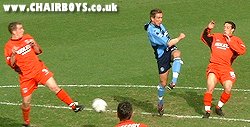 Wycombe and Colchester played out a rather uneventful 0-0 draw at Adams Park on Saturday. An unchanged Wycombe side had their best chances in the first half through Sean Devine and Darren Currie but the visitors thought they had won the game when Adrian Coote tapped the ball in the net from close range in the 80th minute. However, while the meagre following from Essex were still celebrating, Wanderers had already taken the free-kick for offside.
This will go down as one of the dullest encounters between the two sides since the rivalry commenced during an FA Cup tie at Loakes Park in 1985. The only previous 0-0 draw between the two sides had come at Layer Road in November 2000 but at least that had a excitement, albeit controversial, of a sending-off and a mass brawl between players to liven up the proceedings.
Perhaps with little to play for it was a bit optimistic to hope for anything better. For the record the game was a fairly even affair. The first real chance of the game came in the 9th minute when Devine's first time effort from around 20 yards went just the wrong side of the Valley End crossbar. Four minutes later a neat cut-back by Currie on the edge of Colchester penalty area ended with a shot that also went high of the target.
At the other end Kevin Rapley forced Martin Taylor to save after the United player got the better of Mark Rogers. By this time the visitors has already suffered the first of two injury blows, leading scorer Scott McGleish being replaced by Adrian Coote, while later in the half Graham Barrett was replaced by Karl Duguid.
Wycombe's efforts towards goal in the first half ended with a stoppage claim for a penalty after Andy Rammell seemed to be pushed. We've all seen these incidents lead to penalties but on this occasion not even Rammell's remonstrations with the referee was going to make him change his mind.
Half-time 0-0
Rammell turned provider early in the second-half when he sent through Devine on the left flank but Devine's flashed his first time effort wide of the far post. Devine also had Wycombe's only other real chance in a lame second-half when he weaved through just left of centre on 74 minutes before ending with a shot that went high of the goal.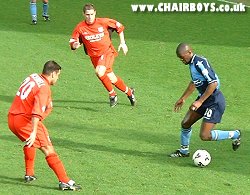 As the game went on it was the visitors who looked more likely to snatch all three points. Substitute Adrian Coote looked particularly dangerous but he won few friends with a clumsy challenge on Martin Taylor in the 55th minute. That tackle earnt the player a yellow card and saw Taylor require a new shirt. Steve Brown momentarily donned the 'keepers jersey just to give the crowd a shock and Taylor joined in the pranks too as he 'adjusted' his shorts. It proved to be one of the highlights of the day along with Brown's 'advice' to Kemel Izzet after the Colchester player had 'fallen over' in the area.
The standard cliche to use for this game would be that it would have been cruel for either side to have taken three points, not that either set of supporters would have cared. Hopefully there will be a bit more passion when the sides meet next.
Final Score Wycombe 0 Colchester 0

Wycombe: Taylor, Senda, McCarthy, Rogers, Vinnicombe, Currie, Bulman, Simpson, Brown (sub 66 McSporran), Rammell, Devine - subs not used Ryan, Roberts, Townsend, Lee
Yellow Cards: McSporran (foul 67)
Colchester: Brown, Stockwell (sub 88 White), Keith, Blatsis, Fitzgerald, Izzet, Pinault, Gregory, Barrett (sub 40 Duguid), McGleish (sub 19 Coote), Rapley - subs not used: Bowry, Woodman
Yellow Cards: Izzet (foul 49), Coote (foul 55)
Referee: S Mathieson (Stockport)
Att: 6737 (Colchester 505)
Interactive Stats

Match and players
All the Wycombe results, scorers, team line-ups and statistical breakdown of the current season - FULLY INTERACTIVE to your heart's content.


Latest Table and form Updated table with results archive of ALL Division Two games plus form guide and previous meeting between ALL clubs for the past four seasons.



All match reports © 1996, 1997, 1998, 1999, 2000, 2001, 2002
Chairboys on the Net - Not to be reproduced without our written permission.