FANS HIT IN THE POCKET AGAIN
(Wednesday 21st March 2001)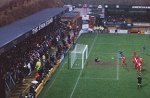 The Club have announced 'early' Season Ticket prices for the 2001/2002 season and once again fans will be hit with increases all around.
After last season's PR nightmare when terrace prices were hiked up by £2 after the Club initially stated there would be no increase, it's understood there will be a general increase of £1 on all matchday prices. This would make the price of entry for a adult to The Valley End terrace £13 and the most expensive seat in The Woodlands Stand £17.
Details of 'early' Season Ticket prices were released on the Official website on Tuesday (20th March) and have been rushed out due to new Season Ticket purchasers being offered the chance to buy tickets for the FA Cup Semi-Final with Liverpool. However, existing Season Ticket holders who are renewing are not getting this benefit leading to criticism from some fans.
The 'early' prices apply to tickets bought before the end of May and see an adult Season Ticket for the centre of the Woodland Stand increase from £270 to £288. Meanwhile the price of an 'early' Valley End Terrace (Syan Stand) Season Ticket has increased from £162 to £216.



Have the Club got the prices right? How will this affect our gates? Leave your comments in the Gas Room >>>
Return to News Desk...
---

THE GAS
ROOM
Leave your own stories and comments via the Message Board