PRICE RISE SHOCK FOR VALLEY END
(Monday 10th July 2000)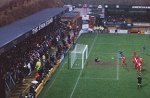 The Club have dealt casual terrace fans at Wycombe a major blow with the announcement of a £2 increase in the cost of matchday entrance to the Syan Stand (Valley End terrace). This amazing about-turn comes less than two months after the Club proudly boasted that there would be "NO INCREASE on any Matchday Terrace Tickets" in a glossy brochure advertising 2000/2001 ticket prices at Adams Park.

The Club announced the decision on Friday (7th July). In a statement to the press, Club Chairman Ivor Beeks said "In March 2000 the club took a decision to freeze the cost of admission to The Syan Stand (home standing), intending the price of £10 for adults to have remained the same for a third successive season. This decision was taken in good faith, being a genuine attempt to reward supporters and possibly encourage new followers."



During the summer detailed budgetary discussions took place and a careful examination of the price of admission for home supporters by rival Second Division clubs was undertaken. It rapidly became apparent that the price of £10 for admission on the day to The Syan Stand, was out of line with prices charged for similar facilities by other clubs at our level. As a result the Board of Directors revisited the decision and reluctantly elected to move the price of tickets purchased on the day for The Syan Stand to £12 for adults, concessions remaining as previously announced."

The price increase at The Valley End coincides with the release of entrance prices for the away end at Adams Park. Adult away fans will now pay £15 on the day for a seat in the Roger Vere stand (Hillbottom Road End) - a £2 increase on last season and £1 more than the cheapest seats in the upper tier of the Woodlands Stand.

Beeks concluded his statement by saying "The club will definitely not be increasing concession prices behind either goal or the price of any season tickets already published...one and three-year season ticket prices will not be affected by the new pricing structure and there will be no other increases in admission charges for the coming season. The club sincerely apologises for this one alteration to the previously published admission prices for home fans for season 2000/2001, but feels it must keep pace with admission prices charged by rival clubs in order to remain competitive"

Division Two terrace cost survey 2000/2001 - Wycombe now amongst the most expensive in the league to stand >>>>

Return to News Desk...
---


Click here for special offers on Book's, CD's, Video's and DVD's
---

THE GAS
ROOM
Leave your own stories and comments via the Message Board