BEEKS BREAKS SILENCE
(Friday 15th December 2000)



Club Chairman Ivor Beeks has broken the silence surrounding the Club's plans for the future by revealing to the Bucks Free Press that funds have been boosted by the injection of a further £150,000 from a unnamed backer.
Supporters have been waiting patiently for news of plans to take the Club forward ever since Club Director Graham Peart claimed at the AGM in October that Wycombe hoped to "transform the culture of the football world by setting a cutting edge example"

Beeks also told the newspaper that an 'encouraging number' of people had opted to loan the Club a minimum of £1,000 on an interest free basis in a scheme launched at the AGM. This money, together with the reported £500,000 being loaned in a similar manner by new Board members, is being seen as vital in taking the Club forward. In a letter to members, Club Chairman Ivor Beeks wrote "These funds will certainly help our progress towards strengthening Lawrie's playing squad and completing a number of projects which will, in themselves, make a positive contribution towards our future success"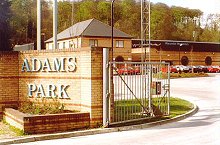 It was also understood that the Commercial Department will be strengthened by the addition of a marketing expert with experience in a number of Football League Clubs. The new face hopes to start at Wycombe in early January and will be involved in maximising the income generated from Adams Park.

More new faces could also be on the way to Adams Park in the new year. Indeed the 'un-named backer' could well be looking for a place on the board to sit alongside the other newcomers announced at the members meeting back in August.

Return to News Desk...
---


Click here for special offers on Book's, CD's, Video's and DVD's
---

THE GAS
ROOM
Leave your own stories and comments via the Message Board