NEW TRAINING PITCH FOR BLUES
(Sunday 20th August 2000)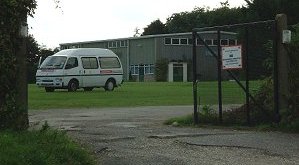 The Club are close to making an official announcement on development of a new training facility within a mile of Adams Park.
Club staff have been at the Instron sports ground in Booker for the past few weeks making preliminary work on the pitches and moving in training equipment to the sports hall.

The Club have previously used the Instron facility on a temporary basis but currently use training facilities at RAF Halton, near Wendover (approx 15 miles from Adams Park), while the Youth Team have used Molins Sports Ground for home matches for the past four seasons. Club Physio Dave Jones, revealed the move while writing in the Wycombe matchday programme. Jones said "With pre-season over at RAF Halton the really good news is we shall be returning to the training ground at Instron soon. This will make life a lot easier for our department in terms of treating players quicker and being in closer touch with the first team squad"

Funding for the project, on land that would have been valued in six-figures, has not been revealed yet but it's thought a sponsor closely connected to the Club will be involved. To allow full use of the pitches for competitive matches extensive work would also be necessary to upgrade the drainage facilities at the existing sports complex within a ten minute drive of Adams Park.

The move to the new training ground will be a major boost to the youth set-up at the Club and could also be the first step in the Club setting up a youth academy. At present the Club run a Centre of Excellence centre and as from the start of the 2000/2001 season, now have two teams competing in the Football League Youth Alliance, one at Under 17 level and one at Under 19. Initially home games would still be played at Molins but the natural progression would be to bring the youth team closer to home as well.

Return to News Desk...
---


Click here for special offers on Book's, CD's, Video's and DVD's
---

THE GAS
ROOM
Leave your own stories and comments via the Message Board