Wycombe v Spurs - past meetings 1895-2003
(Research, memories and words by Paul Lewis - First published 27th January 2017 as prelude to the FA Cup 4th Round meeting between the two sides on Saturday 28th January 2017 at White Hart Lane - credit to Steve Peart for the press cutting from the 1895 meeting and to the late Steve Maguire for the detail for the 1950's and 1960's meetings as published in the 1985 programme)

Prior to Wanderers' meeting with Spurs at White Hart Lane in the 4th Round of the FA Cup on Saturday 28th January 2017, the two sides had never previously met at First Team level. However, there has been a smattering of friendly meetings over the years, the first stretching back to October 1895 – a few months before Spurs had turned professional and subsequently accepted to join the Southern League for the 1896/97 season. It was also before they had set-up home at White Hart Lane and before they had adopted their famous white and blue kit.

For Wanderers, formed just eight years previous, they had yet to join a League and spent the vast majority the season playing friendlies at their newly opened Loakes Park ground. The trip to Tottenham was their first venture away from the Loakes slopes that season and came a week after the Wanderers first ever venture in the FA Cup - a 3-2 home defeat to Wolverton.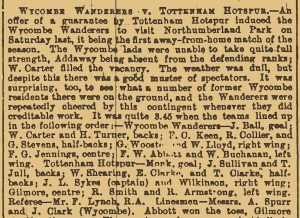 Tottenham Hotspur 3
Wycombe Wanderers 4
Saturday 19th October 1895
Friendly at Northumberland Park

The meeting took place at Northumberland Park, the home side offering Wanderers a 'guarantee' from the gate receipts in order to cover travelling expenses from the chairmaking metropolis.
Wanderers dominated the opening proceedings and took the lead when, according to a report in the South Bucks Free Press, Bill Buchanan 'succeeded in heading the leather into the net' and 'loud cheers greeted performance'.
The report adds that 'Several sharp exchanges followed, and some not very sportsmanlike play was indulged in by the homesters. One of the spectators in the pavilion entreating the referee to 'Have him turned off'.
Buchanan added a second for Wanderers before the break, with Frank Jennings making it 3-0 shortly after the re-start. Lloyd than saw a 'goal' ruled out for offside but shortly afterwards Keen converted with a long range effort to put Wanderers 4-0 up with 20 minutes remaining.
However, Spurs hit back with a goal from Wilkinson, and with the light fading, Gilmore added two more quick goals to make the score Spurs 3 Wycombe 4.
Spurs pressed in the final stages but Wanderers held out to return to Buckinghamshire as 4-3 winners.



Wycombe: J. Ball, W. Carter, H. Turner, F. Keen, R. Collier, G. Stevens, G. Woosterand, W. Lloyd, F Jennings, F Abbott. W. Buchanan
Spurs: Monk, J. Sullivan, T. Jull, W. Shearing, E. Clarke, T. Clarke, J. Sykes, Wilkinson, Gilmore, R Smith, R. Armstrong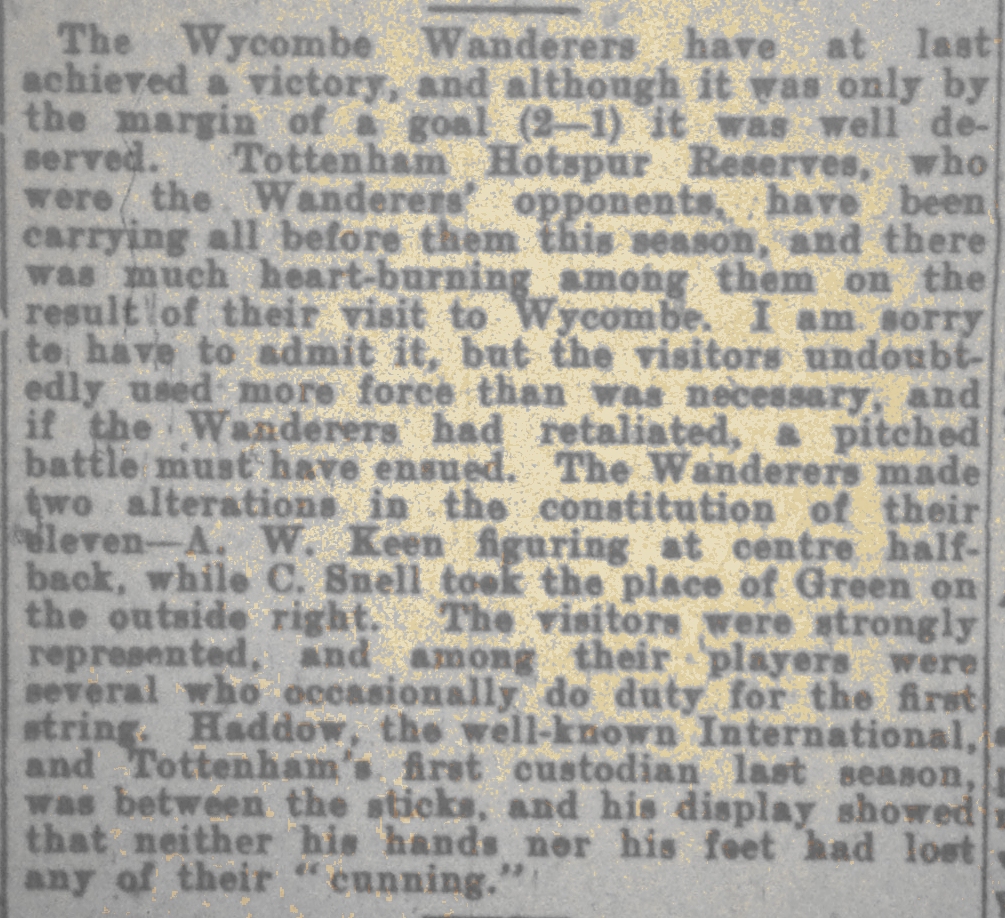 Wycombe Wanderers 2
Tottenham Hotspur 1
Saturday 1st December 1900
Friendly at Daws Hill

Five years later the two sides met in a friendly back in High Wycombe and played on the 'Daws Hill Enclosure' during a period where Loakes Park was being 'levelled'.
This meeting came when Wanderers were members of 2nd Division of the Southern League, while Spurs were still in the Southern League 1st Division. Spurs sent a 'Reserve' line-up to Buckinghamshire for the friendly and it was previewed in the 'Tottenham Topics' section of London paper 'The Star', saying: 'On Saturday [Spurs Reserves] visit Wycombe to play Wycombe Wanderers who fondly hoped they would be by this time have been London Leaguers; but thanks to what can only be considered ill-advised opposition on the part of the L.F.A., the extension of the League, so as to include some country clubs, has not been allowed.'
The refusal by the London FA to allow Wanderers to join the London League led to several friendly fixtures being arranged as alternatives. The visit of Spurs was one such game and came during a poor run of form for Wanderers. But The Chairboys managed to run out 2-1 winners against a Spurs side who were 'strongly represented', according to press reports, and included several with First Team experience, including goalkeeper David Haddow.
Snell's goal had put Wanderers 1-0 up the break but following the interval Spurs forward Moles sent in a shot that gave Reynolds 'no earthly'. But with 90 minutes approaching it was Rouse who gave Wanderers victory.
Spurs' performance was criticised by the reporter for The South Bucks Free Press, who wrote: "I am sorry to have to admit but the visitors undoubtedly used more force than was necessary, and if the Wanderers had retaliated, a pitched battle would have ensued."
The fortunes of each Club that season were in stark contrast. Wanderers finished one from bottom of their division, while Spurs finished 5th in the division above, having conceded 68 goals in their 16 League fixtures. More remarkably, in April 1901, Spurs went on to the lift the FA Cup as a non-League side, beating Sheffield United in the a replay at Burden Park, Bolton after the first game at Crystal Palace had ended 2-2 in front of a crowd of more than 110,000.



Wycombe: Reynolds, W. Probert, C. Buchanan, F. Keen, A. Keen, Stevens, Snell, Rouse, Saville, W. Buchanan, T. Barlow
Spurs: Haddow, Green, Melis, Moles, Pangbourne, Berry, Shearing (other players unknown)


Wycombe Wanderers 0
Tottenham Hotspur 0
Saturday 1st September 1951
Friendly at Loakes Park

It would be more than 50 years before the two sides would meet again, when in September 1951 a Spurs side containing nine professionals were held to a 0-0 draw at Loakes Park. Jimmy McCormick, Wycombe's Manager/Coach, himself an old Spurs man, turned out for the Wanderers, although a touch of cramp mid-way through the second-half reduced the Wanderers to ten men for the remainder of the game.
The crowd of nearly 5,000 saw some crisp play from both forwards but it was generally the defences who were on top with keepers Reynolds and Lodge making outstanding saves from McCormick and Hills respectively.



Wycombe: Lodge, Perkins, Westley, Atkins, Partridge, Tumner, Blizzard, McCormick, Redford, Butler, Applegarth
Spurs: Reynolds, Henry, Willmott, Neal, Marchi, Garwood, Croxon, Webb, Westwood, Hills, Adams


Wycombe Wanderers 0
Tottenham Hotspur 1
Wednesday 14th September 1955
Battle of Britain Cup at Loakes Park

The next visit from the boys from White Hart Lane came in September 1955 in a match for the Battle of Britain Cup. Seven of the Spurs side had first team experience and it was no surprise when inside-right McClellan gave the visitors the lead after ten minutes. However, it proved to be the only goal of the game despite desperate attempts by Wycombe centre-forward, Paul Bates, who failed to score for the first time in four games.



Wycombe: Syrett, Lawson, Westley, Wicks, Darvill, Moring, L. Worley, Trott, Bates, G. Truett (sub O'Connor), Way
Spurs: Hollowbread, Baker, Henry, Brittan, Price, Teece, Gavin, McCellan, Titt, Harmer, Dyson


Wycombe Wanderers 3
Tottenham Hotspur 1
Wednesday 19th September 1956
Battle of Britain Cup at Loakes Park

A year later on Wednesday 19th September 1956 the Wanderers had a chance to reclaim the Battle of Britain Cup from Spurs. The match provided great entertainment for the bumper crowd, who had paid £146 to aid the R.A.F. Benevolent Fund.
The Tottenham side had ten professionals in their line up, including three first team stars but it was Wycombe who opened the scoring after six minutes with an effort from Jackie Tomlin.
A goal up at half-time, Wycombe found themselves battling dourly in the second-half to hold the lead. But hold on they did, and shortly before the end Wycombe smashed home two more goals within three minutes of each other. Smith got the first and Bates made the score 3-0 with a brilliant solo run. Spurs scored a consolation goal in the dying minutes from a long range shot by Duquemin but it was the Wanderers who took back the Cup.



Wycombe: Syrett, J. Truett, Westley, Lawson, .Wicks, Darvill, L. Worley, Smith, Bates, Tomlin, D.Truett
Spurs: Hollowbread, Hills, Henry, Brittan, Laurel, Teece, Dulin, Bing, Duquemin, McCellan, Marchi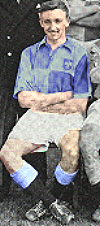 Wycombe Wanderers 4
Tottenham Hotspur 3
24th December 1960
Friendly at Loakes Park

A friendly at Loakes Park on 24th December 1960 was the next time the Club's crossed paths and it proved to be seven goal thriller won by the North London side. The Spurs line-up was described as their London Combination side, but included three internationals and several with First Team experience.
An intriguing clash in the game was the one between Spurs England U23 international left-half John Smith and Wanderers' wonder winger Len Worley – a former Spurs Amateur. Wanderers forward Paul Bates also gave visiting defenders Marchi and Hills a hard time, with left-winger Jackie Tomlin also impressing.
However, it was goals from international Terry Medwin and Scottish centre-half John Ryden, inside the opening 30 minutes, that looked to have set the visitors up for an easy win. However, Rockwell scored for Wanderers before the break to make it 2-1 after he followed up a spilled shot from Tomlin.
Early in the second period Wycombe had the chance to equalise when a penalty was awarded for a foul on Bates but John Beck saw his spot-kick hit the upright. Then at the other end on 57 minutes Medwin made it 3-1 with a left-footed effort.
But Wycombe hit back again when Bates was fouled again in the area and this time he took the penalty himself and made no mistake.
Clayton restored Spurs two goal lead with a powerful drive but Wycombe responded again when Rockell netted again after Hollowbread in the Spurs goal failed to hold a shot from Bressington, making the final score Wycombe 3 Spurs 4.



Wycombe: K. Brown, J. Beck, D. Atkins, D. Thomas, J. Weaver, L. Worley, M. Rockell, L. Worley, S. Bressington, P. Bates, J. Tomlin
Spurs: Hollowbread, Hills, Hopkins, Marchi, Ryden, Smith, Medwin, Collins, Saul, Clayton, Aitchinson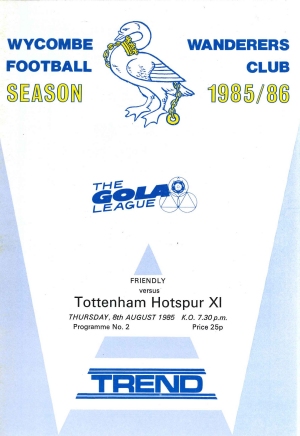 Wycombe Wanderers 3
Tottenham Hotspur 3
Thursday 8th August 1985
Friendly at Loakes Park

Thursday 8th August 1985 was the next official occasion the two sides met – this time a pre-season friendly at Loakes Park prior to Wanderers first ever outing in the national Gola League. The Spurs side that evening was mainly reserve players but a few weeks before on 26th July 1985, a virtually full strength Tottenham side had played Wycombe in a 'behind closed doors' friendly at Bisham Abbey – Glenn Hoddle, Ossie Ardiles, Graham Roberts, Chris Waddle (a close season signing from Newcastle) and Ray Clemence, some of the household names on show to the lucky few. It was goals from Waddle, Tony Galvin, Danny Thomas and substitute David Leeworthy that gave Peter Shreeves' side victory but a teenage Mark West had a moment to saviour when he glanced a header past Clemence to level the scores at 1-1.
The game on Thursday 8th August 1985 ended with the spoils shared from a 3-3 draw. On target for Wanderers were Declan Link (5 mins), Anton Vircavs (8 mins) and Simon Read (68 mins), with Spurs replying through David Howells (16 and 56 mins) and John Moncur (22 mins). The crowd on a very wet evening was around 700 – more than a 100 up on Wanderers' League average the previous season when they had gained promotion to the Gola League.



Wycombe: G. Lester, A. Riley, G, Pearce, S. Price, A. Vircavs, K. Collins, R. Fairchild, S. Read, B. Dell (sub D. McMahon), D. Link (sub M. West), N. Stanley
Spurs: T. Parks, I. Culverhouse, M. Bowen, J, Moncur, T. O'Shea, I. Crook, R. Cooke (sub P. Moran), S. Grenfell, S. Close (sub W. Gravette), D. Howells, V. Samways (sub B. Conroy)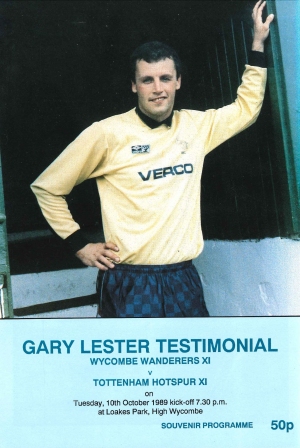 Wycombe Wanderers 1
Tottenham Hotspur 3
Tuesday 10th October 1989
Friendly (Gary Lester Testimonial) at Loakes Park

Spurs returned to Loakes Park on Tuesday 10th October 1989, this time for Gary Lester's Testimonial. Wanderers took the lead in the 22nd minute through Kevin Durham. However, the flamboyant skills of Paul Walsh led to an equaliser ten minutes later. From then on Spurs dictated the play. Midway through the second half Walsh picked up the ball deep in his own half and darted about seventy yards past numerous Wycombe players only to see his final shot rebound off of the post and straight to Lester. However, with six minutes to go Walsh put Spurs 2-1 up and in the final minute it was Walsh again to get his and Spurs' third from the penalty spot. An attendance of 2,829 turned out to pay tribute to Lester on another damp evening, with the whole evening raising a total of £7,088 for his testimonial fund.



Wycombe: G. Lester, S. Abbley, G. Borg (sub A. Vircavs), M. Crossley, J. Hicks, G. Bressington, A. Robinson (sub K Barrett then sub D. Carroll), K. Durham, M. Boyland, M. West (sub S. Guppy), J. Kerr
Spurs: B. Mimms, A. Polston, M. Thomas, G. Bergasen, J. Polston, G. Stevens, P.Walsh, P. Moran, D. Howells, V. Samways, E. Gormley (sub P. Garland) - subs not used G. Howells, M. Edwards, I. Gilzeen, R. Johnstone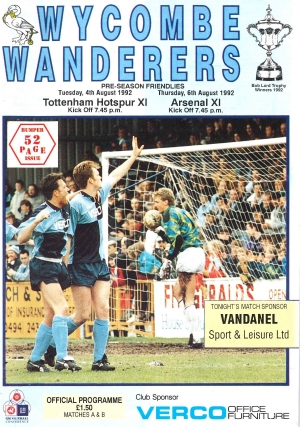 Wycombe Wanderers 3
Tottenham Hotspur 0
Tuesday 4th August 1992
Friendly at Adams Park

The meeting in August 1992 was the first meeting between the two sides at Adams Park – a pre-season friendly before what turned out to be Wanderers' swansong season in non-League football.
The crowd of 3,039 crowd saw Martin O'Neil's side beat a virtually unrecognisable Spurs XI, although the visitors did hold the game at 0-0 unitl the half-time break.
However, second-half goals from Kim Casey (54 mins), Dennis Greene (75 mins) and Ty Gooden (81 mins) made the final score 3-0.
The game was noted as having negative play noticeably reduced by the new back-pass rule forbidding the goalkeeper from touching the ball with his hands if a player deliberately kicks it to him.



Wycombe: Hyde (sub 72 Moussaddik), Crossley, Covington (sub 60 Ryan), Kerr, Creaser, Thompson (sub 72 Deakin), Carroll (sub 72 Hutchinson), Casey (sub 72 Gooden), Stapleton (sub 72 Smith), Scott (sub 72 Greene), Guppy
Spurs: Day (sub 76 Heath), Young, Van Den Hauwe, Sedgley, Nethercott, Caskey, McMahon, Potts, Beadle (sub 40 Hobday), Hodges, Houghton, Culverhouse – sub not used: Mahorn


Wycombe Wanderers 1
Tottenham Hotspur 2
Saturday 21st July 2001
Friendly at Adams Park

The next meeting in July 2001 drew an impressive attendance of 8,018 to Adams Park as Spurs boss Glenn Hoddle chose a strong line-up to face a Wanderers side fresh from the FA Cup Semi-Final appearance three months previous.
On a sunny afternoon, the returning Teddy Sherringham gave Spurs the lead on 55 minutes. But Danny Senda equalised five minutes later when he tucked a loose ball home after new signing Darren Currie had seen a shot saved by Neil Sullivan. However, Spurs ran out winners when Norwegian Steffen Iversen headed home past Wanderers Youth Teamer Mark Osbourn with 13 minutes remaining.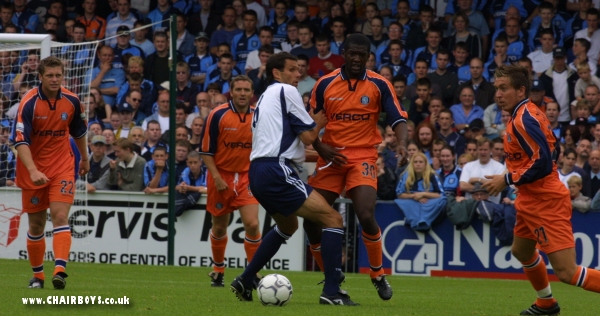 Full report and stats at www.chairboys.co.uk/onthenet/news0102/spurs-h-21july2001.htm

Wycombe Wanderers 2
Tottenham Hotspur 3
Saturday 19th July 2003
Friendly (Dave Jones Testimonial) at Adams Park

Spurs were opponents for another testimonial in July 2003 – this time for Club Physio Dave Jones. A crowd of 5,389 saw the visitors run out 3-2 winners – the scoring getting underway on 11 minutes when veteran 'keeper Dave Beasant (standing in for Wycombe) could only direct a Christian Zeige corner into his own net. Wycombe levelled shortly afterwards when Richard Harris converted a Darren Currie cross and it remained 1-1 until the half-time break. A stunning goal from Helder Postiga after a great through ball from Jamie Rednapp on 68 minutes restored Spurs lead and. Simon Davies made it 3-1 when he flicked in a Jamie Slabber cross from the right on 84 minutes. But Wycombe reduced the margin on 88 minutes when Youth Teamer Billy Harding strode in to smash home a right wing cross from Jermaine McSporran.

Full report and stats at www.chairboys.co.uk/onthenet/reports0304/spurs-h-19july2003.htm