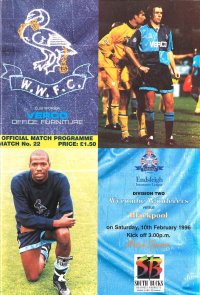 Wycombe Wanderers 0
Blackpool 1
Saturday 10th February 1996
Football League Division Two
Wanderers hit and miss season continued with a nil-one reverse at home to Blackpool. Seven days earlier, Wycombe had won on the road at Bournemouth but a week later they failed to pose any real threat on the Blackpool goal throughout the ninety minutes and the result left Alan Smith's side with just 4 wins from the 13 home games to date during the 1995/96 season - although with 7 draws included in that stat, this was also the first home defeat since the 2-1 loss to Bournemouth the previous August.

Blackpool won the game when Andy Watson forced home a cross on 33 minutes. Wycombe's best chances had been just minutes before when Mickey Bell and Miguel Desouza combined but failed to hit the target and then Jason Rowbotham's low shot scraped past the post. The second half saw the Wanderers open in a more lively manner. Steve Brown was fouled on 48 minutes and the resulting free kick from Dave Carroll was headed just wide by Terry Evans. Three minutes later Desouza was clear through but his effort was tipped over by the Blackpool 'keeper. Dave Farrell replaced Keith Ryan on 71 minutes but there was was no joy. Rowbotham's snap chance in the 92nd minute slipped wide and that was that as Wycombe dropped to 10th spot in the table.

Reporting for the Bucks Free Press from Adams Park, Claire Nash wrote: 'Wycombe Wanderers' inadequacies were a disservice to those who helped form their second highest league gate of the season in Saturday s 1-0 defeat against Blackpool.

After the high of an entertaining, albeit lucky, away win at Bournemouth last week, Blues persist in playing snakes and ladders, by, in turn, slipping to a low against a side which boss Alan Smith expected his players to beat, despite the visitors being one of the most consistent outfits in Division Two.

Blackpool showed why they are holding their position in third place in the table with nothing more than an efficient performance, while Blues illustrated exactly why they are yo-yoing up and down after an off-colour, even catatonic (or was that me) display. After victory saw them - bubbling-under the play-off zone, the defeat has dropped Wycombe from seventh to tenth.

But it's all meaningless, basically, because Blues have little chance of the play-offs unless they start winning at home on a regular basis. They haven't even played there on a regular basis since Christmas because of the weather. - But although Blues have only lost once at Adams Park this term, they have consistently failed to put on a show to do themselves justice.

Smith conceded that he cannot understand why his players freeze on Jim Gardner's - ever-pristine pitches, and said after Blues' first home game in a month: "That's the story of our life at the moment." He added that the drawing board was his next port of call — with a striker who can score and a new goalkeeper, due to Ben Roberts' forthcoming return to Middlesbrough, to be in there surely.


Wycombe only registered one shot on target on Saturday. Miquel Desouza and John Williams shirked assertive responsibilities to take the game by the scruff of the neck up front, but there was also little to back them up. Support play did not materialise until Blues' back was against the wall.

Smith decried his players' tendency to get their game plan the wrong way around, ending the match with most of the possession and being a goal down, rather than dominating at the start and being a goal up.

The Wycombe manager didn't go as far as the 'it's beyond me' stage. What he would like to do about the problem — goals and the lack of them — and what he can do are clearly two very distant relations, however. "I honestly don't know how much money there is to be honest," said Smith, which underlined, to say the least, that the £300,000 that Wimbledon asked for Gary Blissett after his recent loan to Blues will send a shudder down the spine of fans who are eager to see the 'no goals' problem resolved, that is, if it wasn't such a ridiculously inflated price tag courtesy of 'monster' agent Eric-Hall.

As for Saturday's game itself, I apologise for having little to say, because there is very little to say. Proceedings passed most of the 5,285 attendees by. Blackpool's fans had clearly enjoyed being beside the commuter-belt side, filing out afterwards in buoyant mood after three points offset the un-remarkable nature of the preceding 90 minutes. I, personally, was easily distracted by the appearance of the most amazing telephone I have ever seen. It was big and red and had lots of knobs and lights on it. It belonged to my neighbour in the press box.

He liked it too. But he was sad. So was I, because he didn't have cause to use it much. It had been newly-installed by the Press Association, so that major match events can be flashed down the line at the speed of light and as a result, appear within seconds on the nation's teletext service. But we didn't see the lights go once. No beeps, no wrong numbers even. It reminded me of the phone Commissioner Gordon used in the old Batman telly series. If only it had been. My fellow phone fan and I willed something to happen on the pitch to see what the dream machine could do. Telepathy with John Williams, or Miquel Desouza. Anything. But it became painful. In fact, I had a headache. Alan Smith's, therefore, must be a migraine.

Things didn't look healthy after encouraging bursts of activity by Wycombe in front of the Blackpool goal on the half hour came to nothing when a Desouza cross went begging after goalkeeper Eric Nixon failed to collect. Mickey Bell was unlucky after a good run and shot moments later. Then Blackpool took the lead on 34 minutes. Andy Watson had plenty of room to fire home from a Rick Holden corner.

Wycombe did indeed go on to enjoy most of the possession when they chased the game after the break, but they didn't look like scoring and had to guard against Blackpool's liveliness on the break. The phone lay silent.'


Wycombe: Roberts, Cousins, Rowbotham, Bell, Ryan (sub 71 Farrell). Evans, Brown, Carroll, Patterson, Desouza, Williams - subs not used: Howard, McGavin
Scorers: none
Bookings: none
Blackpool: Nixon, Bryan, Barlow, Linighan, Mellon, Quinn (sub 75 Charnock), Bradshaw, Bonner, Bolden, Watson, Preece -subs not used: Allardyce, Thorpe
Scorers: Watson 34
Bookings: none
Referee: Mr G.Singh (Wolverhampton)
Attendance: 5,285

Manager Alan Smith was saying less and less in his post match interviews but opened up later in the week after the confirmation that Paul Hyde had left the Club. The popular 'keeper had fallen foul of Smith for demanding contract talks before the end of the season. Hyde said in an open letter: "I would like take this opportunity to thank all the Wycombe supporters who have given me tremendous support dur ing the last four and a half years. I have enjoyed it immensely, particularly playing at Wembley twice, winning promotion through to Division Two, plus all the exciting cup ties. Overall, it's been an enjoyable and successful four years which has sadly come to an end. Once again, I would like to thank you all."

Smith commented: "Generally it was a situation I wish had not occurred. From everybody's point of view it needed to be clarified. It was not a good situation to have around the place, but I have got other players in a similar position to that which Hyde was in, in regard to his contract. I want to give them my full attention and I can't do that when there's a bad atmosphere, however it may have arisen." Hyde was one of eight Wycombe players who had their contracts up for renewal at the end of the 1995/96 season. None of the others, who included Dave Carroll, Jason Cousins, Matt Crossley and Terry Howard had approached Smith, according to the Wycombe Manager.

Smith would need to find another goalkeeper within the next three weeks due to the imminent return of loanee Ben Roberts back to Premiership Middlesbrough. Meanwhile, looking ahead to the next weekend's fixture at 5th placed Chesterfield, Smith said: "We are good enough if we are positive enough. But if we are not positive, we play like we did [against Blackpool]."



Next game - Chesterfield v Wycombe - Saturday 17th February 1996