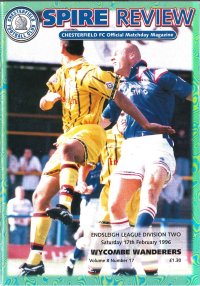 Chesterfield 3
Wycombe Wanderers 1
Saturday 17th February 1996
Football League Division Two
A first half display, described as 'dismal' in the COTN archives, condemned Wycombe to defeat at the hands of fifth placed Chesterfield.

Trailing 3-0 at half-time, the Wanderers never looked likely to have a say in the game despite a 62nd minute strike from Miguel Desouza. Chesterfield took just five minutes to open the scoring when defender Mark Williams headed home a corner for only his second goal this season. Further misery came for the Blues when Phil Robinson struck home in the 17th minute after yet more slack defending.

An injured Jason Cousins was replaced by David Farrell on 25 minutes but it was Chesterfield making all the play and Roberts did well to block a shot on 27 minutes. Roberts also did well in the 37th minute but could do nothing to stop the loose ball falling to Tony Lormor who put the ball away and sealed the game for Chesterfield. Wycombe's best chance of the half came on 39 minutes when a John Williams efforted was turned away following a Dave Carroll cross. Wycombe's consolation goal saw Desouza turn on a ball in the area and whip the ball in the net but that proved to be the Wanderers last serious threat on the Chesterfield goal.

Reporting for the Bucks Free Press from Saltergate, Claire Nash wrote: 'Wycombe Wanderers slithered down the table in such inglorious fashion after a woeful display against Chesterfield that it suggests the haemorrhage starts here where their season is concerned.

Their second consecutive defeat on the trot was a very bitter pill for their fans, scattered as they were on a chill windswept away terrace, to swallow, because the players' attitude was pitiful.

Blues were three goals down by half time, most of the damage being done in the first 20 minutes when they conceded two soft goals. To add to that, three players were booked in the first half, including skipper Terry Evans. The performance was gutless, heartless and devoid of any passion, hardly the sort of display from which to bounce, back after losing 1-0 to Blackpool the previous week.

Manager Alan Smith is coming increasingly under fire from fans who are growing impatient with what manifests itself on the pitch every Saturday, no matter how much hard graft is being put in at training. They are asking themselves, or to be precise, asking Wycombe's manager whether the players are deliberately ignoring his game plan or whether the team are simply incapable of playing the way Smith wants them to. Either way, they don't feel such queries are being answered and, at the moment, tackled.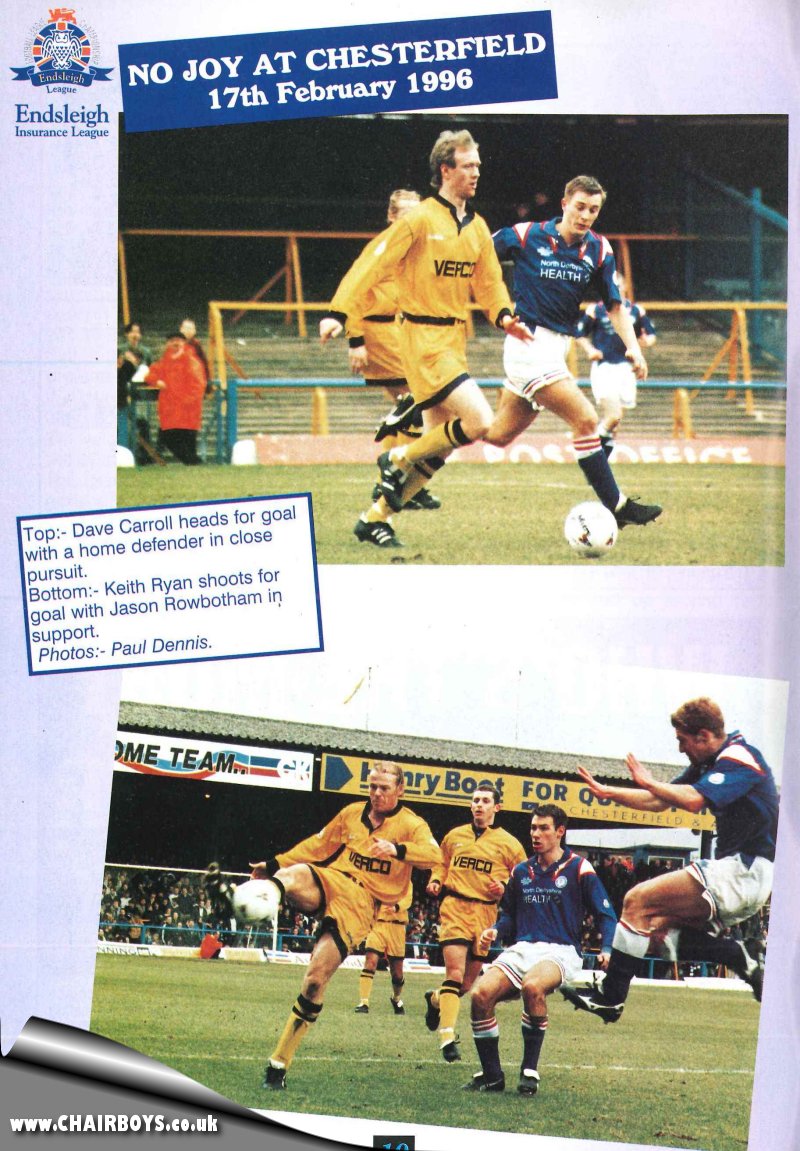 Blues pulled themselves together in the second half at Saltergate, with one goal, a well-taken shot on the turn from Miquel Desouza, to show for their efforts. By then, however, they had already missed the boat. A salvaging exercise could not put to rights the disarray of the first 45 minutes. Evans said: "It was really awful for the supporters who had to turn up and see it; There are no excuses for it. It was disgraceful really. We have got to turn it round."

Blues are now enduring mid-table obscurity, and also insecurity. Now in 14th place, flirting with the relegation zone is not a million miles away if Wycombe fail to improve. Their two most recent performances, even though they were against two of the most consistent units in the division, suggest that they inhabit a position which is no less than they deserve.

Opponents always seem to have the edge on Wycombe, even when Blues win. Chris Kamara, manager of Bradford City who Blues play tonight weather permitting (ko 7.45pm), was in the crowd at Saltergate. His knees did not look like they were knocking.

So to Saturday's debacle. Wycombe looked shaky, threw a wobbly and then looked like they'd just got out of bed at 11am on a Sunday morning to turn out for the Rose and Crown. Chesterfield were helped in setting out their stall by scoring after just four minutes with a set-piece goal put away by Mark Williams after Nicky Law's free kick was flicked on.

Worse was to come on 18 minutes when Jason Cousins' mis-kick directed Tony Lormor's cross to the feet of Phil Robinson who made no mistake from six yards. Moments later, Evans was booked for a hefty challenge on Paul Holland who later left the field with a shoulder injury. Smith changed his team's formation to a flat back four after starting with an attacking 3-5-2, with Cousins being replaced by left winger David Farrell and Keith Ryan substituted at the start of the second half by central defender Terry Howard. However, Chesterfield continued unabated with a third goal on 37 minutes with Lormor having two bites at an effort which Ben Roberts initially blocked.

Blues' Gary Patterson and Jason Rowbotham had also been cautioned by half time. Wycombe stopped the rot in the second half, with at least a clean sheet, and Desouza salvaged some personal pride for himself with a fine goal on 62 minutes. Chesterfield, though, had flicked their switch to cruise control and were happy to let Blues come at them.'


Wycombe: Roberts, Rowbotham, Bell, Ryan (sub HT Howard), Evans, Brown, Carroll, Patterson, Williams, Desouza, Cousins (sub 24 Farrell) - sub not used: McGavin
Scorers: Desouza 62
Bookings: Evans 19 (foul), Patter son 32 (foul), Rowbotham 45 (foul)
Chesterfield: Mercer, Perkins, Jules, Curtis, M Williams, Law, Robinson (sub 88 Dyche), Davies, Lormor, Holland (sub 23 Hewitt), Howard - sub not used: D Roberts
Scorers: Williams 4,Robinson 18, Lormor 37
Bookings: none
Referee: Mr W C Burns (Scarborough)
Attendance: 4,571 (away 430)

Criticism of Manager Alan Smith was growing from several directions following Wanderers indifferent run of results. However, the former Palace man reacted in the press, saying: "I am the manager. I will bear the brunt of the crticism. At the moment I have got a good relationship with the players. I don't want to criticise what they are doing. But at the same time, I don't want to condone it either."

Other news had seen former Wanderer Paul Hyde join old boss Martin O'Neill at Leicester City. O'Neill was finding it tough at Filbert Street and was also having to deal with the wrath of many Leicester fans. Elsewhere, another Wycombe legend, Keith Scott, had gone on loan to Bournemouth after falling out of favour at Norwich City.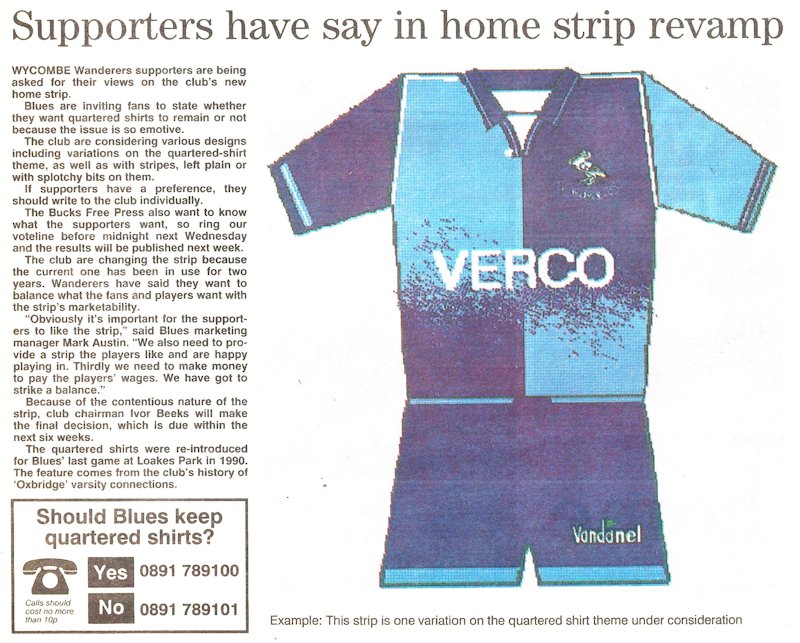 Off the field, controversy was set to unfold over the choice of Wanderers' new kit for the 1996/97 season. The Club had invited fans to state whether they wanted the quartered shirts (re-instated on the move to Adams Park in 1990) to remain. A statement in the local press read: "Because of the contentious nature of the strip, club chairman Ivor Beeks will make the final decision, which is due within the next six weeks" An example design was included in the press release and it's fair to say it didn't go down too well. The Club would later make a compromise on the decision making process and offered a 'vote' between two kit designs published in a matchday programme during March 1996.



Next game - Wycombe v Stockport County - Saturday 24th February 1996