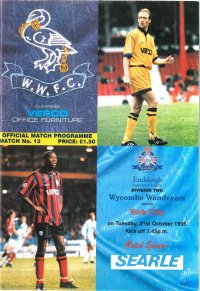 Wycombe Wanderers 2
York City 1
Tuesday 31st October 1995
Football League Division Two
Wanderers climbed to 5th spot in Division Two after extending their unbeaten run in the League to 12 games with a 2-1 victory over York City on a misty Tuesday evening at Adams Park.

After a goalless first-half, a Miguel Desouza penalty and a Simon Garner strike finally put Wanderers in the driving seat until a late rally from the flu stricken vistors. Desouza's underhit midfield pass to Steve Brown with 15 minutes remaining let in Paul Barnes down the left channel who neatly flicked the ball over Paul Hyde. It was then only a last minute miss from Tony Barras, who shot widly over from a Barnes pass, that spared Wycombe's blushes.

The victory also came at a cost, with Terry Evans forced off after just 31 minutes when he twisted his ankle after chasing a ball into the advertising hoardings. The sight of seeing Evans on crutches after the final whistle was a dampener on the spirits of the Wycombe fans who had seen their side better the start of the previous season under Martin O'Neill.

Reporting for the Bucks Free Press, Sharon Walter wrote: 'The date and atmosphere were strangely apt on Tuesday night for Wanderers as they struggled through 90 minutes for a win over York City. It was Halloween, the moon was out, the mist was descending, and the spirits seemed to be having an adverse effect on several people on the Adams Park stage.

Miquel Desouza had what can only be described as an extremely odd game by his standards, managing to miss a virtually empty net from only yards and adding into the bargain a header at the other end, which set up City's only goal.

As with Hull on Saturday, proceedings had started brightly enough, with David Carroll getting his chance at goal after just four minutes following a Simon Garner cross. Garner was in the goalmouth action again after 25 minutes when he took on a through-ball from Desouza, only to shoot into the arms of Andy Warrington.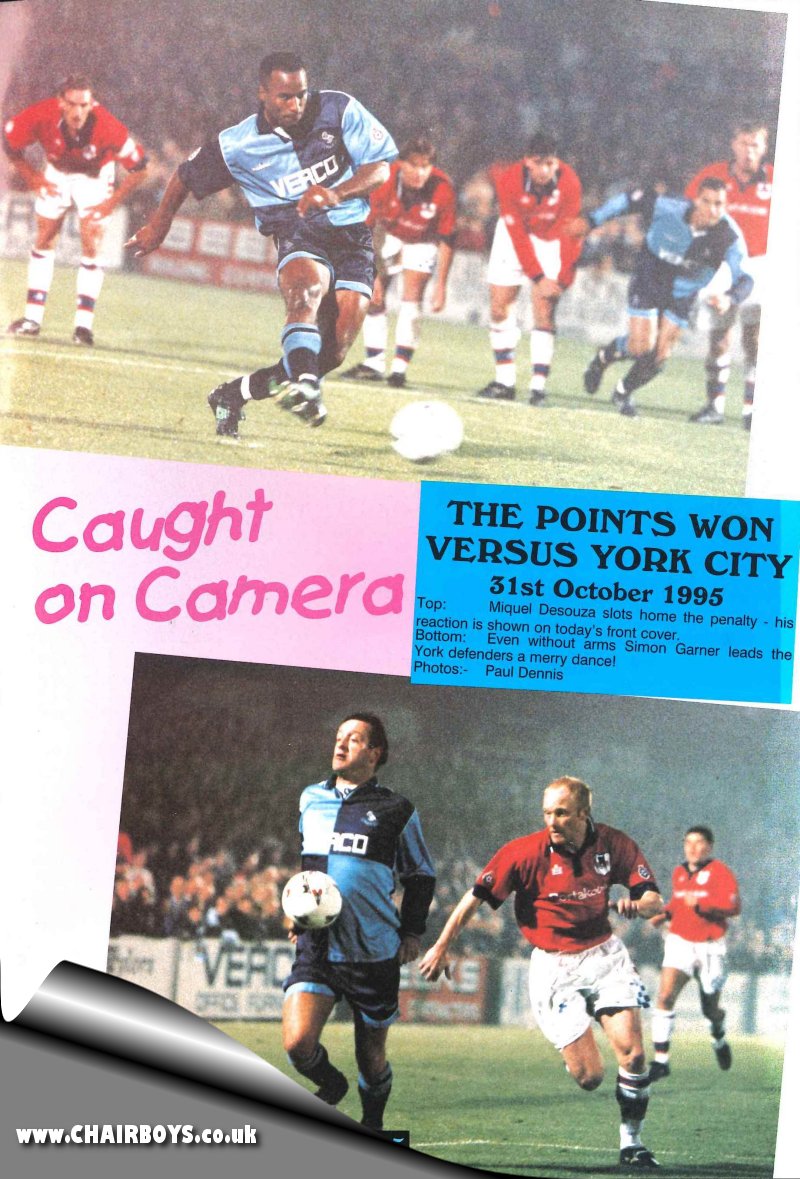 On 31 minutes, much to everyone's dismay, Terry Evans, on only his second first-team game since his return from injury, hobbled off the pitch to be replaced by Jason Cousins. Minutes later a York side, troubled by a bug, made two substitutions with both Rob Matthews and Steve Bushell being pulled off for Andy Curtis and Scott Jordan.

Wycombe managed the majority of chances in the half, with City failing to have even one shot on target. Blues' best chance came when Desouza, who appeared to be clearly offside to everyone but the linesman, picked the ball up just out of the area and just had the goalkeeper to beat, which he failed to do.

The second half started in a similar fashion, with the ball worked well between Jason Rowbotham, Desouza and Carroll for the latter to have another shot, only to see it go wide.

Drama eventually arrived in the 57th minute when Garner went to pick the ball up near the half-way line, only to perform a wonderful dummy to baffle the York defence and send Carroll on his way down the right side. A pinpoint cross to the feet of the advancing Desouza had goal written all over it as the striker made contact just yards from goal. But in an amazing feat Desouza managed to get the ball tangled up in his feet for it eventually to spin wide of goal.Steve Brown, who had come in to finish things off, was then pulled down and the referee promptly awarded a penalty. Desouza made no mistake this time as he placed the ball right of Warrington. Fourteen minutes later Wycombe managed their second when Farrell made an excellent run down the left side, picking off several York players on the way, before finding Garner, who fired into the net.

Wanderers appeared to have matters in hand until Desouza produced his second amazing feat of the evening, when from the half way line he attempted to head the ball back to Brown. Brown never looked like reaching it and instead it fell conveniently into the path of York striker Paul Barnes who chipped it over Paul Hyde.'


Wycombe: Hyde, Rowbotham, Bell, Howard, Evans (sub 31 Cousins), Brown, Carroll, Williams (sub 67 Patterson), Desouza, Garner, Farrell
Scorers: Desouza 57, Garner 71
Bookings: ?
York City: Warrington, McMillan, Hall, Pepper, Tuthill, Barras, Matthews (sub 35 Curtis), Bushell (sub 35 Jordan), Barnes, Peverell, Murty (sub Atkins)
Scorers: Barnes 77
Bookings: ?
Referee: Mr I S Hemley (Amptill, Beds)
Attendance: 4,038

Speaking after the game Manager Alan Smith said: "We got three points and I think that was the sole token of this evening's work. I'm not over the moon with the performance. We had a good few chances but the crossing was poor and unfortunately we met York after their 6-1 defeat on Saturday, which obviously shook them up."
Commenting on the injury to Terry Evans, Smith added: "The crutches are precautionary but Terry Evans is one of those people who does things off his own back and I could have done without him being injured - it was a big boost having him back on Saturday."



Next game - Swansea City v Wycombe - Saturday 4th November 1995