Swansea City 1
Wycombe Wanderers 1
Saturday 25th February 1995
Football League Division Two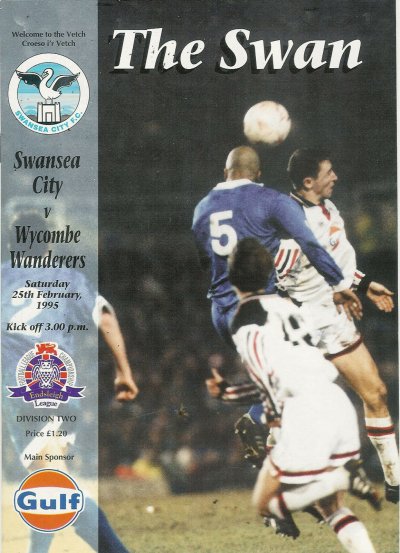 A stoppage time goal denied Wycombe all three points on their first League visit to Swansea City, keeping Martin O'Neill's side in sixth spot in the Division Two table, while a victory would have pushed them into the play-off spots and just four points behind leaders Brentford. It was second blow in a week in South Wales for Wanderers, having gone down 2-0 at Swansea's fierce rivals Cardiff City the previous Tuesday.

The positive for Wycombe was Miquel Desouza's goalscoring record. He was on target again for Wanderers, taking advantage of City 'keeper Roger Freestone's ball juggling to give Wycombe the lead on 68 minutes. It was Desouza's sixth goal for Wycombe in as many games. However, Wycombe lost their concentration in the closing stages - Paul Hyde misjudging a cross and allowing Steve Torpey to scramble the ball home and send the travelling fans home in disappointment once again following a trip to South Wales.

Reporting for the Bucks Free Press at The Vetch Field, Claire Nash wrote: 'This was an excruciating one to let get away. Wycombe Wanderers lost precious points at Vetch Field on Saturday — letting Swansea City off the hook with a draw in the third minute of stoppage time, a timing inexplicably officially recorded elsewhere as the 89th minute.

One point from a match they had somehow got to grips, despite a shaky start, was almost as painful a hammer blow as defeat would have been. Wycombe, therefore, remain in sixth place in Division Two, whereas a win would have moved them up to fourth, just three points behind top trio Brentford, Birmingham and Huddersfield with games in hand.

Blues defended superbly to make Miquel Desouza's 68th-minute goal, courtesy of goalkeeper Roger Freestone's fumble, a convincing victory platform. But a nightmarish defensive blunder between Terry Evans and goalkeeper Paul Hyde gave Swansea a reprieve. Steve Torpey's scrambled shot was almost the last kick of the match.

Wycombe had previously struggled to snuff out Swansea's late surge mounted with five minutes to go, but looked as if they would hang on by their fingernails.

The conclusion was all the more disappointing with Blues having limped through sufficiently with a line-up miles away from full strength. Illness accounted for full back Jason Cousins (chicken pox) while injuries cancelled out right winger Dave Carroll (knee) and Simon Stapleton (knee). Central defender Matt Crossley and midfieider Gary Patterson were suspended, both beginning two- match bans. Replacements Nicky Reid, for Stapleton in central midfield in his first first-team match this season; Terry Howard, moving from left back for Crossley at centre back; and Brown, returning to the full back slot vacated by Howard, all performed capably.

Wanderers reasserted themselves with enough vigour, which was lacking altogether in last week's dire 2-0 defeat, to secure a narrow one-goal lead. It was still a generally dour encounter where neither side secured clear sight of goal until they scored.

The first half disintegrated after a lively opening into a pained lack progress for the combatants - and an endurance test for the spectators. Blues' defence, led with stern resolve by Evans, clinically dealt with Swansea's pressure.

The hosts did break through twice, but John Williams, once famed for being the fastest striker in the Football League, spurned two half-chances, shooting wide of the far post on 26 minutes, and again on 40 minutes.

Blues' sole first-half opportunity saw Cyrille Regis narrowly fail to connect with Reid's fierce cross at the far post on the half hour.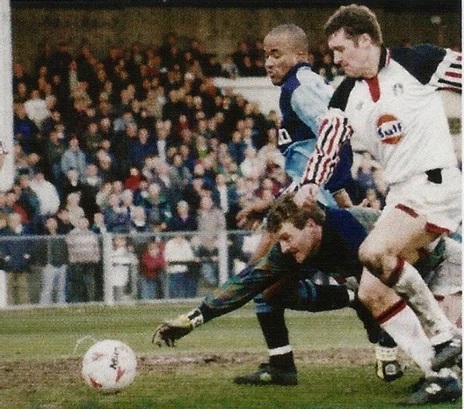 Wycombe strung together better passing moves after the break, and looked good in set pieces. Evans headed over from Bell's 56th-minute corner. A further set piece proved very fruitful after Regis got on the end Howard's free kick. The striker fed the ball wide to Bell, the latter knocking in a cross which Freestone went for while Desouza raced in to put him under pressure. The goalkeeper dropped the ball, and the Wycombe striker shrugged off the attentions of Keith Walker to stab it in.

Blues endeavoured to turn up the heat. Goal-machine Desouza, now with six goals in six League games, fired over after a multi-man move involving Garner, Regis and Steve Thompson on 83 minutes. Swansea's composure almost went completely, but Wycombe failed to profit.

The hosts then got a late grip, and forced Wycombe's back to the wall. With nearly 93 minutes on the clock, Walker cracked in a high ball from the centre circle. Evans appeared to slip as he went to clear. The ball bounced over him, Hyde came out, misjudged it, and the ball falling for Torpey who instinctively lashed it in from six yards.'
Wycombe: Hyde, Skiverton, Brown, Howard, Evans, Desouza, Thompson, Bell, Regis, Garner, Reid - subs not used: Hemmings, Creaser, Moussaddik
Scorers: Desouza 68
Bookings: none
Swansea: Freestone, Jenkins, Clode (sub 72 Chapple), Walker, Ford, Pascoe, Bowen, Edwards, Torpey, Ampadu, Willaws (sub 57 Hodge) - sub not used: Jones
Scorers: Torpey 90
Bookings: none
Referee: S Dunn
Attendance: 3,699

Speaking after the game Wanderers' Manager Martin O'Neill said his search for new players would go on as he continued to help guide his team through the late-season minefield to a Division Two playoff place. O'Neill, undeterred by a transfer hiccup the previous week that prevented him signing Southend United striker Gary Jones, pledged to keep looking for new blood to boost Wycombe's battle scarred troops.

O'Neill said: "We need to get some people in, there's no doubt about it. The people already here at the club have done excellently, but they can't do it all on their own." The manager had hoped to acquire Jones' service in time for the Swansea game after approaching Southend boss Steve Thompson following Wycombe's 1-0 Capital League win over the east coast side the previous Thursday. Jones and Thompson were happy about the feasibility of the move. But Jones ruled out a longer-term arrangement because the Yorkshire-born player has been suffering from homesickness and wants to return to Doncaster.

"It was very disappointing their equaliser came so late. We thought we had taken the best they could throw at us. Defensively, we played very strongly. A lot of people worked hard in doing their bit. Considering the side we had out - Nicky Reid was playing in his first League game this season — I think I could not have asked any more of some of them such as Steve Thompson, Simon Garner and Mickey Bell. They did all they possibly could."

O'Neill accepted his side had failed to build up a commanding advantage, but refused to take a pessimistic view of the outcome. "I can't say we created an awful lot of chances, but the goal looked to be enough. If something can be gleaned from it, it was that we didn't lose the game."



Next game - Wycombe v Stockport County - Saturday 4th March 1995