Wycombe Wanderers 1
Stockport County 1
Saturday 4th March 1995
Football League Division Two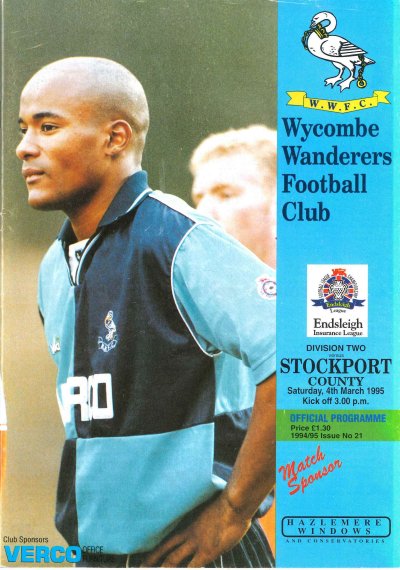 Wanderers dug deep to secure a draw against Stockport County at Adams Park and maintain their chances of a play-off place. A second-half Terry Evans header cancelled out a 9th minute goal from the visitors to keep Wycombe in 7th place in the Division Two table with 55 points and still only 8 points behind leaders Brentford with 15 games left to play.

But it was day of mixed emotions for Manager Martin O'Neill who said his makeshift side deserved a draw after battling back from the disappointment of seeing an early 'goal' from Evans ruled out. However, the Wycombe boss was far from happy about the half-time entertainment delaying the start to the second-half – a RAF parachute jump not going to plan.

Team news had seen new signing Miguel Desouza ruled out due to an injury picked-up in a midweek training session. Desouza, who had scored six goals in his first six appearances for Wanderers (including a goal in the previous weekend's 1-1 draw at Swansea) had been injured in a tackle with Gary Patterson in a five-a-side match during a training trip to Spain the previous Wednesday. Veteran striker Simon Garner was also ruled out with injury as Jason Cousins and Dave Carroll returned to a re-jigged Wycombe line-up.

Reporting for the Bucks Free Press from Adams Park, Claire Nash wrote:

'Blues had to battle to get back on level terms with a grimly determined Stockport County. They were without crocked goal hero Miquel Desouza, stalwart marksman Simon Garner, along with Matt Crossley and Gary Patterson, who both completed two match bans, and Simon Stapleton (knee injury) who was also on the sick list. On the bright side of a black injury picture, Jason Cousins was back in the fold after chicken pox and Dave Carroll had recovered from a knee injury.

Had Terry Evans' header from Carroll's free kick after just 53 seconds counted, it would obviously have been the perfect start for Blues, But the referee had no hesitation, at the time, in disallowing he goal for pushing. Stockport underlined that ifs and buts don't count for anything whatsoever when they scored amid a dominant spell which followed. The visitors had already exposed weaknesses in Wycombe's defence which initially looked sluggish. It had to rely on Paul Hyde's acrobatics in goal when he tipped over Michael Oliver's curled-in shot after eight minutes.

Stockport took full advantage of Blues' leaks and creaks a minute later when former Sheffield United centre half Jim Gannon was found unmarked by Michael Wallace's right-wing corner arid gratefully fired home from close range.

Stockport made life gruellingly difficult for Wycombe for the remainder of the half. Blues had the bulk of possession but struggled to break through the visitors' five- man defence. Terry Skiverton fired in a good cross to Cyrille Regis on 25 minutes, but the striker's header was wide of the far post.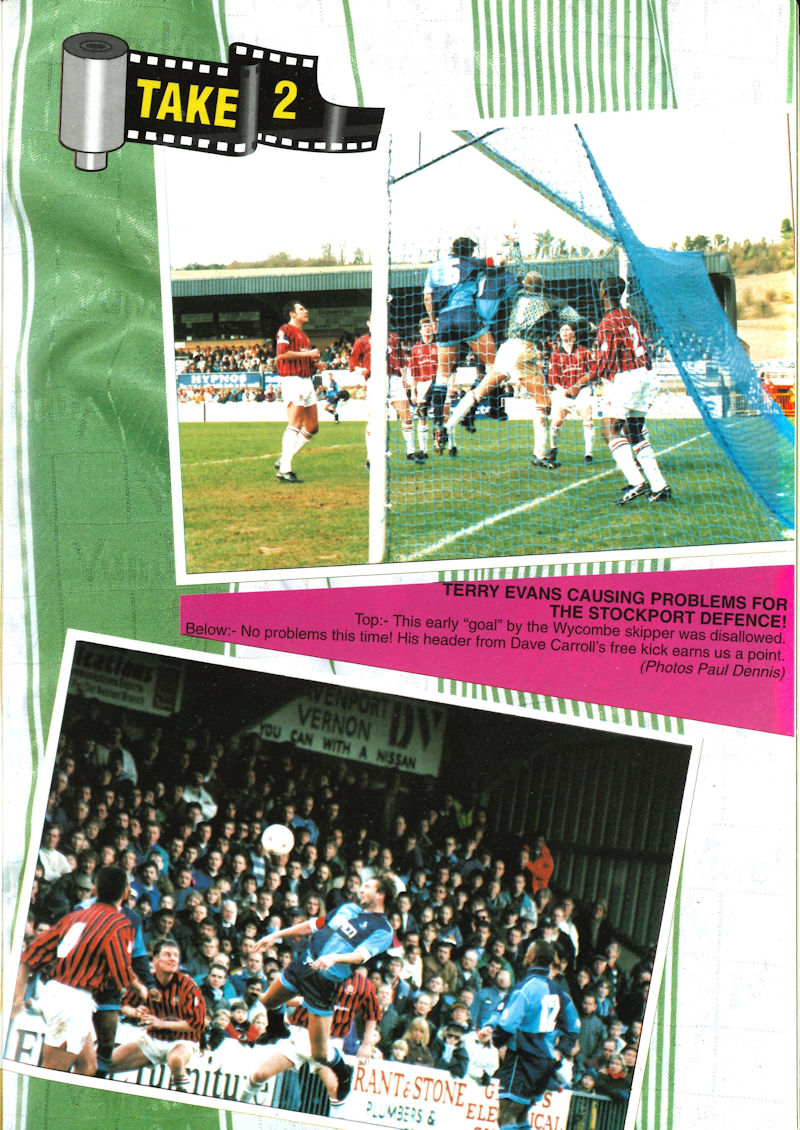 The second half was a deeply dour affair, painfully but also predictably so. Both sides stubbornly stuck to their tasks. Wycombe had to grind their way back into contention. Thompson was put through the centre after 56 minutes but couldn't control the ball which was gathered by Matt Dickins, Stockport's on- loan keeper from Blackburn Rovers.

Mickey Bell was a lone force in the excitement stakes. A searing run and cross from the left promised much when it found Skiverton coming in from the right. The full back couldn't deliver, however, and skewered a shot wide of the near post. Skiverton almost caused problems on 64 minutes but his looping close-range header was hoofed off the line by the busy Gannon. Terry Howard had a go from 35 yards but his thunderous shot was inches high.

Wycombe finally dug themselves out of trouble with a trusty stand-by. A free kick was awarded on the edge of the 18-yard box after Tony Hemmings, who had replaced Nicky Reid five minutes earlier, was brought down. Evans flicked Carroll's well flighted cross with perfect precision into the top right-hand corner on 71 minutes. Wycombe continued to pressure with a diligent late surge. Their best chance of snatching a win was spurned, however. Hemmings hesitated over Regis's good cross from the left with nine minutes to go.'


Wycombe: Hyde, Cousins, Brown, Howard, Evans, Skiverton, Carroll, Bell, Regis, Thompson, Reid (sub 65 Hemmings) - subs not used: Turnbull, Moussaddik (GK)
Scorers: Evans 71
Bookings: none
Stockport: Dickins, Brown (sub 72 Chalk), Wallace, Ware, Flynn, Dinning, Cannon, Oliver, Helliwell, Armstrong, Beaumont - subs not used: Bound, Edwards (GK)
Scorers: Gannon 9
Bookings: Oliver 20 (foul), Flynn 34 (dissent), Dinning 50 (foul), Armstrong 80 (dissent)
Referee: A P D'Urso (Billericay)
Attendance: 5,275

Speaking after the game, a frustrated Martin O'Neill claimed that referee Paul D'Urso admitted to him that he made a mistake in disallowing a Terry Evans 'goal' after just 53 seconds of the match against Stockport County. D'Urso changed his mind after watching video footage of the incident after the game, explained the Wycombe's manager. The referee did not hesitate in discounting Evans' effort for pushing during the match. O'Neil said: "The referee saw the goal in the first minute and admitted he made a mistake and asked me to send him the video. It was obviously animportant aspect of the game," He added: "Our second-half performance as excellent. We deserved the draw. Had the disallowed goal in the first minute counted, I'm sure we would've won the game."

O'Neill's frustration was not helped, and he could barely contain his temper, when an RAF freefall display delayed the start of the second half by five minutes. O'Neill stormed onto the pitch, while the parachutists were still being ushered off following safe landings, to give Wycombe officials a piece of his mind.



Next game - Bristol Rovers v Wycombe - Saturday 11th March 1995