Wycombe Wanderers 2
Huddersfield Town 1
Saturday 10th December 1994
Football League Division Two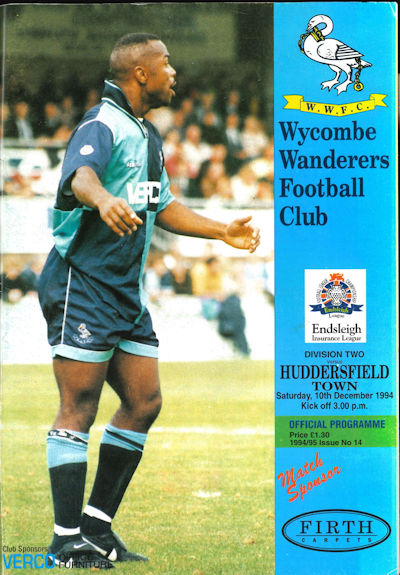 With speculation behind them that Manager Martin O'Neill was about to join Leicester City, Wanderers put in a historic display to overcome promotion hopefuls Huddersfield Town at Adams Park. Against all odds, O'Neill's side came from a goal down and with ten-men saw Simon Garner grab a late winner to spark intense celebrations amongst the home support.

O'Neill had dipped into the transfer market the day before the meeting with The Terriers, splashing out £40,000 for Shrewsbury Town striker Gary Patterson. Patterson came into the starting XI in place of the suspended Mickey Bell and with Cyrille Regis still missing with a injury, it was Tony Hemmings who was favoured in the Wanderers front line of attack.

Patterson's day turned sour when he was red-carded for a second bookable offence just before the break. Victory looked unlikely for Wanderers until an Andrew Booth own-goal on 69 minutes set-up a spectacular finish that ended with delight for Martin O'Neill's team and misery for Neil Warnock equivalents. Booth had been the subject of £1.3m bid by Liverpool in the days prior to the game at Adams Park.

The result left Wycombe with 39 points from their opening 19 games in Division Two and sitting in third spot behind leaders Oxford United (43 points) and 2nd placed Birmingham City (39 points but with superior goal-difference to Wycombe).

Reporting for the Bucks Free Press from Adams Park, Claire Nash wrote:

'Wycombe marched onwards and upwards in Division Two with one of their finest performances since joining the Football League. Saturday's inspirational come back against the odds overhauled Huddersfield Town and saw Blues leapfrog their high-flying rivals in the table.

The gripping confrontation more than lived up to pre-match expectations by running the gamut of every conceivable ingredient a match could contain. Blues were rocked by the visitors' early goal and were further shaken when debutant Gary Patterson was sent off before half time.

An epic second-half revival saw ten-man Blues first peg back Neil Warnock's men with a helping foot from their star striker Andrew Booth. Then Wycombe's golden oldie Simon Garner snatched a winner five minutes from time. In addition, Blues full back Jason Cousins was hit by a Huddersfield fan after going into the boards when making a clearance and there was clearly no love lost between Martin O'Neill and his Huddersfield counterpart Warnock who fought out a war of words on gamesmanship in their respective post-match interviews.

Referee Ian Hemley had a cameo amid the drama when he limped off with an injury. O'Neill described his players' revival, which secured the league double over Huddersfield, as "a fantastic spirited performance." Warnock described his side's second-half efforts in one word - one which rhymes with wrap. Every factor combined to produce an enthralling spectacle for a 6,790 crowd at Adams Park.

Victory was sweet for Blues. They pulled off an amazing triumph without Cyrille Regis who missed his sixth game after picking up a calf injury in addition to a thigh strain — and Mickey Bell who began a three-match suspension after being sent off two weeks ago. Keith Ryan and Dave Carroll, who both had back problems, were doubtful before the match.

Wycombe's supporters gave O'Neill a rousing reception before kick-off in Blues' first home game since he turned down the Leicester City job. Huddersfield fans gave him an alternative greeting after the interval, to which the Wycombe boss responded with a gentlemanly bow. They, at that point, were buoyant - their side leading after dominating the first half.

Wycombe failed to make telling headway, apart from a few testing set pieces. Huddersfield's attractive game fashioned two chances before they went ahead through Ronnie Jepson on 12 minutes. Booth hit the underside of the crossbar after six minutes and Blues goalkeeper Paul Hyde did well to tip over Darren Bullock's firm header a minute later.

Jepson made the breakthrough when he swept the ball home after the Gary Crosby's cross squirmed through a crowded 18-yard box to find the striker unmarked. The visitors' goalkeeper Steve Francis was a consistent thorn in Blues' side, his best save denying Terry Evans's well-placed header from Steve Thompson's cross on 23 minutes.

The match's momentum was disrupted by referee Hemley's departure and the arrival of replacement Paul Taylor. Wycombe's new signing Patterson found no favour with the latter when he was sent off for a late challenge on Tom Cowan. He was cautioned by Hemley for a foul on Paul Reid earlier on. O'Neill was not convinced the second tackle merited a booking and spoke to Cowan when the players walked in at half time. Warnock followed close behind after hanging back to accompany his player in.

The new Blues player's tackle looked clumsy, even if Cowan had made more of Patterson's challenge than was necessary. But oddly, no free kick was given to Huddersfield. Moments later O'Neill harangued the referee when Chris Billy was only booked for a foul on Steve Brown. The manager's fiery response was echoed by his players' who were fired up with determination after the interval.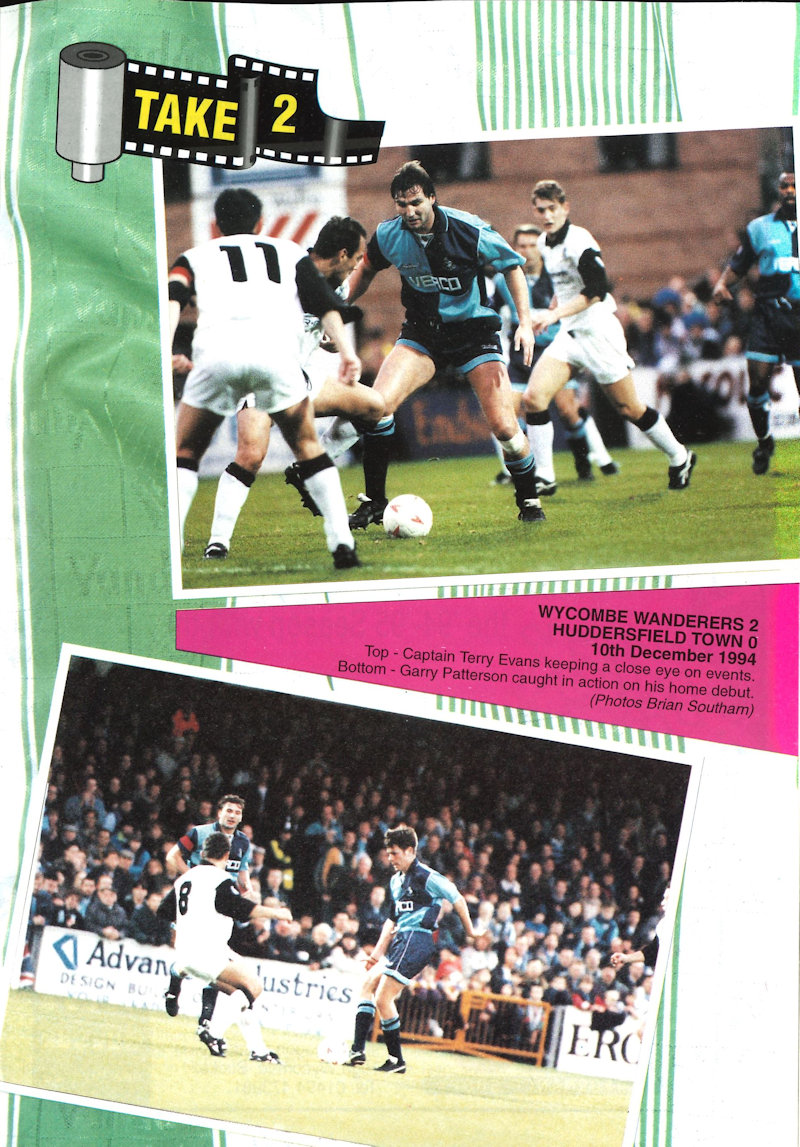 The atmosphere in the ground was electric during the next 45 minutes. Steve Thompson's penetrating runs from midfield at every opportunity unnerved Huddersfield. Tony Hemmings spurned two good chances - on 51 minutes when a good run ended with a poor finish, and on the hour the striker was slow to react to Thompson's perfect right-wing cross to his feet. Hyde had to be on his toes to deny Jepson's fierce free kick from 25 yards a minute later.

Wycombe equalised when Evans's shot from Thompson's cross was touched in by Booth. Francis tipped over a good shot from Hemmings on 74 minutes. Hyde kept Wycombe on course for a point when he saved Booth's header with his legs and blocked Bullock's follow up on 77 minutes.

Garner made it three [points] when he capitalised on Huddersfield's hesitation five minutes before the end. The visitors' defence expected the whistle to signal a free kick after Thompson was brought down just outside the 18-yard box. But it didn't come and Garner stole in to smash home a memorable winner.'


Wycombe: Hyde, Cousins, Brown, Crossley, Evans, Ryan, Carroll, Patterson, Thompson, Garner, Hemmings (sub 89 Turnbull) - subs not used: Langford, Moussaddik (GK)
Scorers: Booth 69 (OG), Garner 85
Bookings: Patterson 24 (foul), Thompson 61 (foul) – Red Card: Patterson 45 (second bookable offence)
Huddersfield: Francis, Trevitt, Cowan, Crosby (sub 82 Logan), Gray, Mitchell, Billy (sub 74 Dunn), Bullock, Booth, Jepson, Reid – sub not used: Blackwell (GK)
Scorers: Jepson 12
Bookings: Billy 45 (foul)
Referee: Ian Hemley (Ampthill)
Attendance: 6,790

Town boss Neil Warnock was not a happy may after the game, getting particularly annoyed at O'Neill's comments towards the referee, saying: "If I'd said what he said to the ref at half-time, I'd expect to be banned, sine die. Martin's all right when he's winning. We'll see what happens to him in a few years' time."

Meanwhile,Martin O'Neill responded by explaining: "If I'm accused of showing too much spirit, I don't deny it. We showed fantastic spirit and it won us the game." Commenting on his decision to stay at Wycombe, O'Neill added: "Promotion's my only goal at the moment. I'm always aware of what Jack Charlton said about overstaying your welcome. He felt five seasons was long enough at any club but such has been our success, I feel I've been here only five minutes."



Next game - Cambridge United v Wycombe - Friday 16th December 1994