Wycombe Wanderers 1
Swansea City 0
Saturday 1st October 1994
Football League Division Two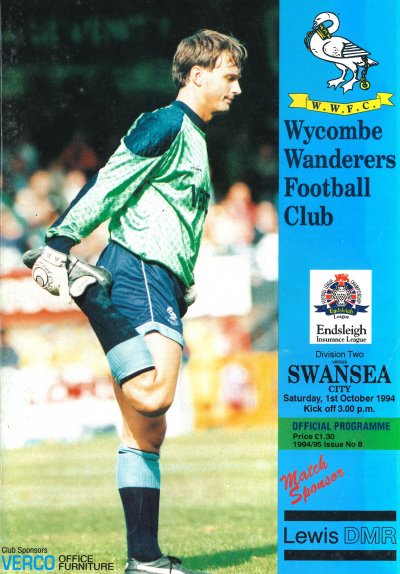 A fortunate goal from Dave Carroll was enough for Wycombe to see off Swansea City in their first ever League trip to Adams Park. The Welsh side had graced Adams Park the previous season in a Football League Trophy Semi-Final tie but crowd trouble at that game prompted local police to make this game an 'all-ticket' affair for both sets of fans, with City being limited to less than 200 of their 'trusted' fan base.

The 'all-ticket' conditions led to a predictably lower crowd than the traditional 'walk-up' scenario and subsequent bemoaning of the financial implications by the Wanderers commercial staff.

Wycombe's consolation was Carroll's winner against a side with an unbeaten away record in the 1994/95 campaign prior to travelling to Buckinghamshire. Martin O'Neill's side could also have won by a bigger margin, after seeing Jason Cousins miss his second spot-kick of the season. The result left Wanderers in 4th spot in the table with 19 points from their opening 10 games - above them were Huddersfield, Stockport and Oxford United.

Reporting for the Bucks Free Press at Adams Park, Claire Nash wrote: 'A flukey Dave Carroll goal gave Wycombe all the ammunition that was required to clinch victory against Swansea City on a surreal Saturday afternoon at Adams Park. The match atmosphere felt distinctly low-key with its all- ticket status, issued on police advice, slashing the crowd from an average of 5,788 to just 4,151, with a loss of at least £8,000 on the reduced gate. Security was stepped up outside and within the ground. The police were prepared for the return of Swansea hooligans who revelled in a destructive spree in a cup game last March.

Instead, a line of police and a team of their own photographers found themselves watching all of 100 respectful visiting fans sprinkled along the Hillbottom Terrace. "The police presence for the Swansea fans was like using a sledgehammer to smash a nut. It was a complete financial disaster for us," said Wycombe's marketing manager Mark Austin afterwards. He added that future League matches earmarked for all- ticket status, including those against Oxford, Birmingham and Cardiff, may now not have the change imposed. "I think a lot of good will come out of it because it was such a farce that it will never happen again," he said. At the other extreme, Wycombe showed their friendly side before the game with the new human-size Swan mascot Bluey making its debut to the delight of youngsters but the bemusement of most.

Adding to that the match itself — Carroll conjuring up a glorious bizarre winner from an intended cross, Jason Cousins having a penalty saved — left one with the distinct feeling that they had just watched an episode of the Twilight Zone.

Blues' welcome victory, which moved them into fourth place in Division Two, was hard-earned. They succeeded in breaking up Swansea's pretty patterns, after the visitors suffered from insufficient sting to make Wycombe struggle. Swansea skipper John Cornforth was allowed to dictate matters from midfield, and Wycombe's frustration in stemming the flow got the better of them. Matt Crossley was booked after trying to cut out Cornforth's precision pass to Cohn Pascoe on 13 minutes, but the Wycombe defender conceded a free kick after unceremoniously up-ending the latter on the edge of the 16-yard box. Within two minutes Steve Brown was cautioned for a foul on Jason Bowen who was unleashed by another Cornforth feed. Fortunately no one got on the end of the latter's free kick.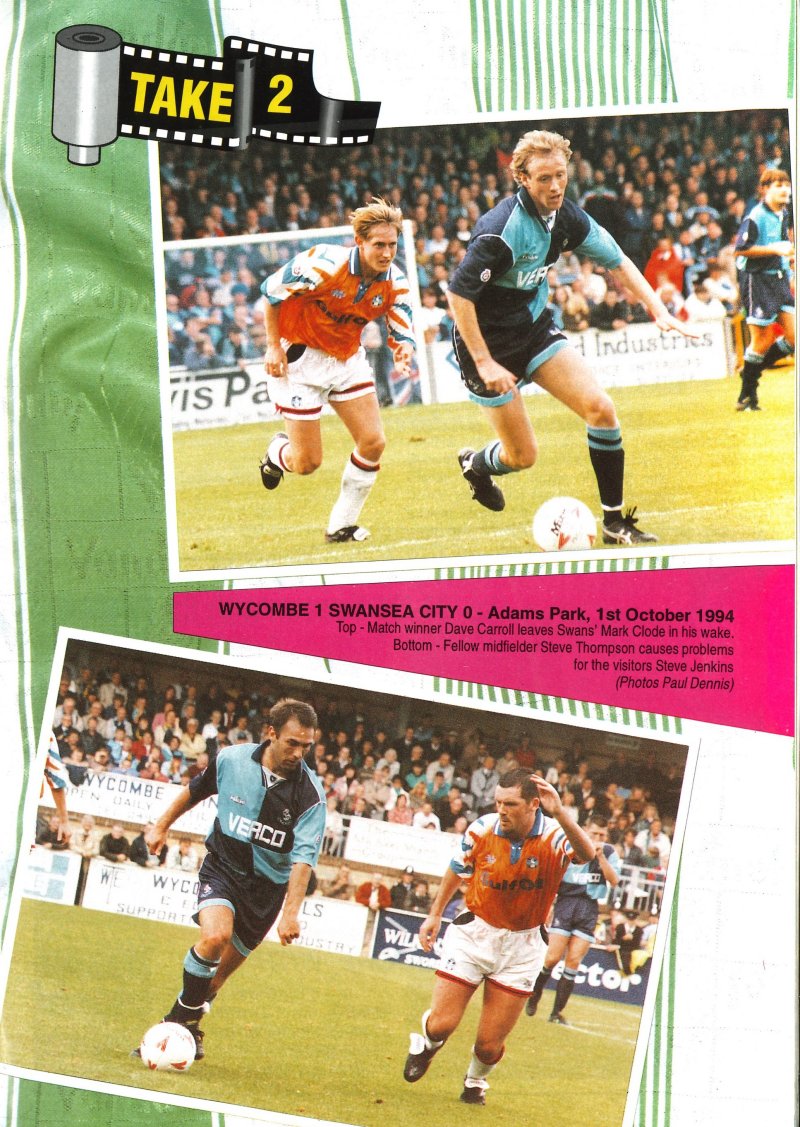 Wanderers responded at the other end, Roger Freestone making a great save from Garner's near-post effort from Cyrille Regis's cross. Wycombe secured their lead on 22 minutes after Carroll sped along the right before curling in a tricky cross from 30 yards out, almost on the touchline. Freestone was fooled by the flight, the ball hitting the near post and bouncing in. Flukey, it may have been, but the goal was gratefully received by the, up till then, quiet home crowd. Regis engineered a great chance for Garner two minutes later, the latter narrowly failing to connect with a cross that whistled- across the goalmouth. Paul Hyde did well to parry Pascoe's diving header from Mark Clode's cross on 33 minutes. But Blues were jolted just before half time when Garner limped off with a hamstring injury and was replaced by Tony Hemmings.

Swansea had the better of the opening second-half exchanges. The visitors appealed for a penalty after Pascoe went down in the box after a challenge by Cousins, but the referee waved play on. Swansea continued to press but still lacked a testing final ball. Their impatience began to manifest itself with a few yellow cards of their own. Wycombe stepped up a gear midway through the half, Crossley's glancing header going just wide on 56 minutes. Hemmings should have made more of a chance created by Turnbull, who impressed with a sturdy midfield performance. Turnbull, only previously used as a striker since joining Wycombe from Chesterfield last season, pulled the ball back after nipping it off Cornforth's toes. Hemmings, however, shot wide of the far post on 58 minutes. Freestone denied Wycombe their best opportunity to kill the game when he saved superbly from Cousins' 65th-minute penalty after Brown was scythed down by Ford.

Swansea stepped up their pressure to salvage a point. Hodge got into his stride with a series of dangerous right wing crosses, Torpey's flying header on 76 minutes was only inches away. It was their last clear-cut chance of the match. '


Wycombe:Hyde, Cousins, Brown, Crossby, Evans, Ryan, Carroll, Thompson, Regis, Garner (sub 26 Hemmings), Turnbull (sub 76 Stapleton 76) - sub not used: Mousssadik
Scorers: Carroll
Bookings: Crossley 13, Brown 15
Swansea City: Freestone, Jenkins, Clode, Ford, Harris, Pascoe (sub 80 Perrett), Bowes. Penney (sub 60 Ampadu), Torpey, Cornforth, Hodge – sub not used: Jones
Scorers: none
Bookings:?
Referee:
Attendance: 4,151

Speaking after the game, goalscorer Dave Carroll said "The cross just flew in. It was a bit lucky really. I hit it with a bit of pace. The keeper came out to get a cross and just misread it. Swansea had 80 per cent of the game. I think if we had scored the penalty it would have killed the game."

Carroll added that Wanderers now need to home in on cultivating consistency after a win-lose series during the past month. "That's the thing we need. We have another home game next week where we should pick up three more points, but no game is easy. Away from home we have got to be happy with a point although we are still trying to win."



Next game - Wycombe v Leyton Orient - Saturday 8th October 1994