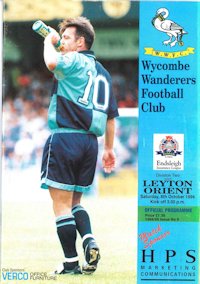 Wycombe Wanderers 2
Leyton Orient 1
Saturday 8th October 1994
Football League Division Two
Cyrille Regis put in a classy display as Wanderers continued their impressive start to the 1994/95 season with a 2-1 victory over Leyton Orient at Adams Park. The first ever League meeting between the two sides came after Steve Thompson replaced the injured Simon Garner compared to the starting XI that had beaten Swansea City at Adams Park seven days previous.

Victory over The O's kept Wanderers in 4th place in Division Two with 22 points from their opening 11 games. Leaders were Huddersfield Town on 24 points, 2nd Oxford United (24 points) and 3rd Stockport County (22 points). Meanwhile, Orient were now fifth from the foot of the table with just two victories and six out of six defeats on the road.

Reporting for the Bucks Free Press from Adams Park, Claire Nash wrote: Saturdayís match could have been tricky. Orient, who have not won away from home for nearly a year and have cash-flow problems behind the scenes, could have pulled out a performance to ignite a reversal in their decline. Wycombe had to be on their toes to stem Orientís second-half efforts to get back into the game. Regis displayed Premiership finishing when he put Blues ahead with a supreme volley after chesting down and turning on a six-pence to convert Jason Cousins free kick.

Orient, like Swansea last week, lacked sufficient punch up front to hit back. Thompson scored the second goal of the day against the run of play. Orient revived hopes of snatching a point when Andy Gray pulled one back with 14 minutes to go.

The visitors looked busy during the opening 15 minutes, but Blues hit back well on the break with Regis, Thompson, Dave Carroll and Keith Ryan working out some smooth moves. Wycombe picked up a rash of bookings in the first half, but Orient curiously did not when goalscorer Gray clattered into Blues keeper Paul Hyde while the latter was gathering up the ball at one point.

Stapleton kept Orient keeper Paul Heald preoccupied, curling in some testing shots which rounded off good approach play. Full backs Cousins and Steve Brown often pushed up in support. Thompson bulldozed his way through a crowd of Orient defenders only to shoot wide of the near post after Turnbull flicked on Carrollís cross after 28 minutes. Another attempt saw Thompson shoot into Healdís hands from Regisís first-time cross on 32 minutes.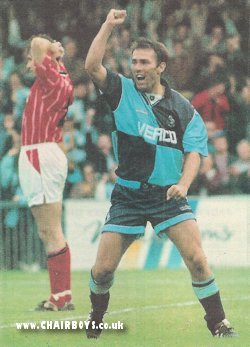 But still, while Wycombeís approach-work was inventive, they lacked the final ball. Nothing was lacking, however, when they went ahead through Regisís class finish. The striker judged Cousinsí long free kick perfectly when he walloped his volley into the back of the net, so emphatically that Heald and the Orient defence simply had no time to react.

Ryan got the second half off to a rip-roaring start on 46 minutes, going on a 40-yard run through the middle before playing the ball wide to Regis who in turn fed Carroll but the latter was off side. Orient stepped up the pressure to get back into contention. But Terry Evans, the Wycombe skipper and Matt Crossley looked unlikely to concede much to Orientís strikers Gray and Colin West. Evans and Cousins crowded out Grayís good run onto a long ball after 59 minutes. The visitorís main mover was lan Bogie who worked the ball around threateningly in midfield. Thompson picked the right moment to ease the pressure when he got a touch to Carrollís fierce cross from the right which completely bamboozled Heald on its way in at the near post on 73 minutes.

Orient pulled a goal back when Gray ran onto a long pass down the left and beat Hyde after his attempted chip hit the ground on its way in after 76 minutes. The last 15 minutes saw some last-gasp defending by Blues. They believed they had it all in hand. The final whistle, though, must have been a welcome sound to both players and fans.


Wycombe: Hyde, Cousins, Brown, Crossley, Evans, Ryan, Carroll, Thompson, Regis, Stapleton, Turnbull (sub 73 Hemmings) - subs not used: Hutchinson, Moussaddik
Scorers: Regis 34, Thompson 73
Bookings: Ryan 14 (foul), Regis 18 (dissent), Turnbull 40 (foul)
Leyton Orient: Heald, Howard, Austin, Bellamy, Hague (sub HT Purse), Sogie, Lakin, Cockerill, Gray (sub 87 Warren), West, Dempsey - sub not used: Turner
Scorers: Gray 76
Bookings: Hague 34 (foul), Austin 54 (foul), Cockerill 74 (dissent)
Referee: R Harris (Oxford)
Attendance: 5,668

Speaking after the game Martin O'Neill said: "We are grinding out results with a lot of heart and desire. Our wills against Swansea and Leyton Orient were two great wins for us. Twenty two points from 11 games is a massive return for us. You could almost say it is championship form." The Wycombe Manager added: "ďWe missed Simon Garner up front with his ability to chase for us. Keith Ryan did brilliantly for us by winning a lot of the ball. Stapleton did very well and Hyde did well when he was tested. Overall we have shown a commitment beyond our ability today." Meanwhile, O'Neill confirmed through his programme notes that he hoped to add to his squad shortly: "We hope to have a couple of new faces in our midst in the next few weeks. The reason (or blame) for their non-arrival earlier is entirely down to me. Life is certainly changing here when the Chairman and the Board are almost physically exhorting me to spending some money on new players. (Personally I think they would collapse if I told them that I wanted one player and he would cost the combined total of the Keith Scott and Steve Guppy transfer money). I have been reading disturbing stories recently about Premier Managers not even being made aware of players coming into their Clubs. (Almost as ludicrous a situation as making a Swansea League game all ticket). Why appoint a manager in the first place? Why doesnít the Chairman just grab a tracksuit and do the job himself? I wonder, would he sack himself after four or five weeks if he couldnít win a game? I am so lucky that no-one at this Club knows more about my job than I do! When I start taking advice I know thatís the day I should have packed it in."



Next game - Plymouth v Wycombe - Saturday 15th October 1994