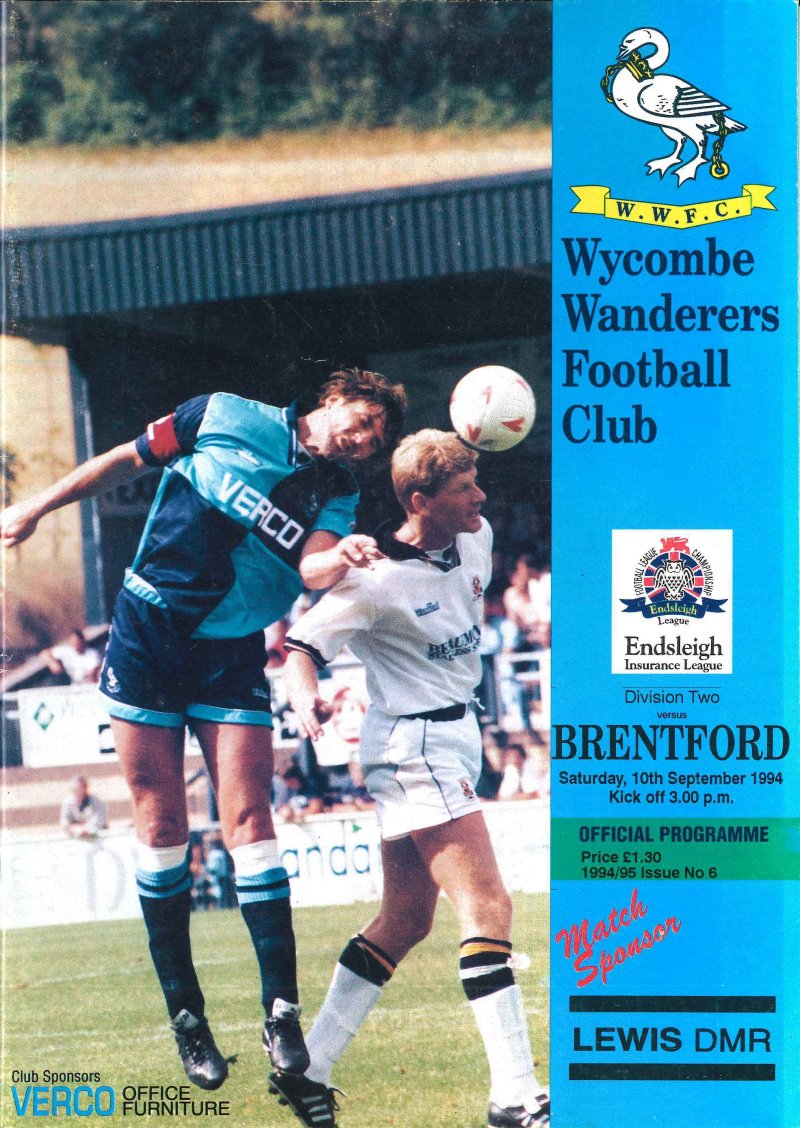 Wycombe Wanderers 4
Brentford 3
Tuesday 19th September 1994
Football League Division Two
Wanderers' 'veteran' strikers Simon Garner and Cyrille Regis bagged three goals between them as Wycombe overcame Brentford 4-3 at Adams Park. Victory came in response to a 2-1 reverse at Bradford City the previous weekend and left Martin O'Neill's side in 6th spot in the table, with 13 points from their opening six games in the third tier of English football.

Garner and Regis, with a combined age of 70, were grabbing most of the national headlines for Wanderers, with the former commenting: "Cyrille and I may not be as quick as we used to but we make up for it in experience." Meanwhile, Regis added: "We took all our chances, while they didn't. We needed this after Bradford. They gave us a right lesson in football."

Reporting for the Bucks Free Press at Adams Park, Claire Nash wrote:

'Strikers Simon Garner and Cyrille Regis tuned into a perfect frequency to secure a pulsating victory for Wycombe Wanderers on Saturday. The oldest strikeforce in the League turned on the skill factor to either create or score all of Blues' four goals against Brentford at Adams Park. Three were scored in an electrifying last 30 minutes, during which time five were netted altogether. They were totted up in Wycombe's favour, but despite twice having a two goal lead, Blues conceded enough to allow Dave Webb's men to claw their way back into contention.

The kitchen sink would not have been misplaced at Adams Park on Saturday in a game that had pretty much everything else on display. The whole match, in fact, ran the gamut of skill, or lack of it, by both sides, but it ensured the punters went home happy, although Brentford and their supporters will feel aggrieved they did not pick up at least a point.

Wycombe, indeed, had the superb finishing of Garner and Regis to thank for putting them in a winning position.

There was a minute's silence before the game for Wolves and England legend Billy Wright and Wanderers club stalwart John Roberts. The gesture was a sombre opening to the afternoon. But the entertainment which followed, particularly latterly, and the spirit in which the game was played, both on the pitch and on the terraces, was a fitting tribute to both their memories.

Wycombe skipper Terry Evans, adored by Blues supporters, was warmly received by the visitors' fans, who similarly worshipped him during eight years at Brentford. Both provided the stalwart centre half with sufficient inspiration to secure a perfect start for Wanderers, his farpost header converting Regis's overhead flick after just eight minutes. But Brentford recovered their composure and soon wiped out the advantage. Robert Taylor pounced on Blues' failure to clear Lee Harvey's cross on 16 minutes. Wycombe keeper Paul Hyde blocked Taylor's first effort, but the striker put the ball away at his second attempt. Brentford went on to control the majority of possession as the interval neared.

Paul Stephenson had a shot go wide of the far post after Nick Forster's cross found him unmarked on 44 minutes. Wycombe's defence and swamped midfield had been ominously opened up with a good ball through the middle by Paul Smith. Brentford continued in much the same vein in the second half, but for all their domination, they almost flattered to deceive.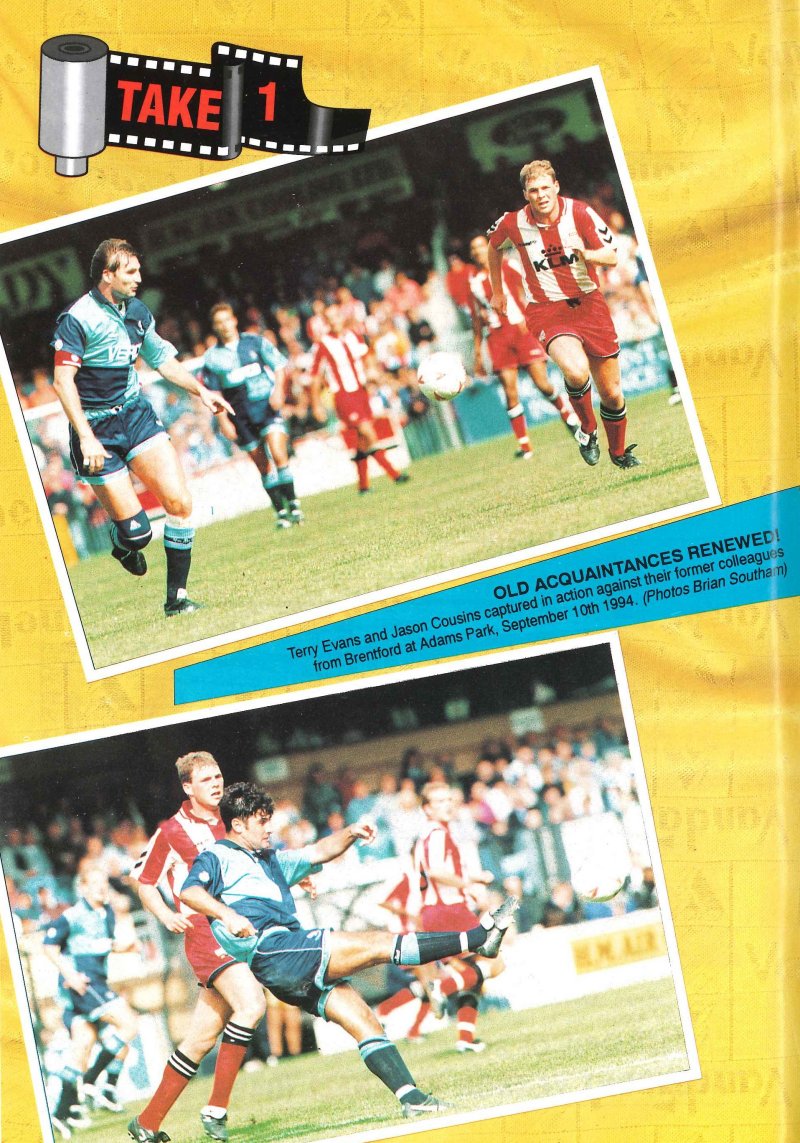 The opening to the half was bizarre. Taylor tried to chip Hyde from the half-way line after Forster tapped the ball to him from the kick-off - not a bad option to try with the wind becoming as unpredictable as the play was to be later on. Forster, a £100,000 closeseason buy from Gillingham, no doubt bore the brunt of Webb's frustration at his side's failure to finish. He spurned one of Brentford's more clear-cut chances when he put a free header wide from Stephenson's cross after 51 minutes.

Wycombe's attack, meanwhile, was struggling to get a foothold. The next 30 minutes, though, saw them soar to the sublime and then stumble with a smattering of the ridiculous. The turning point was Garner's double whammy. Steve Thompson, so often relied on to provide the spark which lights Blues' touch paper, carved the the first goal. The attacking midfielder dodged two defenders before squeezing in a near-post cross which Regis knocked down for Garner who spun away from Brentford's Jamie Bates before drilling the ball home from six yards. Then Garner got by with a little help from Wycombe's ex-Brentford connection. Bees goalkeeper Kevin Dearden was left in no man's land when he was distracted by Evans' challenge when both went up for Jason Cousins' free kick from just inside the half way line. Garner snuck in and put the loose ball away.

Brentford, to their credit, kept plugging away. Hyde made a great save from Taylor's snapshot on 80 minutes. Within a minute they recovered some of the lost ground when Stephenson's shot was deflected in by Cousins. Gamer supplied Regis with sufficient ammunition to restore the gap three minutes later. He somehow steered a pass from substitute Andy Turner down before flicking it to the incoming Regis, the latter producing a majestic diving header that left Brentford's defence rooted to the spot.

The visitors hit back with a similar unstoppable velocity, though. Harvey fired in a fierce cross on 89 minutes which Cousins, completing a mixed day against his old club, put past Hyde before either full back and goalkeeper knew what had hit them. Although it was fast, furious, and ultimately three points for Blues, it certainly wasn't a smooth ride.


Wycombe: Hyde, Cousins, Skinner, Crossley, Evans, Carroll, Thompson, Regis, Garner, Stapleton (sub 79 Turner) - subs not used: Langford, Moussaddik (GK)
Scorers: Evans 8, Garner 65, 69; Regis 84
Bookings: Skinner 6 (foul)
Brentford:Dearden, Hurdle, Grainger, Hutchings, Bates, Ashby, Smith, Stephenson, Forster (sub 78 Mundee), Taylor, Harvey - subs not used: Ratcliffe, Fernandes (GK)
Scorers: Taylor 16, Stephenson 81, Cousins og 89
Bookings: Hutchings 28 (foul), Harvey 79 (foul)
Referee: M Bailey
Attendance: 6,847

Speaking after the game Wycombe manager Martin O'Neill was delighted with the outcome, but was also mindful of self-inflicted horrors which resulted in the initiative slipping from their grasp earlier on, commenting "We were under the cosh for a lot of the game. I said to Dave Webb that they should consider themselves unfortunate that they did not collect anything today. But our finishing was fantastic. There would have been long odds on us scoring four goals."

Looking ahead to Wanderers' next game (at home to Hull), O'Neill added: "No game is an easy game and this is no exception. We have not got the quality, never mind the quantity necessary at the moment. I am continuing to look for players that are better than what I have, otherwise there is no point in getting them." But he added: "For us to have 13 points from six games, is outstanding."



Next game - Wycombe v Hull City - Saturday 13th September 1994