Bradford City 2
Wycombe Wanderers 1
Saturday 3rd September 1994
Football League Division Two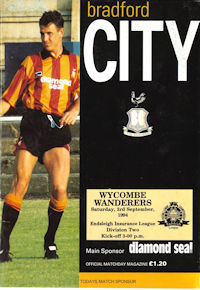 Wanderers lost for the first time in Division Two – going down 2-1 at Bradford City with a heavier defeat only quelled by a superb goalkeeping display by Paul Hyde. Wycombe's small consolation on their first ever visit to the historic ground was a last minute penalty conversion from Jason Cousins.

With a famous victory at Birmingham the previous Tuesday fresh in the mind, this was always going to be a stern test for Martin O'Neill's side against a big spending City side keen to gain move up the divisions.

With a fairly skeleton squad at his disposal, O'Neill brought in new signing Justin Skinner for his first start since signing from Wimbledon. Skinner replaced the injured Andy Turner. Meanwhile, Steve Brown and Simon Stapleton continued in the full-back roles but had an unhappy afternoon dealing with the likes of Carl Shutt, Shaun Murphy, John Taylor and Paul Jewell.

Defeat at Bradford saw Wanderers drop to 5th place in the table, with Bradford climbing to third behind leaders Crewe and 2nd placed Oxford United. Wycombe would host 6th placed Brentford in the next League match with Wanderers defenders Jason Cousins and Terry set to line-up against their former Club.

Reporting for the Bucks Free Press at Valley Parade, Claire Nash wrote:

'Wycombe Wanderers' unbeaten League run was brought to a grinding halt at Valley Parade on Saturday. Bradford City showed Blues the way to go home - and consider an alternative plan of action for their next sojourn in a tour of Division Two.

The trip into unchartered territory has had all the mystery thus far, but not always the magic. Bradford supplied the latter on their home patch. Wanderers' Paul Hyde, despite conceding Blues' first goals of their current campaign, chipped in as well. His outstanding saves made the score-line more flattering than it suggests for Wycombe. The goalkeeper's second-half acrobatics defied a purple patch by their hosts, but only for so long. An 89th minute penalty· by Jason Cousins pulled back the deficit. By then, Wanderers' weaknesses, masked during last week's Birmingham victory with a healthy helping of industry, application and a good dollop of grit had already been laid painfully bare for all to see.

Bradford, believing their mission was comfortably accomplished after a disappointing defeat against pacesetters Oxford United in midweek, sat back during the dying moments. Blues encouragingly plugged away in the chilly drizzle to snatch some consolation. It arrived in the form of a 50/50 penalty decision after Simon Garner appeared to be pulled down. Cousins made no mistake this time after last week's miss against Bristol Rovers. Wanderers will now ponder what they have to do against Brentford this Saturday at Adams Park - the incentive for skipper Terry Evans and Cousins to get the better of their former club possibly having a major bearing on the outcome.

On Saturday, though Bradford, enjoying a resurgence under free-spending new boss Lennie Lawrence, put on a slick display. City were impressive in every department, particularly on the flanks where Carl Shutt, on loan from Birmingham, and Shaun Murray succeeded in running Blues' full backs Steve Brown and Simon Stapleton utterly ragged. That, together with the riches of forwards John Taylor, a £300,000 close-season signing from Bristol Rovers, and Paul Jewell, was a daunting combination to quell.

Bradford's offensive had Blues backtracking from the off - Cousins conceding a free kick and being booked after just six minutes. A few seconds later Jewell, the country's leading goal scorer, flicked the ball home after Taylor headed down Chris Kamara's cross from the left.

Wanderers endeavoured to settle, Dave Carroll firing over after good work by Cyrille Regis and Steve Thompson on 20 minutes. Bradford responded through Taylor who was thwarted by Hyde at the near post after Shutt's right wing cross created the opening. Efforts by Lee Sinnott, Jewell and Taylor caused further disarray within Wycombe's defence. Blues, reliant on hitting Bradford on the break flickered just before the interval when Thompson let fly from 25-yards after Carroll's layoff, but his shot was wide of the near post.

Bradford bombarded Blues after half time. Hyde: pulled off a series of inspirational stops and blocks. He denied Richard Liburd twice on 48 minutes before steering Jewell's rasping shot out for a corner a minute later. Hyde then somehow got his foot to Dean Richards' header from the resulting corner. Kamara followed up, but his header was too high.

It was only a matter of time before Bradford swooped for the kill. They did, eight minutes· later. Shutt had a free header from six yards after Murray's cross completely wrong-footed Blues' defence.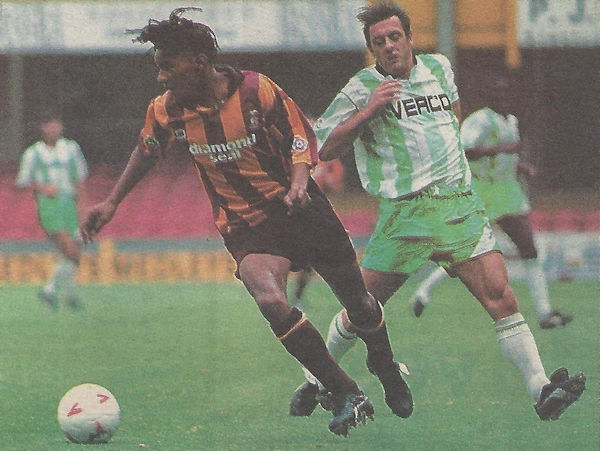 O'Neill reorganised his resources, substituting Brown with Hutchinson in the hope of providing more width which was lacking as a result of Andy Turner being side-lined with a hamstring injury. Matt Crossley returned after three weeks out with a thigh problem when he replaced Stapleton on 61 minutes. The central defender took up his usual post, while Cousins moved into central midfield. The switch did not pay immediate dividends, Bradford's momentum continuing unabated. Jewell's meaty shot, which Hyde had well covered, followed another good build-up. Taylor had a header go wide of the near post on 64 minutes.

Carroll tried to kick-start Wycombe's revival, his long ball finding Garner, but the out-of-sorts veteran striker was crowded out by Bradford keeper Paul Tomlinson and Phil Babb look-a-like Richards. City came close to getting a third goal on 81 minutes, Hyde blocking Taylor's shot and Ryan doing likewise with Murray's effort from the rebound.

Wanderers enjoyed their best spell during the last five minutes, Garner going on a good jinking run, and Ryan's header went close. The penalty resulted after a move orchestrated by Regis. Thompson threaded the striker's pass to Garner who appeared to be brought down to earth with a bump by Liburd. Cousins tuned in his trajectory to beat Tomlinson from the spot.'


Wycombe: Hyde. Cousins, Skinner, Brown (sub 60 Hutchinson), Evans, Ryan, Carroll, Thompson, Regis, Gamer, Stapleton (sub 61 Crossley) - sub not used: Moussaddik (GK)
Scorers: Cousins 89 (penalty)
Bookings: Cousins 6 (foul), Regis 71 (foul)
Bradford City: Tomlinson, Liburd, Jacobs, Duxbury, Sinnott, Richards, Shutt, Kamara, Taylor, Jewell, Murray - subs not used: Robson. Power, Sinclair (GK)
Scorers: Jewell 6, Shutt 59
Bookings: Duxbury 25 (foul)
Referee: : I Cruikshanks (Hartlepool)
Attendance: 8,010

Wycombe boss Martin O'Neill spoke about the defeat at Bradford in his programme notes the following week, saying: "Bradford City last Saturday showed us plenty about life in the Second Division and what sort of standards will be required to have any degree of success in this League. This season Bradford City have spent a million pounds in an attempt to win promotion, and on the day they left us trailing in their wake. They beat us very convincingly indeed and only Paul Hyde's heroics kept the score supposedly respectable. If we felt that lessons were to be learned against Brighton, the Bradford performance re-emphasised the hazards that lie ahead in the coming months, if I don't do anything to put it right."

O'Neill also sent get-well wishes the Club Chairman Ivor Beeks; "Mr Beeks has been feeling unwell recently (I think he got to hear about the Bradford Chairman shelling out a million pounds for players last week and went weak at the knees). We honestly want to see him back at Adams Park as soon as possible, because - and I cannot believe I am saying this - we actually miss him down here interfering in our lives. So get back soon, lvor. I'm just pleased you missed Bradford last week."



Next game - Wycombe v Brentford - Saturday 10th September 1994