Wycombe Wanderers 2
Colchester United 5
Saturday 18th September 1993
Football League Division Three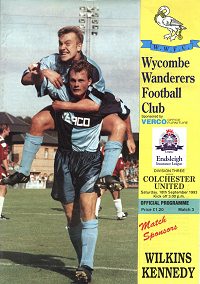 Wanderers unbeaten start to their 1993/94 Football League campaign came to a crashing halt as they lost 5-2 at home to old rivals Colchester United at Adams Park. Wanderers had taken a 31st minute lead through a Keith Scott penalty but the day started to turn sour when Jason Cousins was sent off for a delibrate hand ball and denying a clear goal scoring opportunity. The decision didn't go down well with Martin O'Neill who continued his lambasting of the officials and everything Colchester in the post match interviews and the following game's programme notes. Read the full rant here as published in the 10th anniversary retro by chairboys.co.uk
Other news in the week leading up to the game saw striker Mark West loaned to Conference side Kidderminster Harriers for a month but that move hit a set-back when 'Westy' broke his leg in his first game and was expected to be out for three months. Elsewhere, Martin O'Neill brought in Birmingham City ' young left-back Graham Potter on a month loan, while Anton Vircavs (on loan at Wycombe during the closing stages of the 1992/93 season and training with Wycombe pre-season) joined Witney Town.
Meanwhile, tickets for the League Cup meeting with Coventry City were selling well with prices set at £10 (no concessions) for the First Leg at Highfield Road on Wednesday 22nd September 1993 and £6 for adults, £2.50 concessions for the Second Leg at Adams Park on Tuesday 5th October. It was expected that around 4,000 Wycombe fans would travel to Coventry for the meeting with the Premier League side.

Wycombe: Hyde, Cousins, Crossley, Kerr, Evans (sub 77 Potter), Ryan, Carroll, Langford, Hayrettin (sub 63 Hemmings), Scott, Guppy - Sub unused: Moussaddik (GK)
Scorers: Scott 18 (penalty), Langford 49
Bookings: sent-off Cousins 31 (deliberate handball)
Colchester: Keeley, Betts, Roberts, Kinsella (sub 50 Grainger), English, Cawley, Dickens, Brown, McDonough, McGavin, Smith - subs unused: Alpress, Munson (GK)
Scorers: Kinsella 44, McGavin 59, McDonough 65, Grainger 74, Brown 89
Bookings: Roberts 17 (foul), McDonough 18 (ungentlemanly conduct), Cawley 38 (foul and dissent)
Referee: Mr C Wilkes
Attendance: 6,025
What the papers said:
Bucks Free Press - Claire Nash reporting from Adams Park: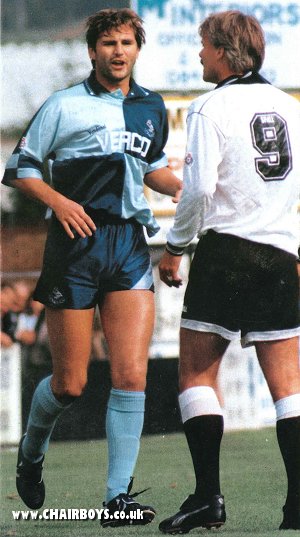 I DONíT BELIEVE IT
TV star Victor Meldrew's favourite expression summed up Blues boss Martin O'Neill's feeling about seeing his captain sent off on Saturday against arch rivals Colchester.
"It was an unbelievable decision. To me it completely changed the complexion of the game. We were absolutely comfortable in the game up to that point."
Wycombe had started strongly leading from Keith Scott's 18-minute penalty, awarded after Tim Langford was scythed down by United's Paul Roberts. But it was in the 31st minute that referee Clive Wilkes saw the Blues' right back handle the ball when he slipped while trying to block Colchester forward Steve McGavin's attempts to break through from midfield.
O'Neill said: "The rules say a player should be sent off if he handles the ball deliberately when the opposing player is in a clear goal-scoring position. But this was not the case. There were many players from both sides Still around."
A Football Association spokesman confirmed O'Neill's interpretation of the rule book, but added: "It is up to the referee to take what he thinks is the appropriate action." Jason Cousins, who faces a one match suspension for the Chesterfield fixture, but should be back in the home match against Coventry, said, "I thought the referee would book me and that would be the end of it. I couldn't believe it when he said he had no alternative but to send me off. It was awful watching the rest of the game, and I must take some of the blame for that."
Colchester's ' player/manager Roy McDonough, said: "Probably the game changed when the lad went off. The referee started the game handing out bookings and sendings off willy-nilly. Some Football League officials do leave a lot to be desired." But McDonough, whose side was hammered 5-2 by Rochdale the week before, was delighted at putting one over Wycombe in such comprehensive fashion. "I was crucified last week. But this was always going to be one of the biggest games of the season, with the result being more critical because of the rivalry."
Colchester sealed their win in front of a 6,025 crowd with a purple patch of finishing where three second half goals in 15 minutes effectively killed off the Blues. The stage had been set for a thriller. But a healthy expectant hum on the terraces was marred when supporters interrupted a minute's silence for Football League official Frank Martin.
Colchester's Mark Kinsella wiped out Wycombe's advantage with a crisp 44th-minute equaliser, but Tim Langford gave Blues a glimmer of hope at the start of the second half with a superb strike when he turned and lobbed keeper John Keeley in one slick manoeuvre from 25 yards out.
Guppy consistently caused Colchester problems throughout, picking off Simon Betts with ease. But it was not enough. Second half substitutes Tony Hemmings and 19-year-old Graham Potter, at Wycombe on a month's loan from Birmingham City, ultimately failed to shore up Blues' staying power which Colchester emphatically snuffed out.
"I was disappointed we did not hold on better for the last 35 minutes, but we should get it right for Coventry," said O'Neill. McGavin claimed United's third after his 59th-minute shot took a cruel deflection off Terry Evans. McDonough capitalised at close-range six minutes' later on Alan Dickens' 40-yard rocket which Blues keeper Paul Hyde found too hot to handle.
Grainger produced a 35-yard master-blaster in the 74th minute after taking the ba,ll down the left flank. Then Steve Brown rammed the last nail in Wycombe's coffin after strolling through Blues over-stretched defence to score Colchester's fifth with an unstoppable long-range rocket.