Wanderers began September 1993 with a home game with Gillingham. The visitors were disrupted in their build up to the game after they were held up in heavy traffic on the M25. The Gills Player-Coach Neil Smillie had made his own way their from his home in Reading and was forced to hand in the team sheet on a sheet borrowed from Wycombe before his team-mates eventually arrived. Smillie, who was later to become Wycombe Manager, then led out the Gills in their first ever game at Adams Park.
In a tight game it was Keith Scott who eventually put Wanderers ahead when he converted a penalty afetr Dave Carroll had his shirt pulled. However, the visitors levelled close to full time when Nicky Forster got past Andy Kerr on the right bye-line before shooting past Paul Hyde from a narrow angle.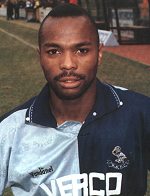 Martin O'Neill made another signing in erly September, bringing in left sided striker Tony Hemmings from Northwich Victoria for an initial £25,000 fee. The 25 year old made his debut when he came on as substitute in the Division Two game at Bury on 11th September and he made an immediate impact.
Wanderers had taken a first half lead at Gigg Lane when Terry Evans had nodded the ball back from the left for Andy Kerr to convert from close range. The home side pressed for an equaliser but found Paul Hyde in excellent form. The after Hemmings had been introduced the former Vics man won the ball down the left wing before crossing for Tim Langford to knock home with his second touch from six yards. Luther Blissett pulled a goal back for the home side but Wycombe clung on for three points and jump to 4th place in the League.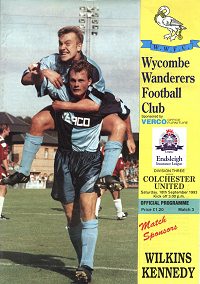 Colchester United were the visitors to Adams Park on Saturday 18th September 1993 and it was the Essex side who got the better of Wycombe again following a controversial sending-off. Tim Langford had been scythed down after 20 minutes for a penalty and Scotty did the honours again from the spot. Wanderers then went on to hit the visitors' crossbar but after Colchester had cleared their lines, Jason Cousins slipped just inside his own half and instinctively put his hand out to stop the ball. It was deemed a clear goal scoring opportunity and Cousins was red-carded. Kinsella went on to equalise with a 20 yard strike for United but following the interval Langford's brilliant dipping shot following Hyde's long clearance and Scott's knock down restored Wycombe's advantage.
But it was the visitors who dominated the remainder of the game. They equalised again after Steve McGavin's shot was deflected past Hyde by the head of Evans. The the U's then took a 3-2 lead when Peter Cawley's strike from the edge of the box was beaten down by Hyde only for Roy McDonnaugh to haunt the Valley End by converting the loose ball. Grainger added a fourth for the visitors when he hit an angled strike from the left flank and then U's midfielder Steve Brown completed the rout by making the final score 5-2 with a low shot from the opposite wing.
Some Wycombe followers may have been speechless after the game but it was Martin O'Neill who made a welcome return to the matchday progarmme the following week and couldn't help himself but to mention the game versus the boys from Essex, writing "Saturday's result against Colchester United was a major disappointment, but the worst news of the day came about an hour later when we learned that Mark West had broken his ankle in his first game on loan to Kidderminster Harriers. Needing some first team games to get himself properly match fit, Mark signed for a month with the Vauxhall Conference Club hoping to recapture the goal form which made him such an excellent player and such a popular figure with the Wycombe supporters. I wish him a speedy recovery, as I do with David Titterton and Simon Stapleton. Both entered hospital last week for knee and ankle operations respectively and while we are not expecting to see too much of them in the net few weeks we hope that, like Mark West, both make full recoveries. On Saturday we eventually were well beaten by our old adversaries. Please don't take this as a "sour grapes" type of retort but I honestly believe had we played the other 65 minutes with 11 players we would have beaten them. The sending-off of Jason Cousins changed the course of the game. We were leading 1-0 and looking quite comfortable when the referee, amidst a flurry of yellow cards for Colchester players, produces the Red Card for deliberate hand ball. I thought then the decision to be harsh, and having seen video evidence, I still have no wish to change my mind. I suppose I somewhat cynically feel that if the Colchester player had been able to extract a probable goalscoring opportunity from a still relatively disadvantageous position he shouldn't really be playing for Colchester but plying his trade with Lentini Baresi and Van Basten. Still, ours not to reason why!! At least Paul Roberts, the megastar who wore No. 3 for Colchester - yes, he of Southend Reserves and Fisher Athletic fame - made me smile on Saturday. Having made an outrageously "amputational" tackle on Tim Langford to concede a penalty he gesticulates to the referee that he had played the bali. Seriously Paul? Wait a minute this is sounding like sour grapes. We were well beaten in the end by a very useful team.
Nice to see the Colchester supporters have spent the whole summer in a Swiss School of Etiquette. Their observance of the minute's silence was in keeping with the standards we have come to expect from them - I really must sue 700 of them for racial abuse directed at myself.
Having now played seven games in the E.I. Football League we are in a slightly better position to voice opinions on how we will fare for the rest of the season. The players have found the going quite tough, each game being very physically demanding. But, Colchester apart, we have coped reasonably well and I genuinely believe that if we can hang on in there for the next few months we will get stronger, both physically and mentally. A memorable season still lies ahead. Famous last words!!!"
O'Neill concluded his notes by saying "The support once again this season has, in terms of numbers, been overwhelming. The vocal support away from home has been glowingly talked about at the visited clubs. It has been a very costly business indeed this season and unbelievably appreciated by the players and myself. So far our League performances at home have not been too clever but in truth the only one who has consistently moaned to me about it is my wife. Not strictly true, Graham Peart mentioned in passing that the last Wycombe manager whose team conceded five goals at home was dismissed the following week. If this happens to me I don't suppose I will be in line for the Community Officer's job at Colchester". Click here to read more



1993-1994 index