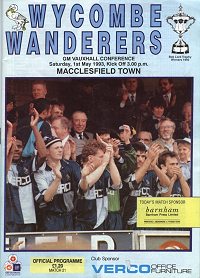 Saturday 1st May 1993 saw Wanderers play their final Conference game. The home fixture with Macclesfield won't be remembered too much for the football played, although the 1-0 victory for the visitors preserved their Conference status and sent Farnborough Town down.
Writing in the programme prior to the game Martin O'Neill gave his summary of the season in his usual open, honest and down to earth style. They are reproduced in full below.
"Welcome everyone to the final Vauxhall Conference League game we hope Wycombe Wanderers are ever going to play. Our opening fixture of the season last August against today's opponents Macclesfield seems an eternity away and occasionally during the course of the year so did the Championship. But the players, aided magnificently by yourselves, showed enough ability and resolve to pull through and I don't think that anyone would deny that over the season we have proved ourselves to be the best team. Perhaps with Wembley approaching and the possibility of an even more wonderful climax to the year, today should not yet be the time for bestowing accolades on individuals but I'll take this opportunity anyway.
Paul Hyde again has had an excellent season. After his heroics the previous year, culminating in him being voted Player of the Year by you, expectations were high for him and he has not failed. Jason Cousins could not have done any more in his efforts forthe Football Club. He has been a Rock (almost literally at times) in our defence with a great never-say-die attitude. As I am writing ( can already hear a few "tut-tuts" from a few in the stand who might substitute the word "rash" for never-say-die but for those who, I am told, hurled a bit of abuse in his direction after his sending off against Woking I will gladly show you video evidence to prove what a ludicrous decision it was by the referee. Anyway, we would not have achieved promotion to the Football League without Jason Cousins. Glyn Creaser, as I've stated many times before, was a massive loss to us. Had he been fit we could possibly have taken our holidays in March but it wasn't to be. However, Matt Crossley, who is beginning to acquire his own fan club around the ground - at least that's what he tells me came in to play in his "proper" position and has been brilliant. Matty also tells me that he can play equally as badly at left back as any of the other 14 players I've tried there - in the last three weeks Steve Guppy is, still in my own opinion, the best Left Back at the Club!!!!
Andy Kerr has spent more time watching our games than actually playing so his season has been hard to evaluate but when he's right Andy has no peers at this level. Up to Christmas Stapleton was out on his own as the most influential player, not only in the club, but perhaps in the Conference itself. He sustained a few niggling injuries, played everywhere else for me other than his favourite position, but was just coming right back to his best when he broke a bone in his foot. He is running again and has told me even at this stage not to rule him out for Wembley. I won't! If our great start to the season proved eventually decisive, then Stapleton has earned his praise. - Keith Scott, I hate to say, has been simply fantastic this season. I know I talk a lot (too much according to referees and linesmen) - but Scott talks for England!! This season he has, I admit, something to talk about. If he had 1/l0th of the ability his confidence suggested he had, he would be the greatest footballer who ever lived. Still, he'll do for us at the moment until I get a reasonable replacement. Hopefully that shouldn't be too difficult.
Despite the above mentioned, Steve Guppy is for me the Player of the Season. And for a winger to remain as consistent as he has done for over seven months of the season says plenty about the lad. I sometimes feel that sections of the crowd expect miracles from him. He has, on occasions this season gone close to providing such miracles. And if I had any more time to write before these notes go to press, I could make him feel rather big headed. Suffice to say that the person he has to please most on the field of play - sorry fans, I meant me, has made him man of the season.
Despite the efforts of the players mentioned and rather significant contributions from Casey, Hutchinson, Carroll, Ryan, Steve Thompson, no Wycombe Wanderers Football team would have gone anywhere this season without you. That I mean from the bottom of my soul. Thanks.."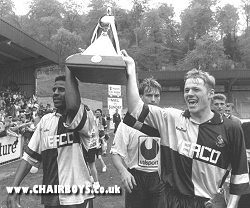 O'Neill's side were applauded onto the pitch by the Macclesfield players prior to the game and even paraded a 'Congratulations' banner in front of party expectant crowd of 5,748. In the end it was Roy Green's goal after 66 minutes that settled a dour contest where Wanderers welcomed back midfielder Simon Stapleton after his foot injury. But while Macclesfield rejoiced their survival at the final whistle, it would not overshadow Wycombe's own celebrations. The Conference Trophy, flag and medals were presented on the Adams Park balcony before the players and management took their lap of honour before the fans on a day never to be forgotten. The celebrations continued in the club bars after the game with Martin O'Neill even attempting to apologise for the display against Maccesfield, commenting "I have spent time apologising for our performance. I was nearly going to say we were dreadful today but I don't think we were even that good". Of course the result was irrelevant and all eyes were now on the Trophy Final - a full eights days away on Sunday 9th May 1993 and with no games to play inbetween! The only thing O'Neill had to think about was his team selection for the Final and the small matter of a job offer from Nottingham Forest.

[Previous - Drinkwise loss as season draws to close] --- [Next - Trophy Glory 1993]