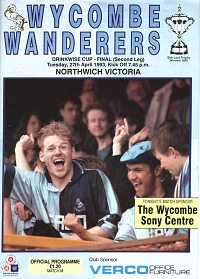 With the Conference Championship in the bag, Wanderers still had a two legged Final of the Drinkwise Cup to complete, as well as looking forward to a FA Trophy Final at Wembley against Runcorn. It would mean that by the end of the season Wycombe would have completed a staggering 59 competitive First Team fixtures.
Northwich Victoria were the opponents in the Drinkwise competition and the First Leg at The Drill Field on Tuesday 20th April 1993 ended 0-0. The Second Leg at Adams Park on Tuesday 27th April 1993 proved to be more exciting but one of the few disappointments for Wycombe during this memorable season. Martin O'Neill left out Andy Kerr who was suffering from a hamstring strain and Steve Thompson was unavailable due to RAF representative commitments. Meanwhile Tim Langford was cup-tied leaving Mark West to play up front alongside Keith Scott.
Despite the changes, Steve Guppy gave Wycombe the lead after just three minutes. Gordon Davies equalised for The Vics just after the break from a Tony Hemmings cross but a remarkable treble looked on the cards when West put Wanderers 2-1 ahead with six minutes of normal time remaining. However, The Vics hit back again with a last minute equaliser through Davies and the same player spoilt the night for Wycombe when he completed his hat-trick with another goal seven minutes into extra-time. After the game there was no hiding the disappointment for the Wycombe players, Paul Hyde commenting "I feel sick. You enter competitions to win them, not to lose them. The treble was there to be had"
In between the two games with Northwich Wanderers played their penultamate away Conference fixture with the trip to Telford United on Saturday 24th April 1993. It turned out to be a memorable day for ex-Telford striker Tim Langford but not before an early shock for the travelling fans.
Goals inside the first seven minutes from Michael Moore and Marcus Bignot gave the home side a 2-0 lead and who would have blamed the Wycombe players if their heads had dropped. But they had other ideas, with Dave Carroll particularly influential in midfield. On 19 minutes Langford converted from a low cross and six minutes later Carroll's cross from the bye-line ended with a tap-in for Simon Hutchinson to level the scores. The comeback was complete on 34 minutes when Hutchinson's stinging shot was only parried by the Telford 'keeper and Langford bravely dived in to head home for his second and Wycombe's third.

Wanderers last ever away game in the Conference came on Thursday 29th April 1993 at Stafford Rangers and provided the chance for Martin O'Neill to give a run out to some of his squad players. He 'rested' seven of his regular First Teamers, giving front men Trevor Aylott, Ty Gooden and Paul Barrowcliff rare starts. Also in goal for only the second time in the season was the legendary O'Neill impersanator Chuck Moussaddik.
It was Moussaddik who was chief entertainer for the evening. His antics included completely mis-kicking a back pass and then recovering in time to clear the ball of the line. He then produced a string of saves to deny the home forwards and all inside the first 30 minutes. To rub salt into the Stafford wounds, Moussaddik then wellied a 38th minute ball up field for Aylott to flick on and Langford to lob the ball over the advancing Ryan Price for the only goal of the game.
The completion of the game at Stafford left Wanderers with just one more Conference game to play (at home to Macclesfield). It would be the day that Wycombe would be formally presented with the Conference Trophy at Adams Park and also give the chance for the players and staff to parade the silverware in front of the fans.

[Previous - Wanderers clinch title] --- [Next - Championship celebrations]