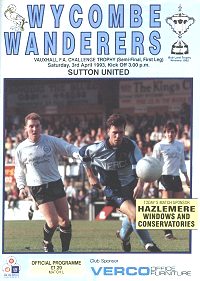 Wanderers went into the first-leg of the FA Trophy Semi-Final against Sutton United on Saturday 3rd April 1993 with a few injury problems but still full of confidence of over-turning the Ryman League side. Out of the side were Keith Scott (ankle ligaments), Simon Stapleton (broken foot) and Matt Crossley (virus). Tim Langford was also cup-tied while Andy Kerr would play his last game before a four match ban for his red card versus Slough.
Trevor Aylott took Scotty's place up front and Mark West was favoured in place of Kim Casey. At the back Anton Vircavs continued to deputise for Crossley and on loan midfielder Hakan Hayrettin took over Stapleton's role. It was no surprise that a team that had already played eight games during March and were scheduled to play at least eleven more games during April, would eventually feel the strain.
Sutton, managed by ex-Wanderers boss Alan Gane, stunned the expectant crowd by taking a 12th minute lead through a Peter Byrne header. Wanderers snatched an equaliser six minutes later when Steve Guppy curled a corner from the right straight into the Sutton goal at the near post. But Sutton struck again on 31 minutes when Simon Quail set up Steve Browne who shot past Paul Hyde from 20 yards. West and Aylott went close for Wycombe before the break but the Surrey side lead at the interval.
Kicking towards the Valley End, Wanderers equalised again on 51 minutes with a brilliant goal from the back. Guppy picked up possession near his own corner flag before playing a swift one-two with Aylott and then delivering in a ball that Steve Thompson headed against the inside of the post. The ball rebounded to Dave Carroll who netted with ease.
Again Wycombe went near to scoring again, West having the best chance on 74 minutes when he headed wide of a gapping net from a Ryan cross. Two minutes later United had taken the lead again when Vircavs made a rare slip at the back to let in Dominic Feltham who crossed from the left for Quail to dummy and Browne to finish at the right hand post.
So Sutton would go into the second-leg with a 3-2 advantage but the tie was far from over.
Wycombe line-up vs Sutton: Hyde, Cousins, Hayrettin, Kerr, Vircavs, S Thompson, Carroll, Ryan, Aylott (sub 65 Greene), West (sub 77 Hutchinson), Guppy - Att:5,600

In between the two games with Sutton, Wycombe had to fit in another important League fixture, this time a home encounter with Woking on Tuesday 6th April 1993. Meanwhile, Sutton were having the luxury of fielding virtual reserve sides in their build up to the semi-final games. Before the game at Adams Park they rested 11 regulars as they lost 7-0 at Chesham in a Ryman's Premier League fixture.
It was all a lot more serious for Wycombe as they strived to grab those last few vital Conference points. Crossley was welcomed back from injury and Geoff Cooper took over from fellow Barnet team mate Hayrettin. Up front Langford got his chance in place of West.
But it was game that would be remembered for the sending off of Jason Cousins. A fairly tame meeting sprung to life when Cousins was booked by referee Paul Alcock in the 52nd for a robust challenge on a Woking player. Fourteen minutes later Cousins got a second yellow for another strong challenge but one where he appeared to get the ball. The decision infuriated Martin O'Neill who after a brief exchange with the match official was shown to the stands.
The game ended 0-0 and O'Neill commented on the red card incident "I shouted at him (Alcock) play the game fairly and he took offence to it". Meanwhile, Cousins added "I have obviously let the lads down and the club and myself, but I thought it was bad decision". O'Neill then said in a rallying cry to the fans via the local press "I will say to you that the spirit in the dressing room has never been greater, after all these adversities. We will pull through them and we get the points to win the championship and we will give Wembley our very very best shot"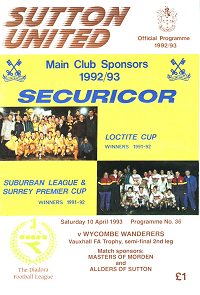 The specualtion leading up to the second-leg at Sutton United on Saturday 10th April 1993 was whether Keith Scott would be fit or not. O'Neill was up to his old tricks of keeping the press guessing and it was literally on the day ot the tie when Scotty appeared for the warm up at Gander Green Lane that the Wanderers fans knew he was back. And there were plenty of Wanderers fans there to see it. At least half of the 5,000 gate were supporting Wycombe and many were packed on the open terrace behind the playground end goal.
Other changes in the line-up saw Keith Ryan converted to right-back and Cousins in an unusual central defensive role. Kim Casey in the starting XI, also boosted Wycombe's chances of over-turning the first-leg deficit but the hero of the day was somebody completely unexpected.
Seven minutes of the game had gone when Matt Crossley tussled with Quail, who pulled his shirt. The two players squared up and Crossley appeared to headbutt his opponent. Quail didn't make a meal of it and Crossley got away with a yellow card. On 34 minutes the potential villian had turned to hero when he headed home Guppy's corner from the right to level the aggregate scores.
The game was done and dusted during a five minute spell following the break. On 47 minutes another inswinging corner from the right by Guppy was flicked past the Sutton 'keeper by Scott. Three minutes later another corner, this time from the opposite flank, was swung in by Carroll and with Alan Harris in the Sutton goal knowhere, it was Crossley who side-footed home from six yards.
The terrace party was now starting to begin and it was fitting that Mark West would create the goal that capped the day. West had replaced a limping Scott on 76 minutes and with the fans still cheering the departed hero they were soon urging on West who with his first touch took the ball to the left bye-line and crossed low for Carroll to convert.
The final whistle prompted an amazing cartwheel celebration from Keith Ryan and the inevitable pitch invasion from the Blue Army. The heroes were brought back out onto the balcony of the main stand and the celebrations could begin. A couple of hours later the same heroes arrived back at Adams Park to be greeted again and cheered one by one as they disembarked the team coach. Awaiting them in the final on the 9th May 1993 would be Runcorn. A team they were still to play in the final few crucial league games of the season.
Wycombe line-up vs Sutton: Hyde, Cousins, Cooper, Ryan, Crossley, S Thompson, Carroll, Casey (sub 79 Hutchinson), Hayrettin, Scott (sub 76 West), Guppy - Att:5,002

[Previous - Slough beaten in front of record gate] --- [Next - What they said after Semi victory]